The inside scoop on Roger Espinoza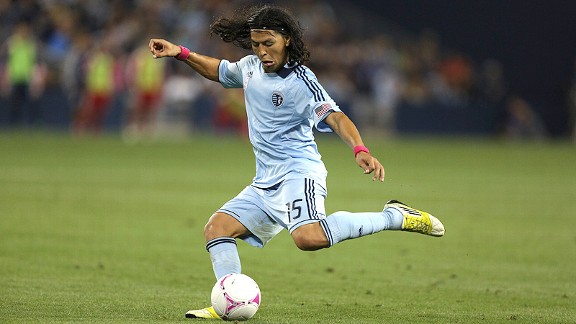 Ed Zurga/Getty ImagesRoger Espinoza should be a lively and dynamic addition to Wigan's midfield.
With Honduras international Roger Espinoza set to complete his transfer to Wigan Athletic after receiving a work permit, we thought we'd seize the opportunity to introduce him through a Kansas City-tinted lens. Though familiar on this side of the pond for his star turn in this summer's Olympics, the midfielder is a far cry from Wigan's typical Latin American recruits.

- Espinoza receives permit to join Wigan

Born in Puerto Cortes, Honduras, Espinoza moved the United States at the age of 12 where he has resided ever since, becoming a citizen in the process. He played collegiate (university-level) football for Yavapai College before transferring to the much bigger Ohio State; there he was identified as a talent and eventually drafted by the Kansas City Wizards.

He has since made more than 100 appearances over a four-season span for the club -- now known as Sporting Kansas City -- and amassed 25 caps for his native Honduras since his first call-up in 2009, not including the four for the Olympic squad this past summer.

Not only will Espinoza become the fourth Honduran to don Wigan Athletic colours -- strengthening the ever growing bond between our club and the central american country -- but he also arrives with fluent English, a huge advantage over his countrymen. As one Wigan supporter humorously (if somewhat inaccurately) pointed out, he will be the first "American-sounding" player at the club since Jason de Vos.

When I reached out to independent supporters club the KC Cauldron, their response was warm and swift. Latics supporters know a thing or two about losing quality players for little or no money, and the feeling in Kansas City is not unlike what we have experienced so many times in the past -- sadness and resignation mixed with pride and genuine wishes for the player to succeed on the big stage.

Without further ado, the words of James Starritt, who writes and speaks about Sporting Kansas City on the web and local radio, on sportingtimes.net and kicktheball.us -- and has been thoroughly impressed by Roger in his four years at the club.

A frenzy of crunching tackling and combative running

"Roger is a fantastic player who has shown an enormous capacity to grow over the past few years. As is typical for MLS he was played out of position for a while -- on the flanks early -- before being converted to full back. He didn't do well and was fairly average until Honduras popped him into central midfield; immediately he carved out some fantastic performances.

An injury crisis in 2011 forced a similar move shortly afterwards from Sporting Kansas City, and in his first game he simply dominated the midfield, scoring a goal and breaking up opposition possession in what I can only describe as a frenzy of crunching tackling and combative running. He has never looked back.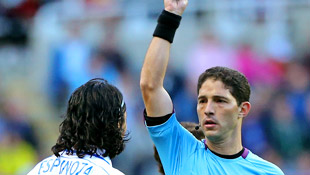 Stanley Chou/Getty ImagesEspinoza is prone to falling foul of referees with his hard-nosed midfield play, but it shouldn't curtail his worth to the Latics.
If you watched Paul Ince, David Batty or Roy Keane back in the day, he is cut from that cloth. Espinoza is passionate and dominant when he is on his game and he leaves everything he has on the field. He thrives on the competition and seems to get stronger as games go onwards. He is very, very consistent. If he can play … he is on.

Roger's also very dangerous around either area, breaking up possession in front of his defense and winning it back around the top of the opponents' box. He is ideal sitting right between a defensive midfielder and an attacking/creative one -- at least at this level. Though he's not terribly dynamic going forward, Espinoza does create chances for other players to play around him simply by winning the ball and pressuring people into mistakes.

If he can raise his game to EPL levels, Wigan should see more of the ball just having him out there. He is a decent passer and he won't score many goals, but I think he will only improve with better players around him.

The transfer will go through, goodbyes have been said -- I see no reason that he will not pass the medical. The only question is whether he can handle the step up in level. Espinoza is 26 but players start later in MLS (they go to college/university and then play); as such, he's still learning and growing and doesn't have 8 years of time on his legs.

Roger will earn his share of yellows and reds -- it is just the nature of his play. He isn't malicious or dirty but if he dives in, he is going all in. You'll get no histrionics, no diving -- he goes down and bounces right up and gets right back into the game, not much complaining and no drama off the field -- he won't have problems fitting in with the squad unless he struggles to feel at home within Wigan itself.

I think he has the capacity to be a bit of a fan favorite; maybe not a huge star but a good solid pro who you'll miss when he isn't out there. We certainly will."