Barry Horne, Jordi Gomez and Wigan's Plan B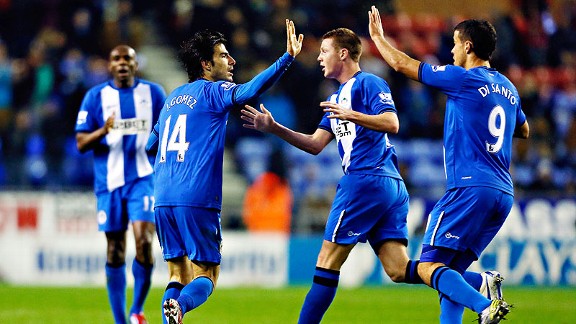 Paul Thomas/Getty ImagesJordi Gomez's hat trick should quiet critics for the time being
It is 10 p.m. in Jakarta and I am about to watch Wigan Athletic's home match against Reading. I am hoping to enjoy the commentary. When I hear the monotone of Barry Horne, I wince. He announces this is the third consecutive Wigan game he has been allocated — it sounds like a punishment.

With Wigan losing at half-time on a headed goal I felt a certain degree of frustration. Latics were not taking their chances; they gave away a poor goal to an unchallenged header. A sense of deja vu? On top of that I had to listen to Horne's dreary voice and his "expert commentary". His main issue with manager Roberto Martinez and his teams is they do not have a "Plan B". When things don't go according to plan and Latics fall behind, Horne suggests there is no immediate tactical response.

On its face, Horne's point is valid. When Wigan fall behind there is no increase in tempo, as one would expect from most teams in English football. This was evident on Saturday, when Latics seemed languid after giving away a soft opening goal. The Englishman in me got frustrated, but then I know Martinez's teams do not follow the usual national pattern.

Watch Barcelona fall behind and you see no change in their brand of football: they will eventually grind you down and beat you. The Barcelona style is clearly an inspiration for the Latics' Catalan manager, but he is savvy enough to know Latics don't have the wherewithal to go with it fully.

Watching Wigan rom afar has its ups and downs. There is nothing I love more than being at the DW Stadium, listening to the buzz of the crowd. Wiganers are resilient people and keep up their hopes in times of adversity. The "I'm A Believer" support in the latter part of last season was absolutely superb and helped inspire the team stay up. However, the buzz can dissipate when things are not going so well.

When I am there, I seem to get locked into debates with Darksiders who want an English manager who will have his team 'get stuck in' and show real commitment. Although in a minority there are still those who would like to oust Martinez. Jordi Gomez is identified as a player in whom the manager has had faith beyond the norm.

It is not only the Darksiders who have had their fill of Gomez. Normal, rational lovers of good football also tend to be polarized when Gomez is mentioned.

The anti-Gomez lobby has been strong. After the Chelsea match, sheltering from the pouring rain, I was privy to a conversation where a group of Latics supporters came to the consensus that having Gomez was like playing with 10 men. Given his past performances, their comments had some justification, but the consensus was going a little too far.

Yes, Gomez as a midfield player was not providing defence-splitting passes, nor was he scoring the goals he could from the good positions he got into. Saturday, Gomez sent a message to his detractors, with not just a fabulous hat trick, but also some fine midfield play. In one fell swoop he vindicated his manager's trust in him.

As a midfield player Horne was well known for his abrasive tackling, rather than an elegant passing style. He played for 10 clubs in his professional career and 59 times for Wales. Like many analysts, he can be put in the position of "expert" for the duration of the match. Although I do not enjoy his commentaries much, maybe he has a point about 'Plan B'.

Are Wigan Athletic capable of taking their game up a gear when going behind? Or is it a case of "Don't panic, we'll get there in the end"? One wonders if Gomez is his type of player? He is now in his fourth year at Wigan and his manager clearly thinks he is the right kind of player for the club.

After that stunning second-half display against Reading, Gomez deserves a fresh start in the eyes of Wigan Athletic supporters. Let's get behind him.