Jordi Gomez, Wigan's enigma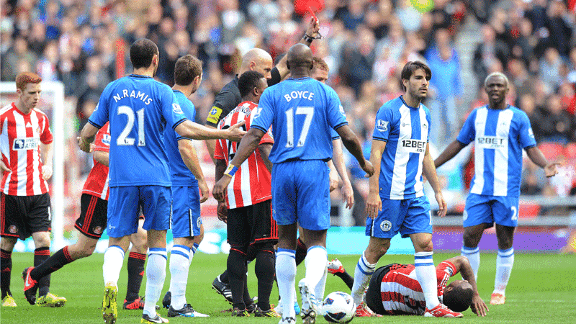 EmpicsJordi Gomez has endured a topsy-turvy time at Wigan
It was just over a year ago that I wrote a post about how Wigan Athletic's brand new tactical shape had helped get the best out of certain members of the squad. Indeed, what we thought at the time was a temporary switch has become Roberto Martinez's preferred formation. The players in question in that article, however, are quite far from the spotlight in today's squad.

Blog: History not in Albion's favour

Both Ronnie Stam and Jordi Gómez had been star performers at their previous clubs but struggled in the Premier League upon arrival at Wigan. Then, all of a sudden, Gómez had scored four goals in five games and Stam was clearly relishing playing in his more natural position of wing back. Latics had come through an horrendous set of fixtures in December with pride intact. It looked like they were going to be moving onward and upward. That proved not to be the case for the next three months until the miraculous recovery started in late March. During that time Stam hardly played and has since become almost a forgotten man as supporters are concerned. There are suggestions that further league appearances will trigger a clause in his contract. Meanwhile, Gómez lost his place to Shaun Maloney during the revival run and has since been limited to the odd starting appearance, largely being used as a substitute.

If you were in a room full of Wigan Athletic supporters and asked them to speak up if they thought if Jordi Gómez merited a place in the first choice line-up, few would stick up for him. However, Roberto Martinez continues to have faith in the enigmatic player, evidenced by the fact Gómez signed another extension on his contract at the end of last season. So what is it that Martinez sees in his fellow Catalan? Jordi had revealed his best-ever Latics form in those difficult games last December against Arsenal, Chelsea, Liverpool and Manchester United. It looked like he had finally been able to make the transition to the Premier League. Since then his form has been patchy to say the least.

How does Jordi Gómez fit into the current tactical line-up? Martinez likes to play with a front three, with the two big strikers - Di Santo and Kone - combining with the playmaking Shaun Maloney. Nominally Maloney is the third striker, but he tends to be more effective playing behind the big men, threading through the passes. However, Maloney tends to be more based on the left. Having played as a winger he has the ability to beat his man and cross from the by-line. The Latics website categorizes Maloney as a midfielder, but his current role is a bit of a hybrid. If Gómez is to be brought in is it to be as a striker or in that hybrid role?

The Spaniard has scored 7 goals in the Premier League in 46 starts and 25 appearances as a substitute. He has had 128 shots on goal, of which around 30% (38 to be precise) have been on target. He has made no assists. As Championship Player of the Year in the 2008-09 season for Swansea he scored 12 goals in 38 starts and 6 substitute appearances. He made 5 assists. Interestingly more than 50% of his 119 shots on goal were on target. The stats reveal the difficulties Gómez has had since making the transition to the Premier League from the Championship. As a creative midfielder he should be providing at least some assists. As a forward he should be scoring more goals.

In the disappointing performance against Bradford last week in the League Cup, Gómez got himself into clear scoring positions on at least four occasions without success. Rarely for him, he also missed a penalty. He has the uncommon ability to drift in, seemingly unnoticed by the defence. There have been so many times over the last three years when Gómez has done everything right until his final touch has let him down, whether it will be a header, a shot or a defence-splitting pass. He just does not seem to have had the self-belief to deliver. This must be as frustrating for the player himself as much as for the supporters. Maybe a spell in the under-21 team would be beneficial in helping Gómez find his goalscoring boots?

At times one cannot help but feel sorry for Gómez. He has often been played out of his best position in central midfield. He is the butt of the crowd's frustrations. Not only is he a weak tackler, but too often he passes the ball backwards when a forward pass is possible. This was particularly evident when he came on as substitute at Swansea a couple of weeks ago. There was a need for urgency and the substitution proved to be ill-judged. However, when he came on as substitute against Tottenham last Saturday, with Latics leading, he looked much more comfortable. Martinez will often use Gómez in such situations. When his defence is under pressure he can hold on to the ball in midfield, often drawing fouls from an opposition desperate to score.

However, whatever shortcomings he might have, there can be no doubting his determination and commitment to the club. Gómez has learned to hassle and harry the opposition, and to cover a large number of yards of the pitch in each game he plays. At Swansea he played in a newly promoted team that was on the up. His role was to orchestrate the midfield and to score goals. When he arrived at Wigan he moved into a struggling team that was too often unable to get the lion's share of the possession. Apart from his recent miss against Bradford, Gómez has been an effective taker of penalties. He has an aura of calm that few players have. Gómez is also capable of scoring from free kicks on the edge of the box.

Roberto Martinez clearly has faith that Jordi Gómez can reach his full potential. One hopes that his best is yet to come. He is now close to his peak at 27 years of age. Only time will tell if Martinez is right.