Return of the giant-killers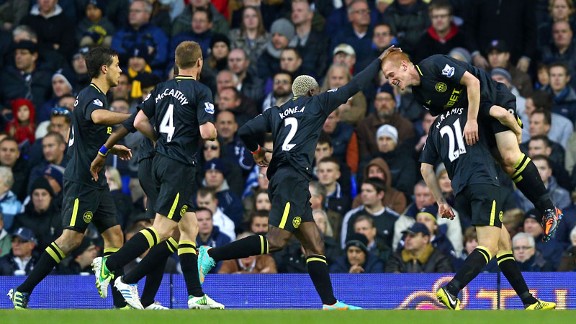 Clive Rose/Getty ImagesWigan's gutsy 1-0 win at Spurs showed the kind of late-season form that comfortably kept the Latics in the top flight last term.
Wigan Athletic made up for their slow start to the season with an away performance reminiscent of the famous victories at Anfield and the Emirates of last term, beating Spurs 1-0 to climb to 12th in the league table in the process.

Tottenham's starting XI -- and indeed the thousands supporting them at White Hart Lane -- appeared to approach the fixture as a foregone conclusion ahead of a series of tricky fixtures. Much will be criticized about their performance, but it won't tell the whole story. While Andre Villas-Boas shifted and tweaked throughout and his players huffed and puffed in the second half, Roberto Martinez's men knew the gameplan and executed it to perfection.

In fact, so dominant were the Latics before Ben Watson's breakthrough that they should have gone at least two or three up. While Gareth Bale was clearly the best player on the pitch, you got the sense that Spurs are at present just a team of expensively assembled individuals; by comparison, Wigan look like an organized and well-oiled machine.

The Good:

Roberto Martinez. The second-youngest manager in the league put on a tactical masterclass for the youngest in the other dugout. This is the second 1-0 win in three away fixtures at White Hart Lane, all coming against Spurs teams that have hardly struggled for goals. If you go back a fourth fixture, you get to the horrific 9-1 loss in Roberto's first season. Where most chairmen would have panicked, Dave Whelan kept faith and Martinez has repaid it. The team showed today it is already -- this early in the season despite losing Victor Moses and having to bed in new signings -- capable of the form shown that kept us up last year, which bodes very well indeed.

The defence. Gary Caldwell was immense, much like he was in the final stretch of last season. Next to him, Ivan Ramis had a brilliant match except for one foul on the edge of the box that might have proven costly on another day. He looks comfortable in both the league and tactical system: a quality signing. Maynor Figueroa had to cope with Aaron Lennon and Bale and got the job done, albeit with the occasional mistimed challenge. Emmerson Boyce, whose attacking play was non-existent, must receive huge praise for his defensive work as well.

Attacking link-up play. There are some excellent partnerships developing between the attacking trio. First, Shaun Maloney set up Arouna Kone only for Kone to soon return the favour. Franco Di Santo was quiet today but has been on the same wavelength in recent fixtures and arguably, the visiting Latics created the five clearest chances of the match.

The Bad:

Finishing. Both Kone and Maloney, when through with just the keeper to beat, shot straight at him. It comes down to confidence and composure. Both played very well otherwise, but you get the sense they each need a goal to get things going again. Ben Watson, who had an odd match -- at times rusty, others very effective and ultimately scoring the winner -- missed another sitter by blasting over.

Player Ratings:

Ali Al-Habsi, 8.5 -- Excellent. Held onto a couple stinging shots that other keepers would have spilled. Dominant in the air.

Ivan Ramis, 8.5 -- Cracking performance from the Spaniard. Strong and excellent with his distribution. The way the back three knocks the ball around these days is a joy to watch. Very rarely is a ball hacked away in panic.

Gary Caldwell, 9 -- Man of the match. Didn't put a foot wrong and was dominant overall. His passing out of the back under pressure was fantastic.

Maynor Figueroa, 7 -- Had a tough time with Bale and Lennon at times, but got a very difficult job done. Lucky not to be given a yellow card in the first half, which was fortunate as he received one in the second.

Emmerson Boyce, 7.5 -- Passing was at times poor and he didn't get forward, though his primary function was defensive. He had Bale to watch for most of the match (which he did so well enough) and played well on set pieces.

Jean Beausejour, 8 -- In good form. Got forward on several occasions in the first half with some quality deliveries. Neat in footwork as always, and put a real defensive shift in.

James McCarthy, 7.5 -- A typically energetic, neat performance.

Ben Watson, 8 -- Got the match winner. Going from Bradford to Spurs within the space of a few days must have been an adjustment as his passing was a little wayward at times. But he was very frequently in the right place at the right time to make defensive interceptions, and stuck the ball in the back of the net -- something no-one else could manage.

Shaun Maloney, 8 -- Top class in the first half, buzzing about and creating. Should have scored his one-on-one opportunity. Faded as the team retreated in the second half.

Franco Di Santo, 7 -- Couldn't get going in this one though he held the ball up well when required. Substituted with 20 minutes to go.

Arouna Kone, 7 -- Another promising performance full of dangerous movement and skill but no goal. They'll come.

Subs:

Jordi Gomez: Played a couple delicious flicks that Kone and Maloney might have been quicker to pounce on. Drew a couple fouls that eased the pressure. Overall, did the job he was sent on to do quite well.