Latics go down in return to Wembley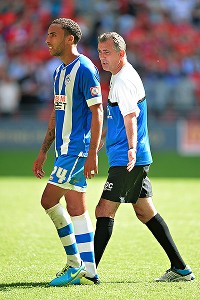 Mike Hewitt/Getty ImagesWigan's James Perch, left -- an unlucky participant in Robin van Persie's second goal -- walks off the pitch with manager Owen Coyle after Latics' 2-0 loss.
Two goals from Robin van Persie -- a spectacular header in the sixth minute and a lucky deflection in the 59th -- were enough to give Manchester United a 2-0 win over Wigan Sunday in the Community Shield match at Wembley.

Wigan keeper Scott Carson had no chance with either goal. Despite the bad start, Wigan gradually clawed back into the game and Carson was underemployed most of the match, apart from a fine save from a Danny Welbeck shot as half-time approached.

-United win Community Shield
-Delaney: Three talking points

Wigan, the FA Cup champions, started with six new players, including James McClean, who joined them in midweek. In contrast, United fielded only one new face, Wilfried Zaha.

Dave Whelan said it was a game for Wigan players to enjoy, without the pressure of having to fight for league points. Maybe that would explain the distinct lack of competitive edge from Wigan in the first 20 minutes as United were allowed to caress the ball round in midfield without physical challenges.

If Roberto Martinez were still Wigan's manager he would have been enraged by the way defenders wasted the ball with hopeful long punts which were meat and drink for the Reds' defence.

However, as the second half wore on, Wigan started to pass the ball around from the back, denying United possession and looking a much better team. Had McClean shown a cool head when put through by a long ball from Stephen Crainey, Wigan could have equalised. However, instead of pushing the ball back to Grant Holt, who could have slid the ball in, he shot from the narrowest of angles and it went wide.

A few minutes later Emmerson Boyce had a good opportunity from a free kick, but he headed across the box when a direct header on goal would have produced better results.

Holt and Nemanja Vidic were involved in a series of physical tussles, with the big Serb not coming out on top. It was revealing to see him apparently appealing to referee Mark Clattenberg as the teams were going off for intermission.

Wigan started the second half quite well, but the deflection off James Perch from van Persie's shot left them an uphill task. New Wigan manager Owen Coyle wisely made a raft of substititions in the final half-hour, saving key players for the more important immediate task of a Championship match next weekend at Bournemouth.

Whelan's quote that he saw the match as "a show game, a bit of a friendly game" was reflected in the tempo. There was a real preseason feel to the match and Wigan really did not too seem too worried about the score.
The Good
Up until the second goal, Wigan were in with a chance of leveling. After the initial onslaught, they held firm and did not fall apart as Wigan have too often done in the past against United.
With so many new players in the lineup it is going to take time for the team to gel. However, the defence looked firm, and when they built up moves from the back Latics looked a much better team.

The Bad
Wigan were awful the first 20 minutes. You simply cannot allow a team of the quality of United so much possession.
Three out of the back four are new and are adjusting to the concept of passing the ball out of defence, rather than playing a long ball. Carson was also guilty of kicking too many long balls, when he could have passed to a defender in space.
Player ratings
Scott Carson: 6-could not be faulted for either goal. Needs to work on his distribution
Emmerson Boyce: 5-not at his best. Patrice Evra gave him problems in the second half.
Leon Barnett: 8-excellent throughout. Made a memorable sliding clearance from a dangerous low cross from Evra in the second half.
James Perch: 7.5-unlucky with the deflection for the second goal. Otherwise played well.
Stephen Crainey: 6–very involved with a lot of touches on the ball. Needs to work on his distribution.
Ben Watson: 5–worked hard to stem the flow of United attacks, but not at his best. Substituted after 71 minutes.
James McCarthy: 5–not at his best. Substituted after 86 minutes.
James McArthur: 5–together with Watson and McCarthy could not wrestle the midfield out of United's grasp. Substituted after 60 minutes.
Shaun Maloney: 5–worked hard to no avail. Substituted after 60 minutes.
Grant Holt: 6–gave Vidic a torrid time, but had no opportunities for goals. Substituted after 60 minutes.
James McClean: 6–fast and skillful, but lacking in judgment, not only when clear through on goal. Substituted after 60 minutes.
Substitutes:
After 60 minutes: Chris McCann, Callum McManaman, Marc-Antoine Fortune.
After 71 minutes: Roger Espinoza, Jordi Gomez.
After 86 minutes: Nouha Dicko.