I read an article the other day that said Roberto Martinez will take no less than five Wigan Athletic players to Everton if he gets that managerial job. Then again, you have to take these speculative articles with a pinch of salt. Everton are well-run, not known to pour big money into transfers.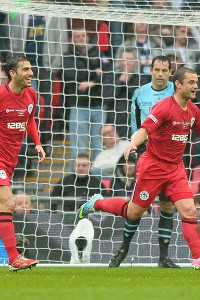 Paul Ellis/Getty ImagesShaun Maloney, right, has been linked to a move to Everton if Roberto Martinez joins the Toffees. But would Martinez try to poach Jordi Gomez (left)?
But looking at the players mentioned -- Antolin Alcaraz, Arouna Kone, James McCarthy, Callum McManaman and Shaun Maloney -- an obvious name missing was Jordi Gomez.

Mention Jordi Gomez in a room full of Latics supporters and you will get an earful. Has a Latics player ever been so derided by the fans but so supported by the manager? Not that I can recall. Surely Martinez would want to take him to Everton too, given the faith he has shown in the player?

-Wigan inundated with managerial applicants

In his four years at Wigan, Gomez has 61 Premier League starts and 35 appearances as a substitute. He has scored 10 goals and with one assist.

However, we have seen a different Jordi in cup competitions. His superbly taken goal from the edge of the box at Everton and his perfectly timed, measured pass to put in Callum McManaman for the second goal against Millwall in the FA Cup semifinal at Wembley stick in the mind. In nine starts and one substitute appearance in the League Cup and FA Cup this season he has scored five goals with four assists.

Gomez's critics would say that he never had the pace or quickness of movement to be a success in the Premier League: he tends to shine against teams from lower divisions. One thing is for sure -- Gomez did as much as anybody to help Latics win the FA Cup with three goals and four assists. If Gomez stays at Wigan can he provide the kind of cutting edge in midfield that they will need to challenge for promotion?

Four years ago, Gomez was voted into the Championship Team of the Year for his outstanding performances for Swansea. He scored 12 goals and had five assists from 38 starts and six appearances as a substitute. He was the playmaker for a newly promoted Swansea side.

The Championship is a different environment to the Premier League. It is a long and difficult season that can wear teams out. Gomez has proved that he can be successful in that setting. Maybe Latics supporters will see the best of that enigmatic player next season --providing Martinez does not poach him in the meantime.