Hammers and Saints on an even keel as Sir Geoff celebrates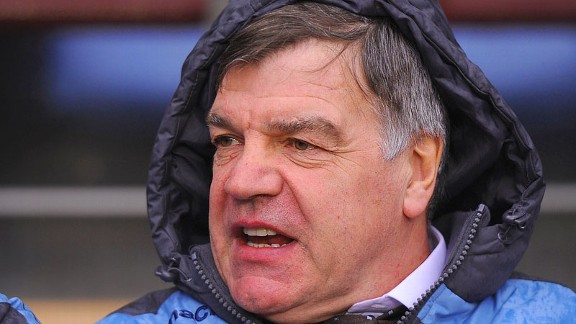 Michael Regan/Getty ImagesSam Allardyce has West Ham United in a strong position
In a hurly-burly season of Premier League football, it's not often that a fan gets the chance to take a moment out and consider things. With the upcoming match on Saturday against Southampton at St. Mary's though, it's probably a good opportunity to take a look at what both clubs have achieved this campaign, and also celebrate the capricious nature of football in general.

This time last year, Southampton and West Ham - who had tussled for most of the 2011/12 season to see who would win the League Championship and who would be runner-up - suddenly found themselves blind-sided by an incredible unbeaten run by Reading. The Royals, who had lost 1-0 to Hull on January 21, 2012 and were in eighth place in the league at the time, suddenly began an amazing sequence of results in which they won 17 of their last 23 games, losing just two.

- Rann: Saints chance to Hammer home advantage
- Nolan: Allardyce planning for long-term

By last April, Southampton were looking to lose the league leadership they had held for most of the season while a panicked West Ham had just lost 4-2 at home to Reading and were facing the very real threat of being consigned to the play-off's and possible elimination.

Of course eventually, all three sides came through, Reading as surprise champions, the Saints as runners-up and the Hammers via a Wembley play-off win, and all lined up for the Premier League season with high hopes and, no doubt, a bit of trepidation.

After that though, football showed its wonderful ability to defy explanation as West Ham set the early pace - including a 4-1 thumping of the Saints at Upton Park - Southampton initially struggled, then came good again with a change of manager while Reading seemed to revert to the side they were prior to their defeat by Hull back in January 2012.

Of course, it's not all over yet (although I suspect it is for Reading) as both West Ham and Southampton will be looking for the extra points required to ensure they are in the mix when next season's fixture list is announced. But a look at the League table now is fascinating; both teams sit side-by-side in mid-table, have the same amount of points and an almost identical goal difference. The recent history of the two clubs seems very much tied together and it will be interesting to see who gains the upper hand after the weekend. I suspect a draw is the most likely outcome.

Elsewhere, the football world leaps for joy at the astounding news that goal-line technology is about to be employed by for the 2013-14 season. The British based Hawk-eye system is to be the one used, ensuring - if nothing else - that something from these Isles will be nestling in the back of a net at the next World Cup if, as suspected, the technology will then be ratified by F.I.F.A for use in international football (sorry to break it to you like this Peter but, GoalControl has beaten the Brits to Brazil 2014. The system is from a German company, naturally).

As regular readers of this blog from previous World Cups and European Championships will know, the cynicism from the above paragraph derives from the fact that I believe that the required goal-line technology for which football has searched for so long, was pretty much available (barring a few extra angles, I'll grant you) when John Logie Baird legged it down to the patent office in about 1925.

Still, it's good to know that the FA have at least been dragged kicking and screaming into the 20th - sorry! 21st Century - and I guess Sir Geoff Hurst will pop down to his local for a quick celebratory tonight as a result of this news.

It was at least six foot over the line and the nation continues to salute you, Sir!