Is Saitch yer Daddy - and other West Ham art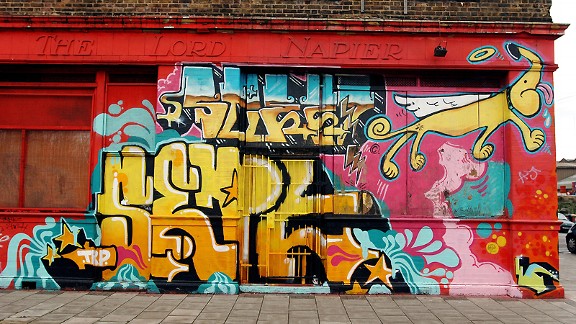 PA PhotosSome completely unrelated graffiti in East London
It's not often you find football culture aligning itself alongside the world of Art, but among the usual blog posts here on ESPN FC, I think it's nice to celebrate another aspect of football - particularly one with such a fascinating back story.

'Is Saitch yer daddy' was a rather obtuse piece of graffiti that could be seen from the District line train at Bow Locks - no tittering please, there really is such a place - on the tube to Upton Park. Its meaning and the reason for it being where it was, are legendary and probably have little to do with the realities. But with strong rumours linking it with 'Hit Me With Your Rhythm Stick' man' Ian Dury himself, it just gives an indication of how iconic something daubed on a wall has become.

'Is Saitch yer daddy' is now the name of an exhibition of West Ham related Art work at the EB & Flow Gallery in Hoxton EC2. Subtitled 'Trials, Tribulations and Triumphs of being 3,473 Miles from Upton Park and West Ham United'. The exhibition is a collection of 53 collages created by legendary music maverick, promoter and manager Kosmo Vinyl - Vinyl currently lives in New York, hence the sub-title - a man responsible, in good part, for ensuring we have all heard of Graham Parker, Stiff Records, Ian Dury and The Clash back in the late '70's.

The Collages' were created spontaneously as each of the results came in last campaign during the Hammer's Championship tussle, and Kosmo has seen fit to carry on the inspiration this season too. If you like Pop-Art and the type of work created by the likes of Roy Lichtenstein, then you may well be interested in this fascinating collection. If nothing else, it is serious viewing for Hammer's fans.

For those who follow the Claret and Blue and who are themselves thousands of miles away and would like to see Kosmo's work then, don't despair, the collages are also available online at the obviously titled 'Is Saitch yer Daddy' at Andy Pepper's - presumably another Kosmo pseudonym? - blog site at http://issaitchyerdaddy.blogspot.co.uk/.

We anxiously await 'Upton Park - the Opera'.