Gritty Hammers hold out for rare point at Anfield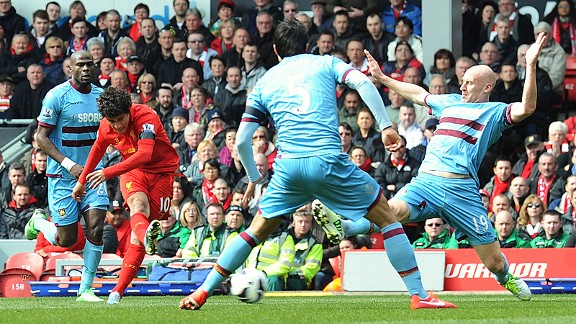 GettyImagesPhilippe Coutinho gets off a shot against West Ham
'Fifty years of hurt' they are calling it on the unofficial websites.

Played 44, Won 0, Drawn 11, Lost 33 was West Ham's record against Liverpool at Anfield before Sunday so, if nothing else, to click that draw column up by one is something of an achievement. In fact, the Hammers put in a spirited performance on all sides of the pitch in this goalless draw and if centre-back James Collins was Man-of-the-Match for West Ham, it shouldn't detract from the fact that the visitors put in a shift up-front and in midfield as well.

- Walsh: Familiar feeling from years past for Reds
- Jolly: Liverpool stutter to stalemate
- Allardyce still not certain of safety

It was back on 14th September 1963 when two goals by Martin Peters and Geoff Hurst secured the points in front of 45,495 fans at Anfield. Ron Greenwood and Bill Shankly presided over the teams that day, in one of the few periods where the sides could be said to have been evenly matched.

I guess no-one would have guessed that West Ham would fail so often since - no flukey goal, no dubious referee decision even - but what has really hurt the claret and blue supporters over the years though, has been the spineless capitulations and often embarrassing ease with which Liverpool have been able to take the points. As Shankly himself once said: "West Ham? Lovely club, good football - two (three) points for Liverpool".

That assessment - accurate as it has appeared to be - was mainly based on Hammers' teams lacking the will to fight and tussle for every ball; a criticism that has followed sides that have left Upton Park regardless of management and personnel since Geoff Hurst last blew his cheeks out before cracking a ball into the onion bag, and even though we shouldn't get too excited by this result - it was a backs-to-the-wall goalless draw after all - at least West Ham showed some spirit, mettle and will to succeed.

Apart from the defence, where the aforementioned Collins and Jussi Jaaskelainen were outstanding, Matthew Jarvis worked tirelessly on the left side as winger, attacking midfielder and emergency full-back. Without the injured Winston Reid - probably West Ham's best player this season - James Tomkins proved a more than able replacement until he limped off with five minutes to go, while Joey O'Brien, Mohamed Diame and Guy Demel all showed real fighting spirit and determination.

Liverpool will point to a host of poor balls, ill-measured passes and wasted opportunities from attacking positions and Steven Gerrard constantly worried West Ham when he came forward, but there was just enough about the Hammers - particularly late in the second-half when they seemed to find space on the left - to ensure the home side were wary and it made for an absorbing game, if only for the protagonists concerned.

Much credit must surely go to manager Sam Allardyce for this performance, I suspect. There were a lot of the old warrior's blood and guts performances from the manager's youth on show in this game and his tactical assessment and ability to galvanise the side in a way not often seen over the year's is surely just underpinning the contract agreement negotiations currently under way.

The hurt goes on perhaps but, this evening at least, it hurts just a tad less.