The tide turns for Andy Carroll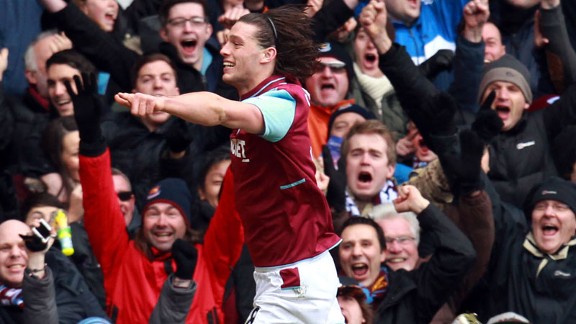 GettyImagesAndy Carroll celebrates his brace against West Brom
It's a shame that Andy Carroll won't able to follow up his man-of-the-match performance against West Bromwich Albion last weekend with another seven days later, but the fact that West Ham play Liverpool at Anfield this weekend means that the striker is going to have to sit out this match as, of course, Carroll cannot play against the club that still own him.

While Liverpool might be pleased with this turn of events, West Ham supporters are left rueing the fact that the consistency that they have craved from Carroll will have to wait another week to be tested. It's been interesting noting the subtle changes regarding the former Newcastle forward this week, though. Earlier last month, it was all about how the club could ill-afford the expected fee for Andy, with questions flying about where he could hope to go barring a probable return to the North-east. Then, all of a sudden, talk switched to wondering if there is a way that West Ham could make the deal permanent during the summer while still having enough left to strengthen in other areas. For the first time this season, Sam Allardyce has been openly asking the question and it's surely been discussed at board level.

For anyone not involved as a regular supporter of a football club, these changes of attitude from month to month may seem bizarre and slightly ludicrous. But, for anyone remotely interested in the 10 month annual battle that is the English Premier League, such thoughts are commonplace. You could even argue they are eminently sensible.

Injured for a key period of the season, Carroll's main performances have come in three matches: the 3-0 triumph over Fulham last September, the 1-0 defeat of Swansea in February and the 3-1 victory over West Brom, all of which brought a bottle of champagne from the matchday sponsors.

In terms of Champions League football and the pace being set by Manchester United at the top, that may not seem such a huge return. However, in terms of mid-table football, where one eye is always glancing nervously over the shoulder, that's not an unreasonable statistic. Make no mistake, come May there are teams who will mortgage their stands for an extra nine points.

Were Carroll able to maintain the level of performance we saw against the Baggies and win another, say, six or nine points, then that is a whole other statistic altogether. For a club of the stature of West Ham United, a player that can virtually guarantee 15 points a season is worth his weight in season ticket money.

What was encouraging about the win over West Brom from a supporter's point of view, was the fact that it was quite clear that the clubs were operating at a very similar level. A neutral viewing the game would surely have thought that these two teams were fairly evenly matched at the start, but the main difference after the game had started was that the Hammers saw an increased level of performance from their 'bigger' players - £10m Matt Jarvis also showing good form - while the visitors' suffered from the lack of the same until they introduced want-away striker Peter Odemwingie late on.

The Nigerian winger looked a class above when he came on and the Midlands side will be extremely aware that they will have to try and replace Odemwingie at the end of the campaign. How well they do that could well decide where the Baggies will be this time next season.

Similarly, the next few months will be crucial for West Ham too. It's a cliche sure but the phrase 'build and push-on from here' is never far from anyone's lips. Andy Carroll's name will be bandied about a lot now, and I think if a way can be found to allow the player to be wearing the claret and blue of West Ham next season the build-up to the move to the Olympic Stadium might become easier for everyone.