Big Sam's lesson from West Ham's history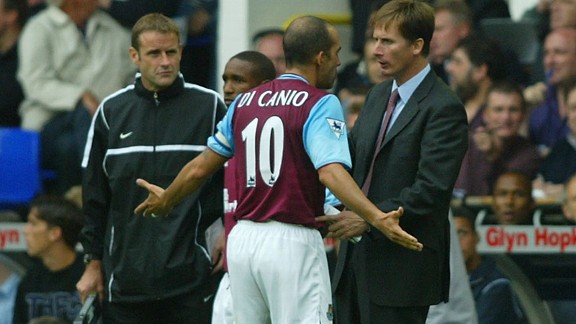 GettyImagesFormer West Ham boss Glenn Roeder talks with his captain Paolo Di Canio
"Forget about what's happening down below, and I know it's difficult, but the bottom line is: no matter how they get on, you get to 39 points or more and you're all right."

That ringing sound you hear may well be the telephone on the desk of Sam Allardyce. At the other end of the line will be a chastened Glenn Roeder; a man who managed a West Ham team relegated with an eye-watering and record-breaking 42 points in the 2002/03 season.

The lot of Glenn Roeder was never a happy one. Taking charge as caretaker manager after Harry Redknapp left the club 'by mutual consent' in May 2001, Roeder found himself in a job he could never had imagined, as a succession of preferred candidates - including Steve McClaren and Alan Curbishley - turned the role down.

The reverberations over the loss of Redknapp were huge and were never really fully explained, meaning Roeder wasn't so much handed a poisoned chalice but rather, the chairman and West Ham board decided not to even bother with the luxury of a chalice.

The club made lots of noises about attracting a 'big name' boss to take over and there were many fans who felt a change of direction at the top would actually benefit the club with certain factions seeing, as is the way in football parlance, that Redknapp had 'taken the club as far as he could'. Excitedly, supporters would scour the back pages of newspapers - the internet phenomenon, although active among many, hadn't caught on with all sections of the population as it has now - while the assembled hordes waited breathlessly outside the gates of the Boleyn patiently looking for the puff of white smoke that would indicate a new saviour was to take over the reins of East London's finest.

The announcement when it came couldn't have made for a worse photo opportunity; Glenn Roeder was pictured wearing a hard hat and standing on a huge pile of bricks hewn from the rubble of the demolished old West Stand. That stand, shortly to rise into a new structure of seats and hotel, was known affectionately by some supporters as the Rio Stand - a structure coincidentally costing almost as much as the future England defender who was sold in equally puzzling circumstances to Leeds United in November 2000; a decision I believe that consigned West Ham to a course they are still having trouble negotiating 13 years later.

The image of Roeder sporting a look that mixed the terror of a rabbit caught in headlights on the A12 at midnight, with that of a young boy discovering a bike-shaped present wrapped under the Christmas tree, was something few Hammers fans have forgotten.

The hat placed at a jaunty angle on the head of the former QPR and Newcastle defender, wasn't emulated by West Ham fans who definitely didn't have any hat on the side of their heads, many believing the pile of rubble was a visual analogy for their hopes of the Golden Generation of the youth squad that, barely five years before, was expected to lead the club into an exciting phase not seen since Bobby Moore last hung his shirt in the dressing room.

As it turned out, Roeder's first season was something of a success; the manager cleverly spending some money on England goalkeeper David James. James, although almost inevitably injured pre-season, was a shrewd purchase, not costing a great deal in terms of a fee, but his capture represented a hopeful statement of intent about the type of direction West Ham hoped to be heading in. It had been a long time since the Claret and Blue had welcomed in a current England International via the transfer market. A young Joe Cole, Michael Carrick and Jermain Defoe were still in the ranks, of course and Roeder also scored a spectacular success with the form of the French player Sebastien Schemmel at full-back. Schemmel turned in a 'Hammer of the Year' performance in Roeder's first season as the club finished a handsome seventh, before a complete reversal of form brought about a collapse not seen since Joshua last played a few notes on a trumpet outside the gates of Jericho.

As dear Sebastien was last witnessed on the same boat that spirited away both Lord Lucan and Shergar, so Roeder's fortunes sailed with him. In the following season, with Roeder purchase and fan favourite Tomas Repka suffering from disciplinary issues, injuries - as ever - to key players including another Roeder purchase £5 million man Don Hutchison, and an inexplicable loss of form of others, West Ham found themselves bottom by Christmas. Most fans had given up hope by the New Year of 2003 and few forgave the beleaguered manager for the resulting fall-out from an argument with mercurial genius Paolo di Canio following the player's substitution in a game against West Bromwich Albion.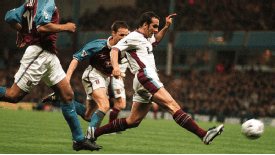 PA PhotosPaolo Di Canio in action for West Ham
Controversy had always seemed to follow Di Canio, but Harry Redknapp's decision to take a chance on a player that, for all his talents, was thought to be more of a hindrance, had paid off handsomely for boss and club. The Italian's stint at Upton Park began a fan love affair with the man that persists to this day. Di Canio was a big admirer of Redknapp and his style of management and it was no secret that the Italian had little time for Roeder. Many supporters felt that, whatever his reservations with Roeder, Di Canio should have done what was best for the club, but equally many felt the Italian's stance was justified. Whatever the argument, as the team struggled to keep up with the pack, it was very hard for anyone to see the complete absence of Di Canio from the team sheet and not suggest that Roeder wasn't cutting off his nose to spite his face.

On 19th April 2003, with just five games of the season left, Roeder took his team to Bolton Wanderers for a crucial match. Bolton were just one place above West Ham in the table and nearly everyone believed the last relegation place would be between the two clubs. The Hammers lost that game to a solitary strike from Jay-Jay Okocha and, suddenly, Roeder's team were six points adrift.

Then, in a cruel twist that threw everyone, just four days later and following a vital 1-0 home win over Middlesbrough, Roeder collapsed in his office and was rushed to hospital where it was revealed that a brain tumour had blocked a blood vessel in his brain. The fans anger at the manager and the seeming inevitability of the 'tragedy' of relegation was now seen in a complete contrast to the grim realities of life. Fortunately, the tumour was later found to be non-malignant but Glenn had to have an emergency operation and his part in the relegation battle was over.

Enter emergency caretaker, the God-like Trevor Brooking - probably the greatest manager West Ham never had. Brooking oversaw a dramatic away win over Manchester City at Maine Road four days after Roeder's collapse and the following week, in a superb, pulsating local derby against Chelsea in which you could barely hear yourself think, the newly-restored (who else?) Paolo di Canio scored a 71st minute winner and ran to embrace Brooking on the sidelines. As a statement from the Italian, it could not have been more graphic.

In fact by the time West Ham's last game against Birmingham City was played, the loss against Bolton was their only reversal as the team posted against six wins and three draws in their last ten games. However, to survive on the last day West Ham needed another win and hope results elsewhere went with them.

Sadly, Paolo di Canio's 89th minute equaliser in a 2-2 draw at St. Andrew was not enough and the Hammers were relegated. It didn't look as if it could be worse but, astonishingly, had West Ham won that last game, their goal difference would still have found them below Bolton and consigned to the Championship. They could have gone down with 44 points!

Perhaps Roeder was an unlucky manager heading an unlucky club? There seems little doubt that even to this day the man, eventually sacked early into his Championship season, must still look at that table and wonder how on earth the Hammers were relegated. Perhaps though, Roeder will also look at that solitary reversal in the last 11 games and wonder what might have been had he managed to get his team to earn a draw at the Reebok Stadium.

Where might Roeder be now and, more importantly, where would the then manager of Bolton Wanderers be had his team - not the Hammers - gone down? And the boss of Bolton that day in April 2003? By a delicious irony it was one Sam Allardyce.

Reach for that phone Glenn!