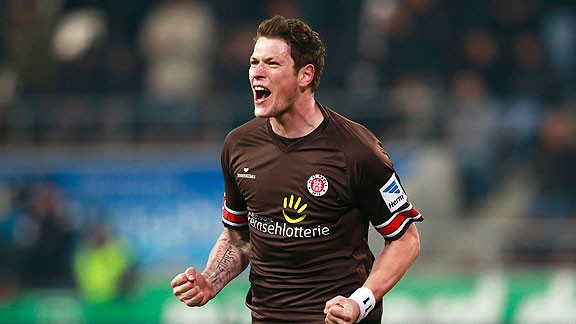 Joern Pollex/Bongarts/Getty ImagesBorussia Dortmund's Daniel Ginczek, currently on-loan to St. Pauli, is rumored with a move to West Ham.
Reports that West Ham are eyeing a young German under-21 International are interesting even though -- as fans at the Boleyn have discovered to their costs over the years -- it is not something to get too excited about until the ink has not only dried on the tracked player's contract, but said 'new star' has completed a full season without succumbing to any of the mysterious injuries that cruelly strike down West Ham players with alarming regularity.

- West Ham eye move for Ginczek

There is no doubt though that the Hammers have been desperately seeking a consistent striker since Dean Ashton -- see above! -- was forced to retire. It's in the odd way that football works in the minds of those who watch it that a team defending well, crowding the midfield and breaking fast to score three goals with clinical finishing will be seen as an 'attacking' side, while one that does the same but nicks a 1-0 on the back of a set piece may well be derided as negative. The Irons are certainly struggling under the latter label currently and the team's inability to score has been at the heart of the fans' ire with Sam Allardyce and his coaching staff.

Of course, there's a good argument that says that a decent striker -- let's say Andy Carroll, for example -- is only as good as the service he receives, and in a team in which defensive duties are more apparent, the ball won't find its way forward quickly enough for a player like Carroll to profit. Nevertheless, although Allardyce is never likely to be mistaken for former Dutch 'total-football' maestro Rinus Michels, the signing of players such as Joe Cole and Matt Jarvis does suggest there is some intention to cross the halfway line now and again. And there's been a vague suspicion that Allardyce himself has sometimes become frustrated this season as West Ham have fallen back into negativity only as a result of their inability to take the chances that have come to them.

Members of the vociferous Anti-Sam brigade will undoubtedly look at Daniel Ginczek, West Ham's prospective target, and note he is a 'big forward' and make much of the thinking behind this. But those of us with claret and blue tinted spectacles sometimes forget that the big lump up front, able to get 12-15 goals a season, is all that sits between a relegation struggler and a side, at the very least, on the edge of a European spot. There are very few 'Pop' Robsons around nowadays and, if there are any, even less of them are plying their trade at clubs like West Ham.

Quite where Carroll places in all of this is anyone's guess. Rumours persist that he won't be seeing any more of the local Pie 'n' Mash shop beyond May and that's a shame as I think he brings much to the team. The sad fact with Carroll though is that he is hideously overpriced. When Liverpool paid £35m for the Newcastle striker back in 2011 -- that still makes your eyes water, doesn't it? -- they made a rod for everybody's back. Nobody is suggesting Liverpool can move the player on for anywhere near what they paid for him, but they are still hoping that they can at least halve their outlay, but at £18m or so, that is still -- like some of Carroll's headers -- still wide of the mark.

A cynic might say, as far as West Ham United are concerned, any expenditure beyond a bag of Smarties and party hat is 'too much' for a club still struggling to make the Bank Manager crack a smile. But the £10m laid out for Matt Jarvis last summer suggests the two Davids will find the money if they are convinced there is a requirement. Even so, I'm pretty sure we'd need to see Carroll get the double-digit mark before May -- already highly unlikely -- and then be given an asking price in the region of £10-£12m before West Ham would bite. Much as I personally rate Carroll, it would be difficult to ask the Chairmen to do more and I think only Newcastle are likely to ensure they finds the funds for a returning local lad.

So keep calm everybody. I expect West Ham to be linked to many more strikers before the summer sets in.