Time for something different from Allardyce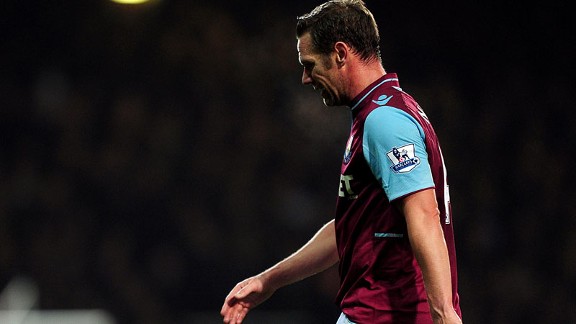 PA PhotosWith Kevin Nolan sidelined it's time to shake up the West Ham team
It's been a bit of an odd week for Hammers fans. The news that Kevin Nolan had broken a toe in the match against Spurs should have been met with some concern; normally losing your captain and midfield anchor for the final run-in would be seen as a massive blow.

But West Ham's subsequent win at Stoke without Nolan, has virtually assured the club of Premier League football next season - it's difficult to imagine the team won't be good for another win or two in the remaining games - meaning that most supporters are viewing the rest of the campaign as a chance to see what options are open for next season.

Upcoming matches against the likes of Manchester United and Chelsea are, it's to be hoped anyway, now an opportunity to play a more expansive formation, although whether or not Sam Allardyce will see it this way is open to conjecture.

Surely though, with both Nolan and Mark Noble out, Allardyce will try out a few other ideas and there would be precious little to lose in actually going out to try and secure the points required against some of the teams involved in the Champions League shake-up. Defeats will be as expected, but a win or a draw here or there may help some supporters - still firmly against the former Bolton and Newcastle boss - view this season in a more favourable light.

Also, as the Hammers were due to play Manchester United this week and with the league leaders involved in the FA Cup, West Ham now find themselves with a week's rest. A good time to work on some new ideas and win the fans over? It would be good to think so. After all, assuming West Ham do finish in mid-table as looks likely, Sam Allardyce can rightly claim that he has done all the board asked when they appointed him; a quick return back to the top flight and a season to re-establish. Next season the manager - if he stays - may have the hardest job though, not just ensuring survival but building and pushing on. This run-in period could give Allardyce an opportunity he probably didn't think he would have. Let's hope he uses it.

Meanwhile elsewhere - and as expected - the first of the legal moves against West Ham securing a deal to find a new home in the Olympic Park in Stratford has begun with Leyton Orient demanding a judicial review of the process that found the Hammers as preferred bidder last year. Chairman David Gold has been quoting another date for the move to be finalised this week but most fans have just taken to waiting until the claret and blue boards go up over the entrances before assuming there will be any resolution on this tedious saga. Orient's complaints about West Ham's proposed move have always seemed odd - it's not as if Upton Park is that much further from Brisbane Road - and it can only be hoped that some compromise can be found as, historically, Orient and West Ham have always had rather a good relationship. Sadly though, I think this is a battle that will go on for several years yet.

And if current issues weren't enough, Premier League chief executive Peter Scudamore then rather oddly slammed West Ham over 'Tevezgate' - criticising those responsible for the third-party ownership transfer deal that brought a bit of Argentinean magic to the East End and almost brought the club to its knees. Being as none of those responsible still haunt the area around Green Street, it seems a very strange thing to bring up.

"It ranks up there as the number one act of bad faith that any club has ever done towards me during my time here." said Scudamore, "After that, it was dealt with under our rule book and the rest is history." An interesting last paragraph that, and one that I'd rather hoped would be taken verbatim, particularly as all Hammers fans still feel particularly angry about the subsequent £18 million settlement with Sheffield United.

With the last payment of the settlement due in the summer, it was to be hoped that the whole sordid incident could be - if not forgotten - at least consigned to the history pages of the club and there seems little reason to bring the whole thing up again.

But, perhaps, this is what happens when you sit in mid-table, out of the Cup and with no matches to play. They say no news is good news, so perhaps we shouldn't complain if everyone tries to make some up.