Precious away win as Hammers look cushy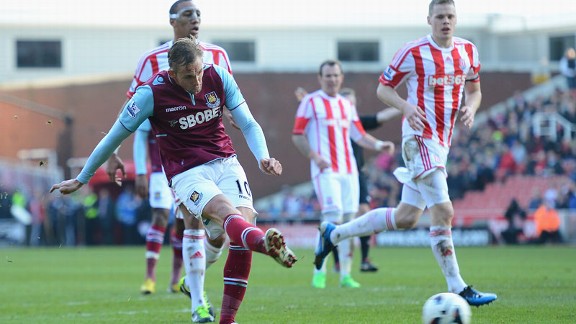 GettyImagesJack Collison scores for West Ham against Stoke
It's been hard to keep West Ham supporters happy this season, but the absolute delight that followed the final whistle at Stoke City's Britannia Stadium showed how vital these three points were. It isn't mathematically certain that the Hammers will be plying their trade in the Premiership again next season, but it would take a shock of mammoth proportions to assume that the claret and blue will even be involved in the relegation shake-up after this much needed 1-0 away win - particularly with the way games went elsewhere.

- Whittaker: Hammer blow for Stoke
- Allardyce delighted to end poor away form

In a match of few chances and little inspirational football, it was nevertheless West Ham who bossed most of the game and scored the only goal virtually as the referee put the whistle to his lips to blow for half-time. Jack Collison - as he has done so often for his club - stroked home smartly after collecting a through-ball from Ricardo Vaz Te.

Of course, it wouldn't be West Ham if there wasn't a caveat though, and this time it was the fact that neither Collison nor Vaz Te started the match and the willing midfield was shorn of both Mark Noble and Kevin Nolan through injury. It was interesting, therefore, to see the Irons look much sleeker and hungrier in the centre of the park without the two players without whom they are not supposed to function.

Collison had been introduced into the game as early as the 10th minute when Matthew Taylor received a rather sickening, but entirely unintentional, kick to his head as Peter Crouch tried an overhead kick. Taylor's injury was bad enough to hold the game up for nearly five minutes and this was time that Collison later used when he scored what turned out to be the winner.

Just a minute after Taylor had been helped from the pitch, Joe Cole pulled up with what looked like a hamstring injury and Vaz Te came on to replace him.

With two substitutes on after only ten minutes, West Ham went to work to try and remedy the situation and were unlucky when a cross was cleverly flicked on by James Collins, only for the big defender to see the ball just clip the top of the post. Collison hit a shot straight at the keeper and Carroll had a few wayward headers, but there was little of note until the goal.

It was inevitable that Stoke would lay on the pressure in the second-half, but Tony Pulis' later complaints about the referee refusing to give a penalty for a foul on Cameron Jerome were completely unfounded, the official Jon Moss accurately noticing that Joey O'Brien had covered ground to superbly toe poke the ball away.

In fact, it was the away side that came closest again when Matt Jarvis shot against the legs of Asmir Begovic after yet another Vaz Te through-ball. Stoke made multiple substitutions and it was one of these replacements, Charlie Adams, who produced Stoke's best chance when he struck the crossbar with a volley deep into injury time. Outside of that though, West Ham controlled the midfield superbly and looked largely untroubled at the back - a statement that should worry Stoke City as much as it surprises West Ham United.

So, it was an encouraging away win and one that helps relieve pressure on manager Sam Allardyce when, in truth, there shouldn't have been any. Nevertheless, such is the short spread of points from mid-table to the bottom, some nervous fans will always see doom and gloom, but this result shows the Hammers can pull something out occasionally, even when supposedly short of their first choice players.

In fact, although Andy Carroll probably misses his captain, it's likely that the team are better balanced when not including the two excellent, but sadly rather cumbersome, Nolan and Noble. Futuristically, the coaching staff will surely need to decide if they can afford to play with the two players who seem unable to dominate the middle of the park when used in tandem. It's a conundrum that Allardyce will need to work on for the rest of the season and - as now looks increasingly likely - the next campaign too.