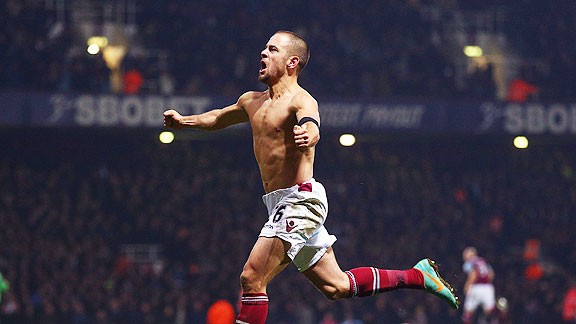 Clive Rose/Getty ImagesJoe Cole's second half strike had West Ham fans thinking victory, but it was not meant to be in the end.
It's easy to get fanciful on a night such as this but, from any point of view, you'd have to think that this match would have produced a smile -- rueful or not -- on the face of Bobby Moore had he been able to see it.

A game from the old days -- all that was missing was the February mud -- full of attacking football, good saves, end-to-end movement, a couple of wonder performances from West Ham's Jussi Jaaskelainen and Tottenham's Gareth Bale, the latter a player with the type of skills that would have had him labelled as a 'genius' back in the '60's and '70's. It will be interesting to see how the Cardiff-born player will be viewed in 20 years' time if he keeps up this form -- and a match that will surely rate as one of the best of the season.

A 3-2 defeat for West Ham after they were leading 2-1 an hour into the match -- plus having a glorious chance to go further ahead -- is the type of story that has echoed around Upton Park for decades. However, famously for a side that Moore was often critical of during his playing days -- often complaining to Ron Greenwood about the Hammers' lack of fight and tenacity -- St Bob would have approved of the effort and skill put into this game against his old club's fiercest rivals. West Ham were eventually only outdone by the brilliance of one man -- and you can rest assured the England legend would have heartily approved of Bale.

- Bale blast lifts Tottenham

Jussi Jaaskelainen must surely have been thinking a large bottle of champagne from the sponsors was on his way, as the Finnish goalkeeper made save after save to deny Spurs, but the keeper could do nothing to stop Bale's staggering 90th minute strike. It was a cruel blow for West Ham, but they can take much comfort from this performance and if they play like this for the rest of the campaign, it should ensure that they pick up the points required to avoid the relegation melee.

The tone for the game was set early on. Pressuring from the kickoff, the home side looked bright, but it was Spurs who went ahead after 13 minutes with the type of strike that makes you wonder how games end up goalless. There looked little danger when Bale picked the ball up just outside the 'D' and drifted to the left of the goal, West Ham defenders were around him and there seemed no discernible space, but the Tottenham man stepped forward and, from the edge of the area, hit a controlled ball wide of Jaaskelainen, the keeper finding himself scrabbling unceremoniously across goal as the ball rolled across him and into the corner. It looked too easy.

It later took slow-motion replays to show that the West Ham defence stood off of Bale, allowing him the important space, but the dilemma was that if they moved closer, the Welsh forward could have then skipped round them. It's the type of thing a class player brings to the game.

The Hammers looked rocky for a spell after, but gradually reasserted themselves -- Joe Cole and Matthew Jarvis finding plenty of space to whip the ball in from the wings -- and were back level on 26 minutes when ex-Hammer and crowd favourite Scott Parker took out Andy Carroll as another cross caused panic in the Spurs area.

With first-choice penalty taker, Mark Noble, out with injury, it was Carroll himself who picked himself up and smashed the ball home.

In the 35th minute, captain Kevin Nolan, who had seemingly picked up a knock in a tussle with Parker early on, was replaced by Matthew Taylor. It was later revealed that Nolan had in fact injured his toe in a tackle against Mousa Dembele; a tackle that Sam Allardyce was none too pleased about. Although this would normally be seen as a blow for the Hammers, the introduction of Taylor tightened up the midfield area and made it more difficult for Spurs to get behind the home defence.

It remained 1-1 till halftime despite chances at both ends including a fine save by Jaaskelainen from Steven Caulker who was to be foiled three times during the evening, each time powering in headers that the West Ham keeper was able to stop.

On 56 minutes, excellent work by Parker found Gylfi Sigurdsson -- who had come on moments earlier for Lewis Holtby -- his long shot skipped over Jaaskelainen's hand and onto the post, the ball bouncing out to Emmanuel Adebayor who looked certain to score before the Hammers' Finnish keeper stopped him superbly.

With the noise levels raised in encouragement for the save, West Ham promptly went to the other end and scored. A high ball from Joey O'Neil found Cole in space, the only homegrown player in the ranks turned superbly and hit a left-footed shot into the bottom corner as Upton Park went wild.

Caulker was again denied by Jaaskelainen – by this point turning in a supposed Man of the Match performance -- who made another wonder save after a free header from a corner. Seconds later, the Finnish keeper tipped over a Bale shot from outside the area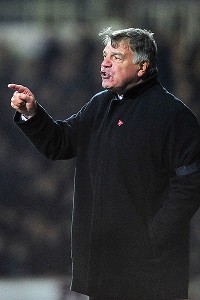 Glyn Kirk/AFP/Getty ImagesSam Allardyce could only tip his cap to Gareth Bale for his stunning winner to beat the Hammers.
West Ham missed a glorious chance to put the game out of reach on 74 minutes when Matthew Taylor was superbly played in by Cole for a one-on-one, only to see Lloris save -- actually with his face -- as Taylor tried to get the ball round the Spurs keeper. Then, in a mirror of the 'save/other end to score' scenario seen earlier, Spurs were level.

Emanuel Pogatetz, who came on earlier for Guy Demel who was having a good game, didn't look comfortable in his first look at Bale and fouled the Spurs man. Bale's resulting free kick from wide ended up in some pinball in the six-yard box before Sigurdsson hit the loose ball home amid carnage in the area. It could really have gone anywhere and Joey O'Brien in particular was unlucky to see his good headed clearance hit his own teammate to set up the goal. Later slow motion replays showed a possible two penalties, a couple of fouls and more air shots than you would normally see in a season.

Spurs now mounted extreme pressure and West Ham were pushed back, Jaaskelainen making another instinctive save from Aaron Lennon and then made an even better stop seconds later from a point-blank Adebayor header. It was now becoming the Jussi Show as the Hammers stopper threw himself in front of everything even allowing a couple of half-chances at the other end as Cole and Carroll went close.

However, there was nothing anyone could do about Bale's staggering winning goal. Skipping past O'Neil in midfield, getting fouled, getting up and -- with the West Ham defence perfectly placed to allow the shot from distance -- simply blasting in from way outside the area to cruelly steal the game from the home side.

It's always hard for any fan to feel the enjoyment of the opposing supporters but this must have been a delicious moment to celebrate as it opens up the Champions League places for Tottenham and came at a time when Spurs must have thought a point was all they would be taking away from the game.

Allardyce was understandably at a loss at the end of the match, describing Bale's goal and performance as a 'worldy' and it's hard to disagree with his assessment that there was little more his side could have done on the evening. Unfortunately, this heaps more pressure on the under-fire manager and Allardyce must be ruing coming across a player who is looking every inch a burgeoning world-class talent.