Carroll injury the way of things at Upton Park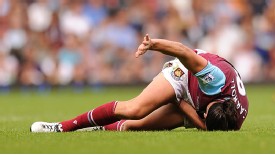 EmpicsAndy Carroll: Injured on his West Ham debut
It's been confirmed by the club that new loan signing Andy Carroll has been ruled out for between five and six weeks with a hamstring injury sustained against Fulham at the weekend.

Though bad news, Hammers' fans were sweating on it being even longer and with a blank league weekend due to the World Cup qualifiers, Carroll won't miss as many matches as he might otherwise have done.

Nevertheless, the fixture list did look particularly kind to West Ham in the opening month or so and it is a pity that the ex-Liverpool man won't be available to take full advantage.

Sam Allardyce revealed he was just about to substitute Carroll when the injury occurred in his last jump with Fulham's Brede Hangeland, but Sam shouldn't beat himself too much over his tardiness with the board. This, after all, is West Ham and regardless of the coaching staff's intervention some dubious fate was bound to occur.

It might have been the stadium dog that bit him, an accident with a spilt tray on an introductory trip to an Eel 'n' Pie Emporium or his pony-tail caught in one of the bricks on the forecourt turrets but Carroll was destined to get injured after his fantastic debut. It is the way of things at Upton Park and any change in the status quo would only lead to pointless delusions of confidence - and that would never do.

Carlton Cole will be expected to drop back into the position he's been occupying for the last few seasons and it will be interesting to see if Allardyce opts to continue with Nolan playing just behind to try and negate the large gaps that seem to open up when Cole is playing the lone striker role.

Though with Yossi Benayoun and Matt Jarvis available for the next game, and several players on International duty making some long trips, the coaching staff may well be thinking of other options while we wait for Carroll to return.

Are you a West Ham fan with opinions on what formation you would you like to see the Hammers' play? Just sign up to ESPN FC - it costs nothing! - and discuss it here.