Gone but not forgotten - Bobby Moore the legend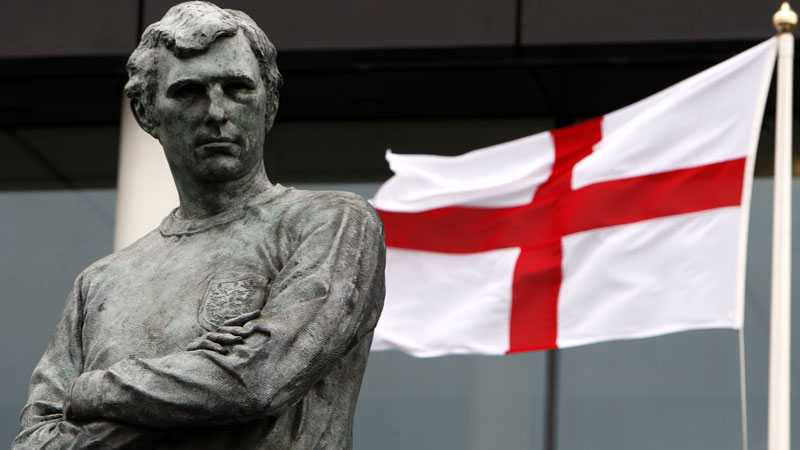 GettyImagesBobby Moore: An England and West Ham United icon.
The 24th of February 2013 marks the 20th anniversary of the tragic passing of Bobby Moore OBE and the club will be celebrating the life of the legendary West Ham captain with a series of events culminating in a special evening of commemoration in the game against Spurs on Monday night.

- West Ham to mark Moore anniversary

In honour of his memory, a wreath-laying ceremony will take place at the Heroes Statue on the corner of Green Street and Barking Road at 11am on Sunday 24 February featuring the current club directors, staff and players. Supporters are invited to attend and I suspect there may be a larger turn-out than the club are expecting.

Certainly that was the case when Moore died and the gates of the Boleyn ground became a shrine for fans who visited - often several times - wanting to pay their respects, laying their own often hand-made tributes and personal memorabilia .

On Monday evening, at West Ham's home match with Spurs, a series of special events are planned to commemorate the life of the Hammers captain, who not only led his local club to domestic and European glory but, as every schoolboy knows, is still the only man to lift the FIFA World Cup for England, in July 1966.

A number of Moore's team-mates and friends have been invited to attend as special guests of the club, including fellow World Cup winners Martin Peters and Geoff Hurst, while Sir Trevor Brooking will represent the latter generation of players who were fortunate enough to appear alongside Moore in their earlier days. Pre-kick-off, a minute's applause will be held in memory of the man who still evokes admiration and hero-worship, not only in the East End but all over the football world.

Supporters sitting in the Bobby Moore Stand will also take part in displaying a special mosaic depicting Moore's famous and now-retired claret and blue No. 6 shirt, and the match has been inevitably designated as one of the special Bobby Moore Cancer Fund games that the club fittingly arranges on certain occasions during the season.

During these matches, the fund benefits from a number of charitable activities including bucket collections which are always generously donated too. However, in this game, the sum should be handsomely boosted by the availability of a special 100-page Official Programme from which 50p for the sale of each, will go to the charity that has already raised millions to help fight the disease that claimed Moore at a scandalously young age.

The West Ham squad will warm-up in Bobby Moore Fund T-shirts prior to kick-off and the first team players will then sign the shirts they play in on the night so that they may be auctioned to further boost the club's fundraising total for the charity.

Despite the bad feeling and rancour that often follows matches between West Ham and Spurs, it's hoped this evening will provide a special atmosphere that will allow all fans to commemorate certainly the greatest defender - arguably player - ever to come from England.

Of course, it shouldn't be overlooked that there is an important Premier League fixture taking place and Spurs will be hoping to spoil the atmosphere, but West Ham need to keep up their good home form too and don't want to be sucked into the late scrabble for points to stay up. It promises to be a good game on a memorable occasion.

The passing of Bobby Moore represented a particular period in my life though and I'm sure there will be many for whom the game will almost be of secondary importance. I'm not an emotional man but I will certainly never forget visiting the shrine of Moore just hours after his death was announced. With no internet or local radio announcements, fans young and old just congregated at the gates of the Boleyn, drawn naturally to their spiritual home by the aura of a man who was taken from us far too early.

Not knowing what was a fitting tribute for the man, I laid my first West Ham scarf and match day programme - something I swore I would never part with - at the gates and then, without shame or discomfort of any kind, just bawled my eyes out. I don't think I've cried as much since. I looked around to see if anyone was looking at me but everyone was deep in their own thoughts and many were shedding tears of their own. Embarrassed by what happened, I returned again two days later to try and retain the memory better. Once again, I bawled unceremoniously.

I wouldn't disagree with anyone who asserts that the death of an icon like Bobby Moore makes an individual view their own mortality much clearer, and I'm sure there will be many on Sunday and Monday who will be thinking not only of the years that have passed since the glory days of 1964-66 but of the quite staggering twenty years that have passed since Moore's death.

But at a time when the word 'legend' is strewn around about anyone who has scored a few goals for a club they have no local or emotional connection with, the real legend that is Robert Fredrick Moore must be honoured as a player and as a man.

It should be an emotional night.