Sam fights the law, law wins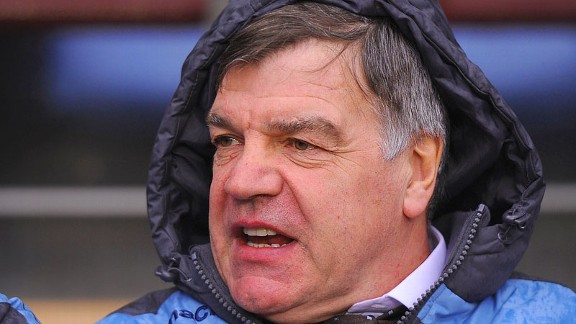 Michael Regan/Getty ImagesSo exactly how is the English FA planning to spend the fine they assessed to West Ham manager Sam Allardyce?
Is there anything that highlights the hypocrisy and sheer lunacy of the 21st century football factory than the F.A. fine system?

Sam Allardyce was charged and fined 8,000 pounds by the F.A. earlier this month after remarks made about referee Phil Dowd following West Ham's 1-0 defeat to Manchester United at Old Trafford in the F.A. Cup. As the Hammers' boss was then quoted as saying that "I've been fined for speaking the truth", and following the logic of the original charge, I'd have to say I'm surprised the authorities haven't pulled him back in for a further fining.

- Allardyce: Treat me like Moyes

Allardyce's claim that referees seem to be too often swayed by home crowds in the larger arenas owned by clubs further up the food chain certainly isn't new. And there have been many similar fines in the past for other bosses incensed by the way the bigger clubs seem to get the 50/50 decisions.

But in this instance, being as the whole incident was little more than two bald men fighting over a comb, two similar penalty incidents -- neither of which should have been given anyway -- one awarded to the home side and promptly blasted way over the bar, the other denied to the away team, you have to wonder if it was all worth it. You'd certainly have to consider that Mrs Allardyce won't be too pleased with the loss of eight grand from her husband's wallet. There goes the holiday in the Seychelles surely?

In the harsh light of day, the penalty decision that went against West Ham was probably the only half-chance that the visitors were to provide that night, and an obviously disappointed Allardyce provided the usual knee-jerk reaction that so often occurs following these type of games. Is it any wonder then that hard-pressed managers with fans and chairman on their back -- forced by rules to make post-match comments -- sometimes come out with a statement that they might reconsider in the cold light of day? In any case, Allardyce didn't accuse Dowd of cheating or being deliberately biased, just seemed to be observing what most of us see every week anyway.

Of more importance though is the fact that the national league of every governing body in the world still doesn't allow its referees to speak up in self-defence of some of these accusations. Better still, wouldn't it be better if they were miked-up so that everyone knew why they had made the decision they had and why? Of course, it would mean every football game in the world coming with a bad-language warning and probably ensuring soccer is moved to after midnight in the schedule -- but, hey! -- Sky do make other shows, don't they?

But even conceding the arguments about the rights and wrongs involved in fining bosses, players and directors for supposed abuses of the unwritten rules, there is still one thing that I don't understand. What happens to the fines? Do they go into the F.A. coffers, to charity or what?

After all, eight grand is a lot for abusing a referee. I reckon, I must be into the millions by now!

Olympic Stadium update

Good to hear the news that, according to London Mayor Boris Johnson, "good progress" is being made in discussions to ensure West Ham move into the Olympic Stadium, possibly in time for the 2016-17 season.

I had another birthday this week and I was starting to despair about whether I'm likely to live long enough to ever see this move completed. Less encouraging though was the comment that lawyers aren't able to finalise a full legal sign-off on the project yet as they need to ensure the contract is watertight against any protracted legal backlash from parties opposed to the Hammers moving into Stratford.

Note this doesn't mean there won't be counter-claims and court cases, just that West Ham and the LLDC feel they have a good chance of winning if they have.

Actually, on second thought, I think I'll cancel my early bid for a seat over at the OS. I reckon I may consult my doctor first.