Where are West Ham going under Allardyce?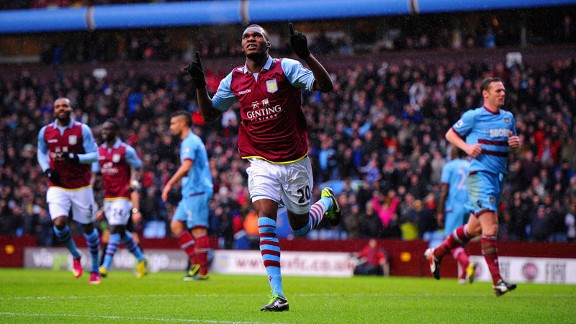 GettyImagesChristian Benteke celebrates putting Aston Villa into the lead from the penalty spot
Following West Ham away from home this season has been a difficult experience and this 2-1 defeat against a struggling Aston Villa only adds to the frustration that fans have endured during this campaign.

- Hughes: Villa show stomach for relegation battle
- Victory eases pressure on Lambert

The post-match comments from manager Sam Allardyce I find extremely troubling, given that his view contradicts totally with my own. For him to come out after such a turgid performance and say that West Ham 'dominated' the game is quite honestly mystifying.

The first half was without a doubt one of the worst footballing spectacles I have witnessed, which is saying something. There was no shape to the team and just the one game plan, which was of course to knock the ball long for Andy Carroll.

Before a ball was kicked there were questions being raised about the starting line-up and how it seemed as though things had been set up to defend rather than attack. These negative and boring tactics are a clear trait of the manager who will not change his system no matter how badly the team may be doing.

This result seems to have further raised the debate as to whether West Ham should retain the services of Sam Allardyce at the end of the season. I overheard many a discussion coming away from the ground and I do not know if that was just a knee-jerk reaction to losing or whether fans are really questioning the ability of a man who seems to see no fault in anything he is doing.

I am still waiting for him to explain why such weak teams were put out against Arsenal and Manchester United in the FA Cup. I was perplexed then and still cannot work out what he was trying to do.

When record signing Matt Jarvis cannot get into that team ahead of Matt Taylor then you know something must be wrong. I cannot for the life of me work out what Matt Taylor brings to the team and anyone watching today surely cannot tell me otherwise.

The Allardyce situation is an odd one for me because I do not want come across as just constantly criticising and berating him. I haven't been a big fan of his from the beginning I will admit and therefore my opinion may be clouded, but whilst I wouldn't call for his removal now, I have to ask, where are West Ham going under Allardyce?

Let's say that West Ham stay up this season (and I still think they will), what are we to expect next season? Anyone who says anything against Allardyce is usually reminded that we are a newly-promoted side and that this season was about consolidation. Fine, I can accept that point (even though my ambitions for the club seem greater than just staying up), but at what point do we review the Allardyce situation?

What do supporters expect Allardyce to do at West Ham? Are we to be happy again next season if the club is languishing in the bottom half of the table with staying in the league again our only goal? Many of the fans crave for a type of football that West Ham will never ever see under Allardyce. Anyone who wants to see good football is usually told that this cannot be done, otherwise the club are certain for relegation.

As I say, I am not saying sack Allardyce but I am asking the question to whether Allardyce and West Ham are a correct fit. I guess what I am asking is for you to consider what you want to see from West Ham. If it is just Premier League survival with little risk and a negative defensive style of football then Allardyce is clearly the best man for the job.

As for the game, two set pieces were West Ham's undoing as a foul from Mark Noble in the second half saw Christian Benteke step up to calmly slot the penalty away. A free kick from Charles N'Zogbia settled matters.

The last few minutes were to be nervy ones for Villa as an own goal from Ashley Westwood saw West Ham pile forward in those final moments with Kevin Nolan coming close and then Carlton Cole saw his header saved in a frantic end to the game.

Did West Ham deserve a point? With the chances created in the second half you could find an argument for that, but at the end of the day the pressure was never constant and Villa would have been content with how they were playing.

Allardyce will bemoan our lack of quality finishing but he has had enough time and signed enough strikers to try and deal with this situation.

Ultimately West Ham left Villa Park having lost a fifth consecutive away game and no matter what stat or percentage the manager would like to offer up, that is simply not good enough.