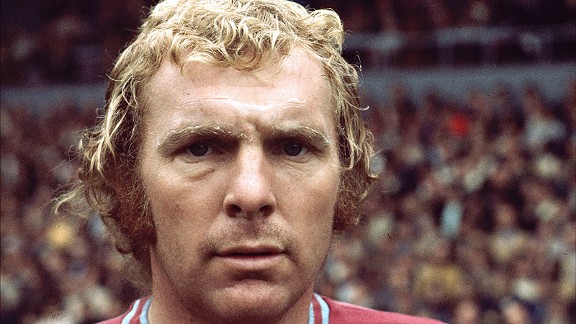 Express/Getty ImagesIt was 20 years ago this month that the football world lost the iconic Bobby Moore.
Later this month at the home game with Tottenham, West Ham United will celebrate the life of Bobby Moore who died 20 years ago this month.

That wondrous summer of 1966 and the Hammers' glory years of 1964 and '65 are long gone and a distant memory of all but those waving a bus pass without doubt. The fact that it has been 20 years since Moore lost his battle with bowel cancer is something that is still very hard to deal with. The outpouring of genuine grief in the East End when Moore passed away on the morning of 24th February 1993 is something I can still see and feel today. The memory is burned in my mind and it feels like only last week, so fresh is it.

Moore was an archetypal sporting hero; the last man -- the only man -- to hold aloft a trophy for England. He would have been feted today even if he'd not been a player of sublime skills, a gentleman, a role model, a style icon and a magnificent sportsman. As it is though, he stands like a golden beacon down the decades of English football. At a time when everyone is labelled 'great' and some above average players -- and quite a few below -- are called 'legends', it's actually quite difficult to describe just how good Moore was. At least, it would be but for one immutable fact: England have not won a single thing since Moore last bestrode the grass like a colossus and, in truth, would anyone bet their mortgage on that changing anytime soon?

Due to my blogs here on ESPN, I'm often asked by writers from other clubs to pen some pithy little message about an upcoming league game. To be honest, I don't much enjoy it and try to avoid it wherever possible, but nevertheless I'm usually asked to respond to views expressed by opposing supporters. At least a dozen times a season when asked what other fans don't like about West Ham someone will mention that 'they always go on about Bobby Moore and how they won the '66 World Cup'.

Now of course, West Ham did win the 1966 World Cup (even the ESPN club page suggests it!); without the holy trinity of Moore, Geoff Hurst and Martin Peters, that England side would never have progressed beyond the quarterfinal... But I jest, we Hammers fans know it's a nonsense but, really, can you blame us? The fans of no other club would do the same?

Moore was world-class without doubt, but that '66 side contained at least two or three others who could similarly lay claim to that epithet and that England team -- and let's not forget they were superbly coached and managed -- owed their success to more than one man.

But 'stop going on about Moore'? How could we? David Beckham for all his toiletries, fashionware, good looks, football skill and charitable disposition -- I'll leave you to decide if they are listed in the right order -- never came close to emulating what Moore achieved, and coming from the East End himself, our David will know it better than most.

But regardless of what you or I think about Moore, there will be eulogies a-plenty over these coming weeks and many of them will contain better prose than you're likely to see on this blog as well as being written by people who actually knew him, worked with him or were his friend. So, I'm not going to try and add to the mound of words but, rather, pay my own small tribute in other ways.

I never met Bobby Moore -- came close a couple of times, was manager of his pub team and nearly asked him for some tactical advice once (I've been told since he would probably have given it too) -- but I do have some Moore related tales and over the coming weeks I'll dot them in and around the usual match summaries and club updates. They're not fantastic stories, they won't celebrate Moore's life any more than it will be these next few weeks but, hopefully in some small way, they will just be a reflection of the true stature of a man who can still justifiably be called 'England's greatest ever player'.