The 'low-down' as Hammers get back to winning ways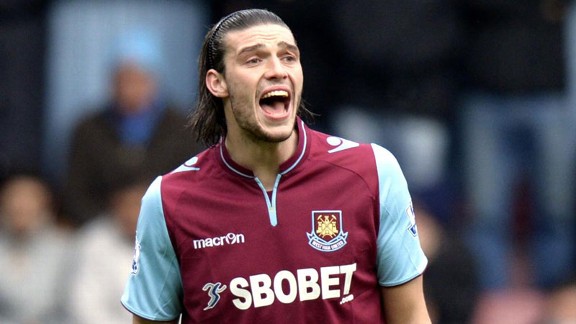 APAndy Carroll scored the winner for West Ham against Swansea
It wasn't always pretty and it got nervy towards the end, but West Ham deservedly snapped their winless streak against Swansea with the excellent Andy Carroll powering in a header from a corner on 77 minutes.

- Hicks: Swans attack continues to sputter

It was an odd game at Upton Park in many ways; Swansea played most of the football and held possession for long periods in the first half but never threatened Jussi Jaaskelainen's goal at all, while the home side seemed content to just mount a rearguard action, watch the pretty play in front of them and then create the most dangerous chances.

Nolan twice, Diame and Vaz Te had excellent opportunities to put the Irons at least three up by the break, but they were thwarted on each occasion by excellent stops from Swansea keeper Gerhard Tremmel. At the other end, Swansea played an attractive short-passing game that saw play switch from middle to wing and back again - sometimes for what seemed minutes on end - without ever once bothering Jaaskelainen.

But it was Andy Carroll who was at the centre of everything West Ham tried to do. I'm not sure I've ever seen a player win so many headers consistently - and I don't mean just in this match but in every game he has played - and although many of his knock-downs and flick-ons found no-one in particular, it was still a threat that kept the Swans defence constantly on their toes.

However, while the Liverpool loanee will be the one hogging the headlines this weekend, it was at the back that most of the Boleyn faithful will point to with some pleasure. Playing effectively without recognised full-back's - my Doctor has told me to breathe deeply when I mention the subject - Sam Allardyce employed Matthew Taylor on the left side and Joey O'Brien on the right and the pair put in a sterling performance that was matched by the impressive Winston Reid in the middle and a back-to-form afternoon from James Tomkins.

Only in the last ten minutes did Swansea threaten the West Ham goal and, sitting as I was in the 'Kids for a Quid' row, very low in the Trevor Brooking stand (I had a young first-time Hammer with me in case you think I snuck in), I found myself with head at pitch level and extremely close to the action. It was a high point of the afternoon watching some desperate defending at close-quarters as the visitor's threw everything at the Irons defence - Routledge in particular looking dangerous when he came on for Dyer after 75 minutes. Sometimes, watching the play from higher up in the stands or on TV, you actually forget just how large some modern professionals are and when they are tussling for a loose ball just two yards in front of you, the effect can be quite mesmerising.

Similarly, the speed of a modern Premier League player can be deceptive when viewed from a TV screen, Momo Diame - particularly in the first half - being one who was happy to collect the ball and power into space at a breathtaking speed.

Unfortunately, Diame was guilty of a couple of misses in the second-half as West Ham continued to cause the Swansea defence problems, while Carroll shot over when handily placed after Nolan pulled the ball back for him.

It was beginning to look as if it would be one of those afternoons when nothing would come off but, when it did, it was inevitably from the most mundane of opportunities; Mark Noble's corner lifted high into the air found Carroll losing his marker and heading in. Swansea reacted promptly and threw everything forward but Jaaskelainen got down twice in quick succession to deny Ki Sung-Yueng and Ben Davies and was then part of the melee, sometimes hacking and sometimes controlling the ball from defence as the game was played out at a frenetic place almost an arm's length in front of me.

It made for an excellent afternoon's entertainment and when the whistle blew, the crowd celebrated their first win since New Year's Day and three points that move the Hammers to the tantalising thirty point mark. There is more work to do, of course, but I suggested this win was vital and I believe it was - the lack of a decent result was beginning to affect confidence and worry an always jittery Upton Park crowd - now Allardyce can build on this and will probably congratulate an excellent performance from the back four and a welcome return from Andy Carroll.

And, in case you were wondering, the newly-Christened Hammer had a great afternoon and wants to go back again. I've tried to warn him - I fear for his long-term sanity and his quality of adult life - but I guess it will be another seat sold, hopefully, at the Olympic Stadium, although I suspect he may never be as close to the action as he was this cold afternoon in February. Something for him to tell his kids about perhaps...