'I'm still here' Diame shocker
What a month it's been for Mohamed Diame.

The Senegalese midfielder - surely known as 'Pimpernel' in the dressing room (where French translation copies of Emmuska Orczy's novel are exchanged for Panini stickers) - has been sought here (apparently) and sought there (allegedly) with Spurs, Arsenal and several unnamed clubs all triggering the release clause in his contract (apparently).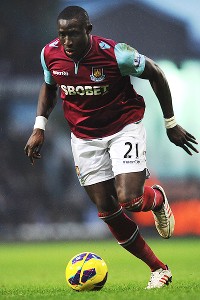 Mike Hewitt/Getty ImagesAfter much sound and fury, Mohamed Diame stayed put at West Ham.
West Ham had fended off the giants of world football for most of January, but things were surely bound to come to a head on the last day of the transfer window. Sam Allardyce feared he would go, and despite protestation from the player himself who insisted he 'wanted to stay', rumours of sightings continued to pour in all day. He was in north London..no! west London, Manchester, Brighton and Liverpool.

Eventually the only rumour I definitely discounted, was the unsubstantiated glimpse of Diame supposedly captured on an old cine reel on a grassy knoll in Dealey Plaza in 1963 and the unconfirmed sighting of him driving a white Fiat Uno in the Pont de l'Alma tunnel in Paris in late August 1997. Yep, it was that kind of day...

As it is, with stories that West Ham spent all day trying to agree a new contract with Diame, it seems absolutely no one thought Mohamed worth punting £3.5m on, with not a single bid coming in. In fact, the only deadline transfer news of note from Upton Park was the announcement that Alou Diarra had joined Rennes for the rest of the season on loan.

"I am positively at breaking point," said the French midfielder as he left east London. Hammers fans knowing exactly how he feels, suffering similar sensations when they witness their club signing a French international, seeing him injured for all of five months and then watching slack-jawed as the player slags the club off when he has barely given us four games to try and gain a regular place; lacking much enthusiasm and little skill in the handful of games he did play. You sometimes have to wonder if an ability in the feet leads to a lack of grey matter in the skull.

'I came to play, not take an early retirement,' said the former Bordeaux and Marseille player. 'You surprise us' retorted the West Ham faithful as they waved their white hankies.

So, apart from the loan signing of Austrian defender Emanuel Pogatetz from Bundesliga club Wolfsburg in the last week, most of the Hammers transfer dealings were carried out early on. The late attempt to lure Aston Villa's Stephen Warnock failing, with the player electing to go to Leeds rather than Upton Park as Allardyce tried at last to get a full-back in before the transfer window shut.

As ever, with the wheeling and dealing done during this period, there is a feeling that some positives can be found from the transfer action, but also a large slice of disappointment some of the attempted signings didn't come off. I've prattled on for far longer than is good for me about West Ham's full-back shortcomings and nothing is going to happen now. After the shambles at the back that led to Fulham's second goal at Craven Cottage in midweek, I'd hoped there might have been a stronger attempt to try and shore up the back four but then again, as I believe the problem lies in the coaching room rather than the skill of the players available, I can't really expect the club to shell out money on expensive recruitments they may not need.

A fully-fit and committed Alou Diarra - a defensive midfielder and even cover at central defence - may have helped perhaps, but it wasn't to be and perhaps we should now just enjoy Mohamed Diame, a player who should have gone but didn't.

But could it be that all this transfer speculation was a little over the top? That Diame - impressive as he has been this season - has just been ever so slightly over-hyped? I just hope all this talk of the man translates itself to action on the pitch. Dogs bark! The caravan rolls on.