More gloom at Craven Cottage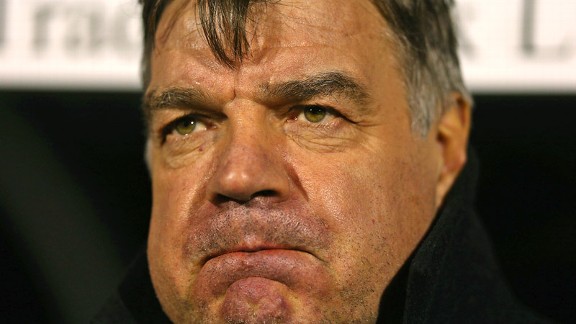 Paul Gilham/Getty ImagesThere was no joy for Big Sam who watched his West Ham side go down in defeat versus Fulham.
West Ham slumped to another away defeat and are probably now just another loss away from being in a relegation struggle. Martin Jol said the match tonight was 'vital' to his struggling side, but after this result, it is now Sam Allardyce who is starting to look nervously at the chasing pack. The visit of Swansea City to Upton Park on Saturday is starting to look 'vital' to West Ham too.

- Match report: Fulham 3-1 West Ham

And really, is there anything worse to add to a poor defeat than that age-old 'kiss of death'? When well-meaning supporters of your opponents tell you that their side are playing so poorly at the moment that the points are surely yours? 'We're awful, can't score and our defence is so porous you'll have a field day,' several Fulham supporting colleagues told me this week. This against a side which we normally post a good record against. Obviously, they've not seen West Ham recently then.

So to the match where Fulham -- as I suspected they would -- made a bright start against a side they obviously thought they could reverse their recent slump against. And despite the fact that Joe Cole shot wide after only 30 seconds, Fulham were a goal up inside ten minutes, an offside Dimitar Berbatov nodding in a Damien Duff cross.

Fulham understandably drew confidence from the early lead and they took control in the first part of the half. But West Ham gradually pulled themselves back into the game without looking particularly dangerous -- pretty much the story of their season -- though Kevin Nolan was a fraction away with a header from a good Mohamed Diame cross.

Steve Sidwell and Diame decided to liven things up with a bit of confrontational pushing and shoving following a tackle that was a bit high from the Fulham midfielder before Berbatov came close again with a low shot that just sneaked past the post with Jussi Jaaskelainen struggling.

However, the Hammers were obviously given a verbal volley at halftime, as they came out firing in the second half and equalised after three minutes; Nolan's left-footed shot in the six yard box finding the bottom right corner from a Mark Noble free kick.

Unfortunately, it's the way of things are at the moment that even when they score, West Ham seem unable to avoid conceding. The lead lasted only one minute before another Duff cross was headed in by Hugo Rodallega after getting past three Hammers defenders virtually on the line. No wonder Allardyce is desperately trying to find some defenders -- this was very poor stuff indeed!

The visitors now set about trying to pull the game back for a second time and nearly succeeded when Nolan's low cross-cum-shot rolled across an open Fulham goalmouth with substitute Carlton Cole -- replacing an ineffective Marouane Chamakh -- annoyingly hanging back when a step-up would have seen him with a tap-in.

Berbatov went close again as Fulham made hay down the Hammers' flanks before Allardyce decided to bring Andy Carroll on for Joe Cole, the returning striker getting in a low shot that Mark Schwarzer did well to get down to. But despite the flurry of substitutes by Allardyce, it was Fulham's Mladen Petric, after coming on for Giorgos Karagounis, who settled the match, poking home from a close angle -- the ball just crossing the line -- as a good Jaaskelainen save down low from Rodallega rolled free. The announcer had just indicated injury time and the match was over.

A later look at the goal showed Petric's shot had cannoned off post and Joey O'Brien's chest for an own goal, but it mattered little really. This was another desperate showing away from home in a season that is steadily unravelling.

The frustrating thing for me about the current situation is that Allardyce's tactics last season and the first part of this had made West Ham a difficult team to play against; a side that -- while not producing free-flowing football or a rigid defensive showing every match -- looked to be able to soak up pressure, hit on the break and make things difficult for opponents. It was never going to see us in Europe but that wasn't what was required.

Now, however, this is a West Ham team of old but with one major difference; brittle in defence, over-run in midfield and on the flanks, and often lacking the heart for a fight; Yes -- 'twas ever thus. But now there is no attacking flair and we are stuck between a rock and hard place. The lack of pace in midfield is putting severe pressure on the defence, and we're not able to make the most of Matt Jarvi playing on the wings because there is no one for him to cross to. Again, Nolan is the Hammers' most serious goal threat, but he is playing in a position we really can't afford to have in the side. What to do?

When you hear someone like Jol bemoaning his side's results recently and saying, 'but we had to play Manchester United, then City and we have United again next week but -- fortunately! -- we knew we had West Ham in between...' then you know the age old Hammers soft-touch nightmare is rising again. It was probably not without significance that Big Sam sent his assistant out for the post-match press conference. I suspect his opinions were being foisted on others elsewhere.

This is something that needs to be sorted out on the training ground and, frighteningly, needs to be done by this Saturday. Another defeat and things are going to start getting nasty.