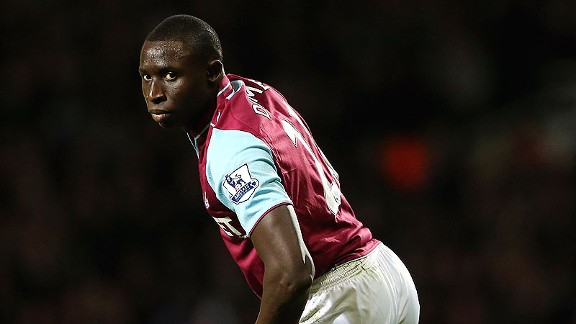 Scott Heavey/Getty ImagesSam Allardyce's decision to leave Mohamed Diame on the bench versus Arsenal has puzzled West Ham supporters.
As many suspected when the third Round FA Cup draw was made back in December, the last Saturday in January sees West Ham United with an enforced rest day. Still, it's good news for the overworked blogger and the tired aching, limbs of the players who have given their all in the past few wee... And, yes! -- Before you all write in -- the last part of that sentence was written with tongue firmly in cheek.

There's much I don't understand about modern football, and the resting of key players for games deemed 'unwinnable' or of 'lesser consequence' is one of them. I mean, I doff my titfer to Swansea and Bradford for getting to the League Cup final; Swansea in particular having another great season and fully deserving of their success. But don't you think this final may have looked a lot different if the whole campaign were played out again with all teams being forced to field their strongest sides?

Of course, I realise that Sir Alex Ferguson, Arsene Wenger and whoever is in charge at Chelsea this week will argue that they have/had a lot more games to play in the golden egg that is the Champions League, that the clubs have spent a lot of money ensuring that they have large squads and that they need to play some of their squad numbers -- the ones returning from injury and young hopefuls in games where the prize isn't quite so significant. I'm also aware that if every team played their best squad in their best formation and went at it 100%, the cup competitions would be equally as tedious of a procession as the league has become.

But even so, what is the excuse of those clubs further down the food chain? In a cup surely there's every chance of a team like Everton bringing in some much-needed silverware, and surely Tottenham wouldn't complain either. By the time we get to West Ham, you'd think we'd be desperate to send out a strong side. But it's not just the cup competitions where this 'resting' happens now.

That West Ham were overrun at the Emirates in mid-week is without doubt. There may not have been much they could have done about it regardless of whoever they sent out in a claret and blue shirt either, but I still find it difficult to understand why Joe Cole and Mohamed Diame were benched.

The latter player was quoted yesterday as saying that he wanted to commit his future to the Hammers and was happy with life in the east end -- and there is not a lot of people who get to say that nowadays -- but rumour was rife in mid-week that Diame was off to the warmer climes of North London. What then was the point of giving the man a break? To help out the buying club?

- Diame: I want to stay at West Ham

If, on the other hand, Sam Allardyce knew that the player was happy and there was little chance of him moving before the transfer window closed, then the decision to leave out a man who has just returned from injury and who needs match fitness is even more difficult to understand. In short, stay or go, Diame should have played.

Similarly, Alou Diarra and Matthew Jarvis, both of whom had started the match in the league game against QPR four days earlier, were sitting on a bench that -- in West Ham terms, anyway -- looked relatively strong. Allardyce had already said he would be looking at the way his side plays away from home, so do we take it that the game against Arsenal was an attempt to change the tactics? Or was it a damage limitation exercise with an eye on more winnable games in the future?

The terrible irony about the stuffing by Arsenal was that if there was any time to try something new, or at worst, use the excuse that this game was unlikely to bring any points so it was better to get round it and rest some players, then the man who should have been left out was Kevin Nolan.

I would have loved to have seen Joe Cole in that position or -- gasp! -- Try a more natural 4-4-2. As it is, on most of the unofficial web sites with player ratings, Nolan was deemed the worst performer of a team trounced 5-1. And that is pretty low.

While it's fair to say that the vast majority of West Ham supporters have warmed to Allardyce's management -- his bringing in of the players at 7am on the night after the Arsenal thrashing has been widely welcomed -- there are some who still doubt the former Bolton defender's ability to play a more enterprising game. There are more still who believe his inability to see an attacking option is an anathema to a side that prides itself on a history of expansive, one-touch football.

I've made my feelings known on the years of supposed 'Academy' football that we've had to endure over the past decade or so and intermittently before that, so this isn't an Allardyce-bashing exercise. But it seems that Allardyce may be finding himself in a bit of a bind at the moment; under pressure to try and create a more attacking option away from home where West Ham's lack of goals is seriously hampering them, but also failing to find that defensive formula that made West Ham so difficult to beat since he took over.

The transfer window is closing and there's now a balancing act between adding the defender or two that is almost certainly needed and retaining the players who have performed well so far this campaign. Whatever happens though, West Ham aren't being served by the constant change of team and tactics. I can't see the point of any team selection that leaves out Diame and Cole, and with the expected return of Andy Carroll next week, hopefully the coaching team will try and play the best side with the best of intentions.

If we've got to go down in a game, let's at least do it knowing we've given our all and not left it on the bench.