Hammers endure Emirates rout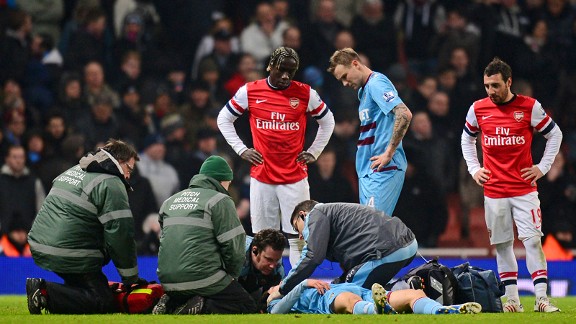 Mike Hewitt/Getty ImagesA bad day got worse for West Ham in the second half when Danny Potts was knocked unconscious. Potts regained consciousness in the ambulance after being stretchered off.
Well, I said I wanted West Ham to let Arsenal know they had been in a game and I reckon that happened. I can still hear the Arsenal fans saying years from now: "Remember when we blitzed West Ham in that 10-minute spell just after half-time and scored four goals. . . ."

That incredible spell ended the game as a contest, before it ground to a halt completely with an appalling injury to Danny Potts who spent nearly 10 minutes unconcious - medics administering oxygen - before being carried off. There was a sense after that neither side really wanted to carry and, although the home side continued to press and look dangerous, the Hammers found some reserves to just slow the game down and see out time without making things worse than they already were. 5-1 was bad enough.

-- Gunners put it away with 2nd-half surge

Frustratingly, it all seemed so much different early on when Jack Collison put the Irons ahead with well-taken goal from outside the area after 18 minutes. Some of West Ham's approach play had looked enterprising before that and there was a brief hope that this rearranged Boxing Day match might still gift the travelling faithful an unexpected present.

But, of course, it was asking too much for an Arsenal side desperate to get back to winning ways after two successive defeats, and Lukas Podolski's screaming equaliser just four minutes later set the tone for his whole performance. Ricardo Vaz Te headed over just after and there were some significant blocks by both sides and a goal-line clearance at both ends as the teams attempted to find a way through just before half-time.

The game looked open and it seemed set for an exciting second half - and I guess if you're a Gooner, it may well have been - but Podolski's sudden one-man show simply blew West Ham out of the match and left the visitors wondering what on earth had just occured.

Firstly, Olivier Giroud scored from the side of the 6-yard box following a Theo Walcott cross just after the restart and, before West Ham could regroup, they were four down. Podolski finding Santi Cazorla, who cheekily back-heeled home from close range on 53 minutes, giving Walcott an inviting through ball a minute later and - greedy little blighter that he is - crossing to allow Giroud to score his second from close range.

Reeling West Ham produced a flurry of substitutes on the hour in an attempt to stop a desperate situation into becoming an embarrassing one; Alou Diarra coming on for Winston Reid while Collison was replaced by Potts to try and stop the wing play from Walcott.

It was the latter substitution that caused the game to take another turn. After Walcott had again come close, Potts was involved in a clash of heads and went down, immediately surrounded by players waving for the trainer. The young defender lay for almost 10 minutes as the medical team sought to revive him and allow him to be carried off, albeit secured with a neck brace. He was eventually stretchered off to hospital still unconscious although Potts, thankfully, later regained consciousness while in the ambulance. It was frightening stuff.

Having used all their substitutes, West Ham were down to 10 men and you feared for their goal difference against a side looking as if they could score every time they attacked, not helped by Jussi Jaaskelainen looking so shell-shocked he actually passed the ball out to Walcott, whose shot the Hammers keeper just managed to get his fingertips to. But everyone looked put out by the Potts incident - there were more Arsenal players surrounding the injured full-back than his own teammates - and when the board was held up to show 12 extra minutes - I'm not sure I've ever seen such a time added before - the players all seemed to mentally indicate that enough was enough.

It certainly was for West Ham. After an encouraging start and an attempt to attack the Gunners, the Hammers fell into disarray after the break and it was difficult to see what exactly Sam Allardyce's planned changes had been about. Kevin Nolan was still absent without leave and again as when he started previously, Carlton Cole seemed ponderous in comparison to the fluid play of the Arsenal defenders.

Not that those two players need to be singled out on a night when the tactics simply fell apart against a side looking to get back to their best and gain an automatic Champions League place, something I'm sure Arsenal will do with ease.

Bigger teams than West Ham will fall against Arsenal this and every season and, although I'm not keen on the 'we move on' mode of management, sometimes you just have to shrug your shoulders and hope lessons are learnt. The transfer window is still open, the search for a defender goes on and and there are more winnable games coming up. We shall see.