What are we going to do about Kevin Nolan?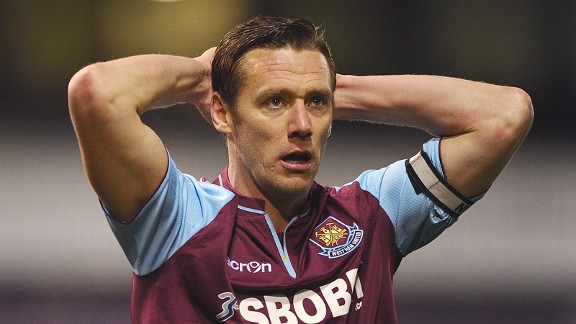 Laurence Griffiths/Getty ImagesIs it time for West Ham manager Sam Allardyce to drop captain Kevin Nolan from his starting XI?
I'm thinking Sam Allardyce may find his time split this week. As our revered manager prepares to answer FA misconduct charges following comments made about the standard of refereeing during the third round FA Cup replay against Manchester United, he will also working on trying to get some type of result from a difficult trip to the Emirates in mid-week. My feeling is though, that Allardyce may well discover his thoughts on both matters dovetailing.

- Allardyce plays down Diarra row
- West Ham rule out Anelka move

Against Manchester United, it was always going to be difficult to make too many goal-scoring opportunities and when they did come -- not that any did -- they needed to be taken with clinical efficiency. I think it was this frustration that led to Allardyce berating the match referee.

After all, neither the penalty awarded by Phil Dowd for the handball by Jordan Spence nor the non-penalty for Rafael's similar hand movement were really penalties, and neither should have ended up with the ball being placed on the spot.

As Wayne Rooney ballooned his spot-kick over the bar in a manner that suggested he thought the decision was utterly ludicrous too, it didn't really matter a great deal in the overall cosmic scheme of things. At the very least it's not really worth getting an FA admonishment and probable fine for. The words 'storm' and 'teacup' were invented for instances such as this.

However, I think Allardyce's main frustration at the non-penalty decision was because when your side manages to produce so few opportunities, you really are looking at the half-chance of a penalty to give you any glimmer of hope at all. And when you get a 'good shout' for one and the referee shakes his head, then your evening's work is likely to be wasted.

However, no such blame can be laid against the whistle of Howard Webb against QPR. West Ham's profligacy in front of goal in a match in which they virtually camped in the visitors' penalty area for long periods, meant Allardyce could only bemoan the lack of a cutting edge from all his forwards. But should he blame them?

It seemed to many at Upton Park that when Carlton Cole came on to replace Marouane Chamakh just after the hour, that the board held up not only showed the number of the player coming off, but also the manager's intentions. It seems that as long as Kevin Nolan is fit and playing, Allardyce will continue to persevere with him. Against Rangers, Allardyce's refusal to revert to two up front in a 4-4-2 is starting to suggest an intransigence that might almost be clinical. After all, the bottom club were offering no threat. They looked like a side entirely dependent on keeping a clean sheet, and barring an ability to break quickly, Rangers really didn't look likely to do any more damage than they had already done with Loic Remy's smartly-taken opening goal.

Barring an early chance excellently saved by the keeper's legs, the Captain had offered very little and when Nolan isn't a threat, neither are West Ham. Against Harry Redknapp's struggling side, it would have been an excellent opportunity to throw off the shackles, put another forward on -- after all, it would have been interesting to see if Carlton Cole linked up will with Chamakh -- and try and get the two extra points that would have made the Hammers' life in the Premiership this season so much easier.

There were ironic cheers when Allardyce took off Nolan with minutes remaining, replacing him with Ricardo Vaz Te. Had this move been made even five minutes earlier, the result may have been different. As it is, the inability to score when given so much territorial advantage is threatening, not only in the points column, but also the confidence of a side wondering what exactly they have to do to put the ball in the net.

Nolan is a man difficult to criticise. His signing last season when West Ham were starting life in the Championship was such a magnificent signal of intent, and one warmly welcomed by all Hammers fans, that it virtually sealed their efforts to get back at the first attempt. Furthermore, at his best, the Captain is a talismanic figure and a team member that most opposing sides are wary off.

The difficulty is that Nolan's ability to strike from midfield means he is always viewed as a twin striker by Allardyce and at the top level there needs to be more than just a tactical Plan A. I'm not necessarily advocating the dropping of Nolan -- although to be fair, some are; the internet forums buzzing with such suggestions this week -- just a bit more idea of how he can be employed when things are not going to plan.

Allardyce has indicated he may well be changing his formation for the visit across London to the Emirates and it will be interesting to see what his ideas are. I think I'd just like to see something that takes the game to the opposition more. West Ham need to make teams like Arsenal at least aware they have been in a game. The goals, hopefully, will follow.