All square as Rangers hold out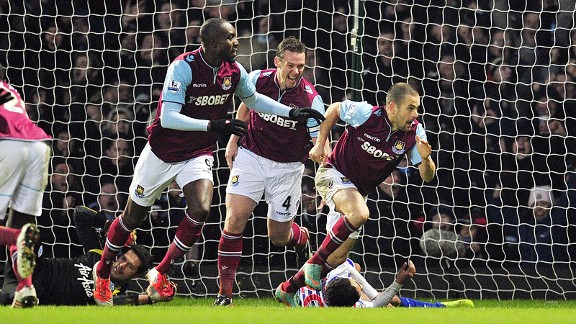 GLYN KIRK/AFP/Getty ImagesJoe Cole's second half equalizer versus QPR was his first goal since rejoining West Ham.
It says much about the strange state of affairs involving supporting West Ham United that the home team seemed to go into this game as underdogs.

Harry Redknapp's hold over his old club, coupled with the unexpected signing of Loic Remy -- a man who likes a challenge apparently -- completely over-shadowed the Hammers' good home form, and the not inconsiderable fact that Queens Park Rangers were adrift at the bottom of the Premier League.

- Smith: Remy debut masks midfield shortcomings
- Match report: West Ham 1-1 QPR

Radio and press pundits were of the opinion that this was the game where the Redknapp miracle would really kickstart their season, and there was a slight air of concern around the Boleyn at the beginning of the match.

So it seemed, with the Hammers making a tentative start against their West London neighbours after an early chance by Clint Hill and a couple of attempted through balls to Remy who was offside on both occasions, that things might be going according to plan.

It was obvious that Redknapp had highlighted the Irons' fragility along the back line -- something Manchester United had exploited in the cup game in mid-week -- and there was a sense of inevitability when QPR broke quickly and Adel Taarabt threaded through a ball to Remy, clearly onside despite desperate arm-waving, who ran on to place the ball past Jussi Jaaskelainen with some aplomb.

West Ham then started to return things to how they should have been; starting a long period of possession, pushing forward but always aware of the threat of Rangers on the break. As at Old Trafford in midweek, there was a deal of play both forwards and wide, but nothing of any note occurred until Matt Jarvis managed to find Mohamed Diame who wriggled through several dispossession attempts before rolling a pass across an open goal -- the ball virtually kissing the white line -- but without anyone close to add a decisive touch.

On-loan striker Marouane Chamakh appealed for a penalty when he was about to strike just a few feet out -- a Rangers defender clipping his heels as he tumbled -- but replays later probably showed the French striker's better appeal was seconds before in the penalty build-up when Hill pulled and tugged the player as he turned and broke.

Chamakh and James Tomkins had chances but there was a feeling at halftime that this result was going to depend on Rangers' efforts to defend their lead, the Hammers - shockingly -- having only come from behind to win on one occasion so far this season. Unless QPR could utilise their ability to break quickly again, this was likely to be a long half for the visitors.

And so it transpired; the second half was simply a tale of one-way traffic as West Ham poured forward often leaving only Tomkins back as they tried to get level. This tactic could have cost them dearly but the fact was QPR hardly threatened anywhere on the field and barely won a single ball in the middle of the park to worry the one-man defence.

Meanwhile, Winston Reid was looking dangerous at the other end as Matthew Jarvis at last started to show the skill that prompted West Ham to pay 10 million pounds for him. Several dangerous crosses came in and the Rangers' defence was reduced to pumping the ball away, hustling it out either for a corner, throw-in or relying on the hands of Julio Cesar.

Sadly, one area of weakness for West Ham was their delivery of the dead ball and from Joe Cole in particular who seemed unable to lift any chance beyond the first man in QPR's packed defence. With the number of corners the home side were now amassing, this was a considerable advantage frittered away.

After 50 minutes, the shot count seemed to increase with every passing attack with Cole, Chamakh, Diame and Kevin Nolan all having attempts blocked, saved or put narrowly over or wide. It was starting to become one of those type of games where the field seemed to be full of free players waving their arms to try and attract attention, as another punted clearance was picked up and brought forward from defence.

It came as a bit of a surprise, and caused a chorus of boos, when Carlton Cole was introduced after 62 minutes and the board went up showing Chamakh's name as the player to go off. Most thought it would be a better tactic to play Cole in front of the Arsenal loanee but, to be fair -- as he has shown in the past -- Sam Allardyce has an eye for when and where someone needs replacing.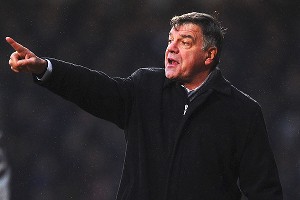 Mike Hewitt/Getty ImagesBig Sam's substitution of Carlton Cole for Marouane Chamakh was unpopular, but proved out in the end.
Unlike midweek where Cole looked laboured, the striker looked dangerous coming off the bench, getting his head to several Jarvis crosses and looking to run at the Rangers' defence with the ball at his feet and on 68 minutes, West Ham were level.

Jarvis provided another excellent cross for Carlton Cole, dead centre in the penalty area, the forward heading strongly only for Cesar to make an excellent save low down. However, the goalkeeper couldn't stop the ball from falling to the feet of Joe Cole, who gloriously poked in at the far post and celebrated with great enthusiasm his first strike after returning to the club who found and nurtured him.

It was now simply a case of if West Ham could produce a winner as QPR poured back, but as the eventual shot count of 23 with nine on-target suggests, for all their pressure and territorial advantage -- QPR were only in possession for 30% of the time -- the home side just didn't seem able to really open the opposition up. What's worse, with Carlton Cole looking the most dangerous after coming on, it seems the real threat comes from the bench while the striker who starts often stutters.

Sadly, the Hammers couldn't find a way through and Redknapp can again probably point to another success against his old club, although it's likely QPR might have needed three points from this game.

For West Ham, this match shows there is still enough on the pitch and bench to ensure that they don't get pulled into the relegation dogfight, although it's likely they will be looking over their shoulder, rather than up, as the season's key times emerge. Spotlight at the moment appears to be on Nolan who doesn't seem as dangerous as he was earlier in the season but, playing behind the front man as he is, his difficulty makes the team look lopsided without a significant contribution. Nolan was substituted late in this game to give Ricardo Vaz Te a last chance at providing a winner but the move could really have been ten minutes before.

Against that though is the class and composure of Joe Cole; it seems incredible that Liverpool weren't able to utilise his ability and he can only get better as he gets more matches under his belt.

Since defensive coach Wally Downes left the club in odd circumstances before Christmas, West Ham have struggled with holding a line at the back and this is something that will need to be addressed if the club want to keep the all-important clean sheets that will garner them extra points.

As it is, it's off to the Emirates on Wednesday and you do fear for a side trying to play offside against Arsenal's speed.