Silly season update on Tomkins and Diame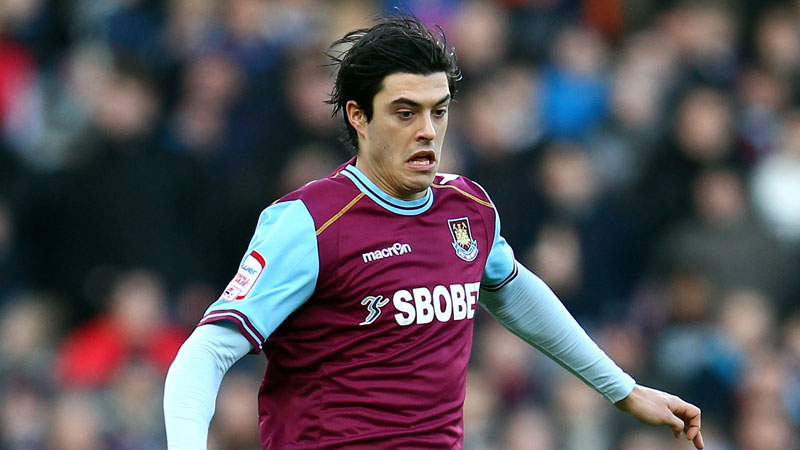 GettyImagesJames Tomkins: Highly rated and not for sale... probably
Oh well, I suppose it was bound to happen eventually.

While I've been generally enthusiastic about West Ham's alarmingly prompt and enthusiastic entry into the transfer window, I should have know that the silly season would raise its ridiculous head at some stage.

So it is, with James Collins nursing a hamstring injury and James Tomkins - who many feel should be first choice anyway - drafted in to replace him, Sam Allardyce is bemoaning the fact he has only two (three if you count Guy Demel) fit central defenders, despite the fact the situation hasn't changed since August. With Joey O'Brien, who has just signed a new long-term contract, also out at the moment along with George McCartney, the Hammers are stretched at full-back too.

Of course, regular readers of this blog will know it's my opinion that West Ham have been stretched at full-back since Ray Stewart last powered a penalty at 120mph - but I digress - as far as life at Upton Park is concerned, it's so far, so normal.

But tabloid rumours of a Newcastle bid for James Tomkins has prompted the usual transfer window non-headlines. "We have never been in a position to sell anybody and we don't want to. We want to increase the size of the squad not decrease it." Says Sam Allardyce. Fair enough, but then: "But you never know what happens in this window because if someone offers you an unbelievable amount of money for one of your players then the owners look at that and say that is too much to turn down."

The latter comment has prompted the obvious media conjecture as to what is an 'unbelievable amount of money'. We are talking about a club that thought that £18 million was an acceptable amount for Rio Ferdinand, when it was obvious to any fool - or at least any fool that wasn't a Club Director - that a flat refusal and another two years would have doubled his worth.

Personally, with Collins' injury, I believe any bid for Tomkins would be rebuffed out of hand now - and so it should be. But I do wish manager and club statements wouldn't give such fuel to the media. In my opinion, James Tomkins, given the right opportunity, could stand alongside Alvin Martin and Rio himself and to sell him would be another horrendous Hammers transfer howler but, personal beliefs aside, who is to say, outside of the club, what is a 'unbelievable amount of money' for him?

I've heard Newcastle were looking at £5-£6 million and, for me, the only response to that would be to laugh uproariously and slam the phone down. But what do I know? The trouble is, in the silly season, it's Ok for anyone to guess what an 'unbelievable amount' is and build a story up around it. In fact, I would be more worried about these stories had Collins not become injured; as it is I can't see West Ham entertaining any bids for Tomkins and that suits me just fine.

More confusion though reigns over the rumoured 'trigger clause' in the contract of close-season free signing Mo Diame. With suggestions that any bid over - depending on who you read but let's say £3.5 million - could see the former Wigan midfielder moving on after only four productive months at Upton Park, the silly season headlines really kick-in. "We've had no bid for Diame from Arsenal" said Sam, according to one back page the other day.

Only in football do we get a story about someone not doing something. Still, while we're on the subject I'd also like to state I've not been called in by Big Sam to give the boys a motivational speech on Saturday, Dan Brown is not concerned about the recent upsurge in sales of 'Nightmare on Green Street' and rumours of my illicit affair with Keira Knightley are, sadly, wildly over estimated (Huge Hammers fan she may be but she's gonna have to eat a few more puddings before I'd consider a second date).

Allardyce also continued the recent rather amusing digs at Arsene Wenger by suggesting that, if the North London club were considering a bid for Diame, that "...I don't know where they'd play him anyway...".

So, just to update you, we have a player with a possible trigger cause in his contract, possibly wanting out, possibly not, and possibly being hunted by, possibly, some big clubs, (although said clubs possibly wouldn't know what the hell to do with him anyway). This non-news will run until the bid comes in or the window shuts. Possibly.

So, switching from the transfer window lunacy, it's back to league action against Queen's Park Rangers this Saturday, with the added excitement of the return of Harry Redknapp to his old haunt. No Hammers fan is saying too much currently but dear old 'arry has a rather good record against the side he previously played for and managed, and the surprise signing of Loic Remy is sure to make this a difficult game for the claret and blue.

Anything less than three points is likely to start panicking the vultures that permanently hang around the roof of the Sir Trevor Brooking stand, and with the defensive injury crisis at Upton Park I'm expecting to see an attacking display on Saturday. There may be some goals in this one.