Hammers slip out of the cup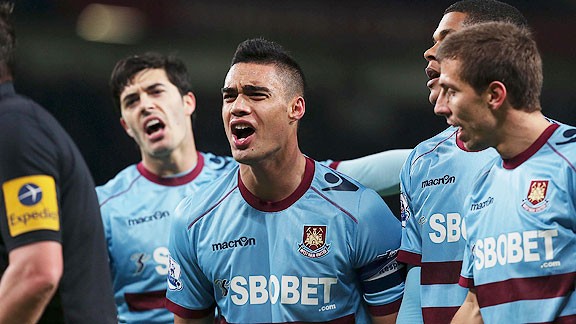 John Peters/Man Utd/Getty ImagesIt was a frustrating night all around for West Ham in their 1-0 FA Cup loss at Manchester United.
It will interesting to see what the season's DVD makers at Upton Park will do with this tie come June. I wouldn't be at all surprised if they don't splice the league game in November with this third round replay and make one match, so similar were they in content.

Essentially, the story goes like this; everyone expects Manchester United to win at home and they duly go ahead early. All watching now expect -- or fear -- a landslide. The Reds play a lot of attractive football, create chances but not many clear cut ones. West Ham gradually get back into the game and feel they may have something to aim for after halftime. They seize the opportunity in the second period, push on, get chances -- but few decent ones -- and eventually show they lack the necessary class in the final third. Whistle blows: result is as most expected, but Manchester United at least know they've been in a game, while West Ham rue what might have been if they hadn't started poorly. Have I left anything out?

- Match report: Manchester United 1-0 West Ham

Of course, there will be the usual brouhaha about the penalty not given for Raphael's handball and the one that was given against the excellent Jordan Spence -- Wayne Rooney blazing the resulting spot kick way over the bar in a most sporting manner -- but that is an irrelevant sideshow as neither incidents were penalties in my mind.

Of more relevance is the fact that both teams played a largely changed side from the one that we might expect were this to be a vital league game. In Manchester United's case, this meant a chance to try out some players coming back from injury, mainly in the shape of Nani and Rooney, while West Ham decided to turn to youth, flood the midfield and give young Daniel Potts and Jordan Spence the chance to nullify the home side with their quick wide men.

The thing with playing at Old Trafford is you really need to make the home side work for everything and West Ham have failed to do this in their two appearances there this season, allowing an early goal before trying to haul themselves back into it.

After nine minutes, Javier Hernandez seized a peach of a through ball beyond James Tomkins -- "It looked close" said Andy Townsend; "Blatantly offside" says I (I was wrong!) -- and slipped the ball through for Rooney to simply slide it home. Rooney looked skywards -- what do players see up there? -- and Old Trafford settled in.

As in November, it looked as if it was going to be a long night as the men in red found time and space, playing the ball to feet and into space at will. The thing with sport at its very best is that those practising it make it look very easy -- and Manchester United do the simple things with consummate ease. Every ball finds the person it is aimed for and every movement shows purpose and assurance.

Meanwhile Carlton Cole, lumbering, heavy-footed and making the Manchester United back four seem as if it were operating at a different speed, spent most of the half either struggling to stay upright or watching the ball as it was snapped up 10 yards from him, while the packed midfield often saw three West Ham players trying to clear the same ball. Ricardo Vaz Te tried some trickery but it all looked second-rate and rather tame.

As Manchester United poured forward at speed, the Hammers' defence fell back in a solid line; determined, but too often conceding the vital area from the halfway line to the penalty box, meaning the home side could control play at will as they searched for an opening.

However, as is often the way of these things, the longer Manchester United went without making a decisive strike, the more West Ham started to believe. They tightened up eventually and, while still leaving spaces on the flanks, created a bit more going forward to ensure the red shirts weren't all employed looking for defence-splitting long balls. The ever-improving Potts made a brilliant goal-line clearance after 27 minutes, and this seemed to be the catalyst that gave the Hammers a sense that they might get something from the match.

Jussi Jaaskelainen got down well to a strongly-struck Rooney shot just before the break giving the generally quiet crowd something to shout about, but I doubt this was particularly entertaining fare for the millions watching the game live at home.

Just 1-0 down at halftime, Sam Allardyce obviously had the players take more time to build in the second half and, bit by bit, they started to push Manchester United back. It's difficult to think of a really good opportunity in this time -- West Ham simply don't open up teams away from home -- but Manchester United had to be alert.

Just after the hour, the Hammers had their best chance. Matthew Taylor found himself alone in the area and elected to try and slide the ball past the keeper allowing the defender to clear with the goal unguarded, while an unmarked Cole waved his hands in frustration just a few yards out. It was a glorious chance and one you knew, had the home side had the opportunity, the ball would be nestling in the net. It's the difference not only between the top of the Premier League and the rest, but also the difference between the top two in England, a handful of other clubs in Europe and the also-rans.

Kevin Nolan and Jack Collison came on for Cole and Mohamed Diame -- the influential midfielder obviously feeling his own way back from injury -- but little changed, although Nolan was in a great position but couldn't get his shot away. It was the type of thing that turns into a good opportunity when you are playing lesser teams.

After 78 minutes, Manchester United were awarded a penalty for one of those so-so handballs that referees seem to give nowadays. Fortunately, for the match and eventual result, Rooney skied the spot kick over. Allardyce made a good point afterward about the two incidents being identical with one being given and the other not, but it really was just something to mull over while the real questions of why West Ham don't create any chances were conveniently ignored. I suspect this is one for the training ground.

When the whistle went and Old Trafford celebrated the 1-0 victory, at least Manchester United could say they had to fight to gain their place in the next round. Meanwhile, West Ham go out of the cup and can rightly rue an awful draw, but I think everyone knew their chance came at Upton Park and this was always going to be a difficult tie regardless. The best result some may feel, is for Manchester United to go on and win the thing so the Hammers can claim to at least have gone out to the eventual winners.

It's now back to league action for West Ham and, disappointing though this result is, the Irons eventually made the league leaders work hard for their passage through to the next round and, providing they can do that every Saturday, the season can still turn out well for them.