Hammers well beaten on Wearside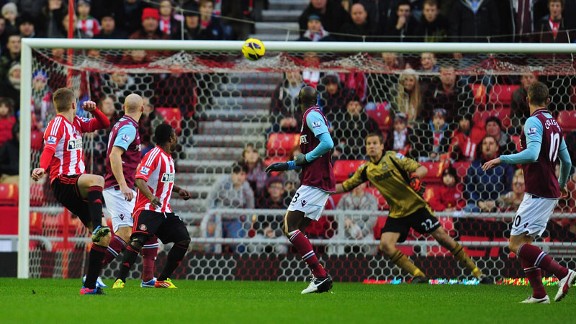 GettyImagesSeb Larsson fires Sunderland ahead against West Ham
This was another poor away-day performance from West Ham United against a rampant Sunderland side who made light work of their opponents.

An early first half strike was followed by two in the second half, to send the visitors away on the back of 3-0 beating that could, in all honesty, have been much, much bigger. The Hammers looked second-best all game in an insipid performance that made the Black Cats look like world-beaters.

- Allardyce makes case for defence

Sam Allardyce is going to need to take a serious look at the way his team is set-up away from Upton Park after this appalling display, as the Hammers pathetic goal-scoring record and gutless performances are starting to undo much of the good work done early in the season.

Virtually from the off, West Ham suffered a torrid time. David Vaughan narrowly shot wide after three minutes, just seconds after an excellent block by Collins had denied Adam Johnson. A plethora of Sunderland corners then followed as the visitors were pushed back. The Hammers were being overrun in midfield, and it was no surprise when Sunderland went ahead after 12 minutes; Sebastian Larsson scoring with an excellent, left-footed shot from outside the box that flew into the top left-hand corner.

As so often happens in these instances, West Ham now started to get more of a grip even though they were still second-best to most balls, barely worrying the Sunderland defence and lacking any penetration on the wings. But any hopes of a response died quickly enough, with Vaughan and Fletcher in particular, playing superbly in a dominant Sunderland display.

The Hammers first meaningful shot was probably from Matthew Jarvis, whose chance from the centre of the penalty area after 20 minutes was saved by Mignolet, who had little else to trouble him during a relaxing first half for the Belgian keeper.

Sessegnon came close again with a left-footed shot from outside the box following another fast break from Sebastian Larsson, and James McClean's opportunity from the left side of the penalty area needed a smart save low down from Jaaskelainen.

It was one of those situations where visiting fans would just hope to keep the score manageable so that the team could try and reverse things in the second half, and I expect the coaching staff were relieved to get the team back in at half-time only one goal behind; Sam Allardyce acting immediately to try and reverse his team's poor first-half display.

Ricardo Vaz Te came on as a substitute for Collison at the start of the second half and this lead to a goal - although not in the direction West Ham might have hoped. The Portuguese winger was fouled within seconds of the restart, immediately leaping to his feet where, to boos from the home crowd, he went down again under pressure. As West Ham moved up to try and make something from the free-kick, Sunderland broke with Stephane Sessegnon superbly finding the on-running and unmarked James McClean, his left-footed shot was excellently saved by Jaaskelainen. Unfortunately, inexperience now stepped in, as young Daniel Potts making his Premier League debut, failed to clear his lines, chesting the ball away weakly and seeing it fall to Adam Johnson to double Sunderland's lead.

There was already a feeling that this was a lost cause. James Collins had limped off in the first-half with what looked like a calf injury - Tomkins deputising - but it was the midfield and forward line that needed a boost and it was difficult to see where that relief was going to come from.

West Ham now though probably started to play their best football of the game - not that it says much! - and several half-chances came their way as they attempted to press forward. Just on the hour, Marouane Chamakh replaced the ineffective Carlton Cole but only joined the pitch in time to see Sunderland almost going further ahead; Jack Colback hitting the post with a left-footed shot after his initial effort had been well saved by Jaaskelainen.

As West Ham attempted to drag themselves back into the game, they at least looked a little more dangerous up front although there were few clear opportunities with the Black Cat's defence being marshalled by Craig Gardener. Nevertheless, the third Sunderland goal probably owed a bit more to their first-half display, as Sessegnon again broke into the area, his shot finding McClean at the far post to poke under the shot-weary Hammer's keeper.

The Stadium of Light was understandably jumping now and West Ham desperately tried to quieten the crowd by pushing forward, ironically probably looking better than at any time during the game. But Mignolet wasn't to be beaten, saving from first Vaz Te, then Tomkins before usual scourge of Sunderland, Kevin Nolan, hit wide when well-placed.

The main fear was West Ham conceding a fourth and, despite some chances, they just managed to keep the score from being described as a thrashing. Even so, territorially and in game-play, West Ham were outplayed, out-fought and made to look very ordinary.

While Sunderland can start looking up the table - they are now one point behind West Ham - the Hammer's coaching staff need to start right away looking at the way the team play away from the Boleyn.

Mo Diame returned to the bench but Sam obviously felt he needed to hold him back while he regains more match fitness. Mark Noble's return from injury is desperately needed to help support the centre of the park. After an initially high percentage of decent crosses, Matt Jarvis is now struggling to meet his £10 million price tag and his lack of threat from wide means the whole side are struggling with a lack of threat up-front.

However, the main doubt amongst the fans still remains the requirement to play Kevin Nolan in the forward-lying or 'hole' position. It looks a luxury West Ham can barely afford currently, it makes the Hammers weaker in other areas, meaning the side are out of shape and struggling for cohesion.

Sam Allardyce may need to really earn his money shortly and make a difficult decision.