Sam puts the boot into new recruit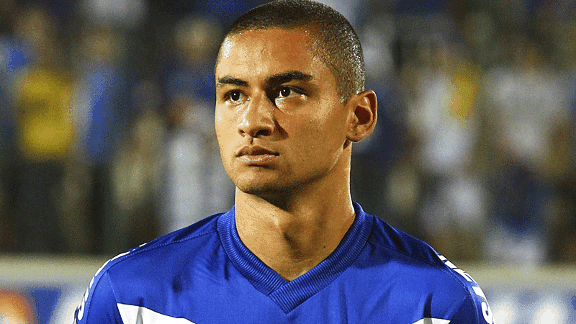 GettyImagesWellington Paulista: Now a Hammer
Well, I've got no beef with this signing...Aw come on! This is like shooting fish in a barrel for me. Following West Ham's latest loan acquisition, how long did you think it would be before the useless puns kicked in (see what I did there?) on this blog?

For the news that West Ham have kept up their extraordinary transfer window activity by shipping in 29-year-old Brazilian forward Wellington Paulista from Cruzeiro was good news, not only for Hammers fans, but also headline writer's everywhere.

The Brazilian arrives on a six-month deal with an option to extend to three years if the player settles in at Upton Park. With a record of 27 goals in his last season for Cruzeiro, Paulista arrives with a good reputation but, as we all know, the step from South American league football to the English equivalent is not always one that comes easy, so this is very much a calculated gamble for the club.

Wellington Pereira do Nascimento - as he is unlikely to be called on the terraces ("One Wellington Pereira do Nascimento , there's only one...") - is a player not without self-belief, claiming "I am one of the best strikers in Brazil and aim to prove it with West Ham". Brave words and ones we hope to see transformed to action on the pitch as Wellington can apparently put the boot in - I've got dozens of these, you know - as a main striker or wide on the wings.

Wellington - the name likely to appear on his shirt - told fans "I am strong, I am a fighter and I can score with both feet. I run a lot on the pitch and I can play as either as first or second striker". This sounds good, of course, but cliche though it may be, the Brazilian may find his talents stretched to the maximun on a frosty night in Manchester or the North-east and it's not always something imports from Brazil find particularly easy.

Nevertheless, the player is bound to enjoy enthusiastic support at Upton Park as I notice several unofficial club sites are already working up a series of footwear related songs. For me though, I'm transported back to 1982 when Queen's Park Rangers pulled off the massive coup of playing a forward line consisting of Mike Flanagan and Paul Allen. The Flanagan and Allen combination were as bigger hit on the football field as they had been decades earlier on the stage (that's one for the kids there!).

Of course, Greg Abbott and Peter Costello played together for Bradford City in the late 80's and who can ever forget when former Hammers boss Alan Curbishley teamed up Portuguese international Jorge Costa and youngster Jonathan Fortune to form a defensive partnership that looked great on paper if not on the field. The 1970's saw Dave Watson and Nick Holmes appear for Southampton on several occasions although I notice that the Hammers very own George McCartney never seems to have interested Celtic where he could surely have teamed up with Neil Lennon and delighted a nation.

So, if West Ham are doing their homework, I sincerely hope the coaching staff are already scouting continents afar to find a player with the surname Boote. Really, nothing would make me happier.