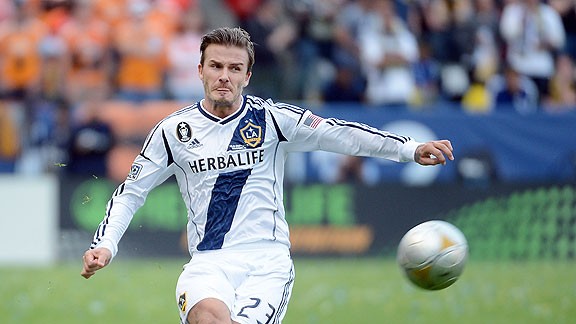 Harry How/Getty ImagesIs David Beckham heading to Upton Park this winter?
It's difficult to believe the transfer window has only been open one week. Usually, West Ham are the type of club who will have a huge shopping list -- likely full of players they needed in the summer but were too tight or lethargic to buy -- limited funds, and a manager with a panic-stricken face.

- Cole: I owe West Ham

By the last week of the window, that same look is usually on the face of the fans as well, as the club's targets have all been spirited off elsewhere, the asking prices for those left is rising and the manager and Chairman console us with the news that 'a deal is close'. Usually this means the club is paying way over the odds for someone who is a second-choice, and we'll be repenting it by Easter.

But if the feeling that the new regime at Upton Park is focused on an improved way of doing things both on and off the pitch, surely this first week of the transfer window has underlined it.

Of course, there's the big arrival of Joe Cole -- that acquisition has already reaped benefits -- and the loan deal for Marouane Chamakh from Arsenal. But it should also be remembered that the Republic of Ireland's Under-19 striker Sean Maguire -- a player watched by the likes of Everton and Chelsea -- has joined from Waterford on a two and a half year deal. This is a young player for whom much is expected, and the Hammers' ability to capture someone like that shows how much the stature of the club has grown since relegation under Avram Grant. This is almost a return to the golden days of the Academy.

Rumours of a Brazilian striker and a Scandinavian fullback are rife and, of course, there's the inevitable fact that any top international who has previously played for the club (and that's a lot of players!) or, at the very least, drops his 'aitches is now likely to be linked with an opportunity to wear the claret and blue shirt.

You could just see the headlines being written as the television cameras played over the face of one Leytonstone-born David Beckham last week as he watched the game between his old club and his 'old local' side. Not that Sam Allardyce isn't adept at playing to the gallery too; asked if there was any coincidence in Beckham being at West Ham, Allardyce all but turned to the camera and gave a theatrical wink. "What do you think, boys and girls?" "We'll see", was what he actually said.

Of course, it would be amusing, if nothing else, if Rio Ferdinand and Frank Lampard all ended up back alongside Cole ten years or more after the initial crime. But I think we're underestimating what those players have to offer if, as certainly looks likely with Lampard, they are allowed to leave their current employers. I suspect a last Euro payday will be too much of a lure for some.

Of more interest though, is Allardyce's way of dealing with things when they don't go his way. Most fans welcomed the return of Yossi Benayoun and I suspect most of us were happy to sit back and let him see out his injury woes in the hope that we got a flash of his 2006 brilliance. Not so much Big Sam though. The manager has shifted Benayoun back to Chelsea without compunction and a brief 'Thank You but you're not fit enough for us'. Of course, that wasn't what was exactly said but the inference was there.

Meanwhile, Andy Carroll has been told in no uncertain terms that when he regains full fitness in a couple of weeks, he is expected to contribute much more to the scoresheet than he has done so far. There are also rumours that Modibo Maiga hasn't impressed the gaffer too much either and an unlikely move to Newcastle may be on the cards.

Now in the case of the latter, I have wondered how it is that the coaching team seem to buy and sell so rapidly, and I've questioned whether or not some players have even been given a chance. But claret runs deep in my veins, and I must admit even I'm hewn from the same old dodgy block that decades of underachieving tend to build. I need to learn that not every club runs aground quite as often as my beloved West Ham and there are managers out there who are actually proactive and take decisive steps to ensure that things run as smoothly as they possibly can. Even so, this whirlwind Upton Park regime is giving me a headache sometime.

Whatever occurs in the rest of this transfer window and beyond, I think it extremely doubtful that Allardyce will be departing for his second unlikely home at the end of the season. New contract talks are yet to start but I think all parties realise there is a chance to do something special now. "We like him and he likes us," David Gold has said -- and, frankly, that's not something I thought I'd ever see in print.