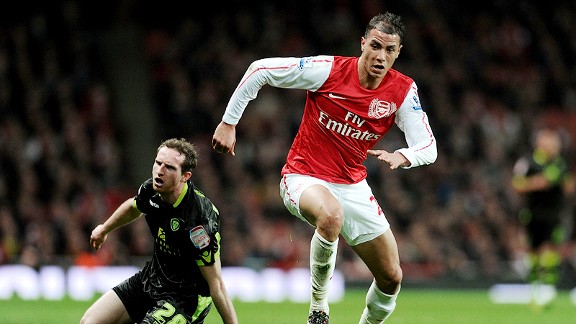 Stuart MacFarlane/Getty ImagesWest Ham fans hope that a change of scenery for Marouane Chamakh will lead to goals from the Moroccan striker.
According to one august journal, Arsenal fans are "having a laugh" at West Ham's loan signing of Marouane Chamakh till the end of the season. Of course, the highly publicised tweets of Jack Sullivan -- the Chairman's son, not the American literary professor (he's apparently extremely satisfied with the signing) -- didn't really help.

- West Ham strike Chamakh deal
- Ubha: Four to watch in FA Cup

The boy who promises "2 give u the top news" (*Groan*) apparently stated that he "was sorry" about the loan deal adding, "he wasn't my pick". He later backpedalled furiously though -- possibly with his father's boot strategically placed -- to say he hoped Chamakh "could prove me wrong". Of course, we are all disappointed to find the owner's son isn't fully consulted when Sam Allardyce dips into the transfer market, but I guess we're going to have to just hope the lad's tactical nous is fully utilised on the training ground instead.

I was more interested in the fact that the former Bordeaux forward has at last arrived at Upton Park after being linked with the club back when Gianfranco Zola was manager and the club was owned by a debt-ridden Icelandic bank. It's not the first time I've witnessed a club seemingly inextricably linked with a player despite changes, not only in the manager's office and the coaching area, but also in the boardroom. It's almost as if the transfer was dictated by the fans, and the bricks and mortar of the Boleyn ground -- the only constant since the initial inquiry.

Of course, Chamakh's poor form and lack of goals since joining Arsenal is the real reason behind the merriment but, with Modibo Maiga off to the Africa Cup and Andy Carroll injured, Carlton Cole is really our only recognised forward and this has to be worth a punt. In any case, I'm not convinced by the argument that suggests that if Arsene Wenger can't get the lad to play then no one can. Some players find their feet better at a club where the pressure isn't quite so great and supporters don't feel doomed because they've failed to win a trophy for two years.

Chamakh looked good enough at Bordeaux where he scored an impressive 56 goals in 230 games and even a small return on that type of form will please Hammers fans worried by the fact our leading scorer, Kevin Nolan, has five goals.

Ideally though, I'd like to see the Moroccan start finding the net not only to annoy Gooners everywhere -- always a delicious and worthwhile exercise, particularly when one of them is Piers Morgan -- but because it's about time we got revenge for the second career of John Radford (28 games, not one solitary goal).