Things you won't hear at Upton Park in 2013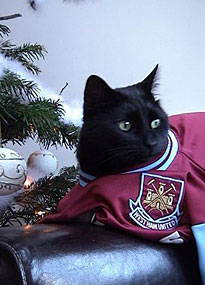 GettyImagesSam Allardyce was suspicious when his transfer window Scouting team kept referring to his new goal-keeping target as 'The Cat
Everyone is making their predictions for 2013 and wondering what the coming year holds. So, in the usual belligerent manner that you'd expect from someone as surly and world-weary as myself, here's a list of some things I'm not expecting to hear at Upton Park next season.

"Today's match ball is sponsored by Barry Hearn" – Official Club Magazine

"Frank Lampard Jr admitted that the rapturous reception he received from the West Ham faithful brought a tear to his eye. 'I often think what I could have achieved if I'd stayed,' he said – Daily Mirror

"Former Hammers favourite Paul Ince is in line to replace Sam Allardyce" – The Sun

"The dates for the home and away pre-season friendlies with Sheffield United are..." – Club Sources

"Keep it low! I want you to play it to the feet of Andy Carroll and Carlton Cole" - Sam Allardyce

"Good news from Upton Park as BUPA agree to build West Ham's training ground in thanks to the club for the years of custom" – Club Magazine

"…and the Nobel Peace Prize is awarded jointly to West Ham United and Tottenham Hotspur"

"Welcome back, Alan. Have you met my wife?" - Billy Blagg

"An Icelandic bank is reputedly looking to sponsor the Olympic Stadium and take West Ham to the next level" – Daily Mail

"Hello? Anthony Taylor? Ahhh old chap…just wanted to wish you a Happy New Year." – Sam Allardyce

"I'm pleased to announce our new shirt sponsors are Goldberg Bagels!" – David Sullivan

"West Ham owners are due to appear at a press conference with Boris Johnson later today with rumours that the 2012 Olympic arena is to be renamed the Starbucks Stadium" – The Daily Star

"I'm able to pick from a fully fit squad this weekend" – Any West Ham Manager for the next 50 years

"…And it's a hat-trick from Carroll"…" Sky Sports

"We've decided to stay at the Boleyn ground because of the excellent road and rail infrastructure and the enthusiasm of the local population" Karren Brady

"And in the 4th round of the FA Cup, West Ham will face…." ITV Sport

With thanks for some contributions to Overbyyer, Alfs, Gaffa, Gazza_AZ, Rich B.