To see or not to see? To explain, or not?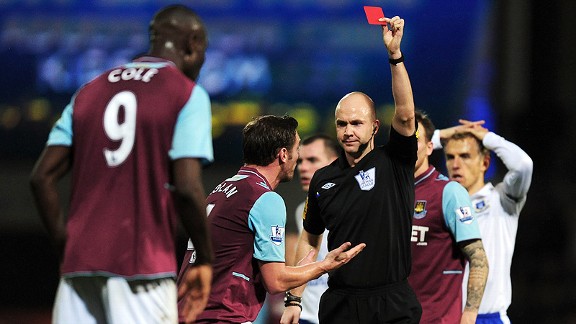 Steve Bardens/Getty ImagesCarlton Cole's red card was rescinded without referee Anthony Taylor ever having to explain why he showed it in the first place
I think the usual cliche has it that 'football is a funny game' but I prefer to think of it as a downright strange.

I mean here we have a truly global game – really the only global game – played by millions and watched by tens of millions more and yet, when talk of change and the introduction of new technology is proposed, authorities shrink away like a salted snail. Something other sports not only embrace, and which time has proved to even add to the spectacle of the respective sports - and I'm thinking of Hawkeye in cricket and tennis here - football ignores.

- Cole, Gibson have red cards rescinded

After years of spurning the clamour from fans following matches spoiled with incorrect decisions by hard-pressed referees on whether or not a ball has crossed the line, UEFA and FIFA this year reluctantly agreed they will need to start testing goal-line technology. Meanwhile, the rest of the world looks on open-mouthed, safe in the knowledge the ball did/did not cross the line because they witnessed it on TV just seconds before.

The planet's football authorities are still testing a new technology not considered safe enough for international football - the one John Logie Baird popped down at the patent office in 1926. A funny game? Tragic, more like!

But what's worse for me is that football could do so much for itself, not by giving it to cries from the great unwashed for a third referee with a TV screen, but – even better – just by making its officials more accountable. "Anarchy!" comes the cry from the national and international authorities, but I believe exactly the opposite would be the result.

Take West Ham's recent home game against Everton as a case in point.

Carlton Cole was sent off in the second half of the Hammers' 2-1 defeat for 'dangerous play' following an attempt to control a high ball, during which his studs were seen to strike the chest of Leighton Baines.

Baines, to be fair, did not make too much of the incident. Having come from Cole's blind side, with the West Ham striker keeping his eye on the ball, Cole's foot barely brushed the Everton defender. But it was considered 'dangerous play' and Cole was sent off.

What so incensed Sam Allardyce was the incident was no different from Victor Anichebe's tackle on James Collins in the first half, when referee Anthony Taylor not only failed to show a card but didn't even see fit to speak to Anichebe. The fact that same player later scored the equalising goal just after the hour was an irony lost on no one.

However, two minutes into injury time, Everton also had Darron Gibson sent off for another high tackle on Mark Noble almost identical to the Cole incident. It was too late to influence the game, but there was a suggestion that Taylor, having made the first decision, was duty-bound to 'even things up'. It was something picked up by David Moyes, who said he felt neither incident was worth a sending off and, more important, added, "I don't think that's the way to referee."

Fortunately, common sense has prevailed and the red cards have been rescinded, allowing both players to appear in the crucial games over the New Year's weekend.

But still, controversy about the incident aside – I believe that is another debate for another day – how much better would it have been if referee Anthony Taylor had been allowed to comment on his decisions after the match? Let's imagine something like this: "I understand it was hard for Carlton Cole to be sent off and I don't believe there was any malice in the incident but I am duty-bound under FA rules to send off any player whose foot is raised high and strikes another player no matter how gently."

That would easily explain – regardless of if we think it is correct or not (again, another debate) – the decision during the game and alert players and managers any ball control above chest height should not be attempted by foot.

But – and this is the salient point for me – the referee also disallowed a perfectly good goal from Everton in the first half. In my post-match report, I even commented that I couldn't see why it was disallowed and it was another of the strange decisions that seems to follow deliberate shirt-pulling and blocking allowed in the penalty area. And yet, I was wrong!

A cynic might say that if the linesman really saw the arm of Anichebe – yep, him again! - curled around West Ham goalie Jussi Jaaskelainen, then someone might want to let Mr. and Mrs. Kent know that their long-lost son Clark is running a line in the Premier League but, that aside, the fact is the Everton player did pull the West Ham keeper back and it was a foul.

How much better would it have been if Mr. Taylor and his assistants had been allowed to tell us and highlight the incident? Wouldn't that alert everyone that if an arm is put around the keeper in a corner any resultant strike would be disallowed? Imagine Mr. Moyes ripping into his player because his unnecessary pull had allowed a perfectly good strike to be chalked off.

Now I realise there is a counter-argument that says such things go on throughout every game, but again that is an argument about a third referee watching from a TV screen and giving every decision, and what I'm talking about here is accountability that would have made the game at Upton Park more palatable. No change of rules; no alien technology, just the man in charge being accountable, explaining why what happened was dealt with as it was, and everyone – if not happier – at least aware of what is acceptable or not.

And what of the incident that so incensed Allardyce in the first half; the Anichebe tackle that went unnoticed? Imagine further: "I didn't give that foul because [insert as applicable]" or – even better! – "I'm afraid I did not see the incident as it was on my blind side and I can't give a foul for something I didn't see."

Annoying for the fans and manager perhaps, but don't you now have some sympathy for the referee? We've all made mistakes at work and we're lucky they are not highlighted on a results show at 10 at night, so surely most fans would understand. It also leaves the authorities to deal with the referee should they see fit - i.e., Mr. Taylor really should have seen that incident and we need to review his status.

Pleased though I am that Cole is available for Saturday's game at Reading, the fact he is able to play is down to post-match review by video. If it is allowed to work one way, then why not the other? As I said, a long debate, but one that allowing the referees to speak after the game would go some way to solving.