Yuletide traditions must be cherished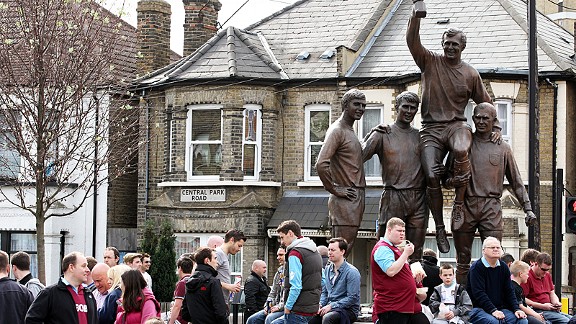 GettyImagesWest Ham fans will miss Boxing Day action after the match with Arsenal was postponed
Well, as I sit here before a roaring log fire and light up another cigar, pour myself a further brandy and send the cat off to get me a Turkey sandwich, I don't want you to feel that I'm not thinking about all of you out there, dashing through the snow - more likely the rain! - in your one-horse open sleigh to your Boxing Day matches up and down the country. Of course, I wish I could join you, but Aslef have spoken and I get a day off.

Be aware, though, that if certain football chiefs and Premiership bosses - even current and previous England managers - have their way, then all of us would be enjoying a long lay-off over Christmas and New Year. The clamour to have a mid-season break seems to get a little louder each year. But if there is any message of peace and goodwill to men this festive season then it must be - keep off our Christmas matches. We like 'em!

Can any football fan honestly say that after the fixture list is published in the summer, that the first thing they do after seeing who their team is to face in the first game, isn't to look to see what you are going to be doing on Boxing Day? Will it be a home game, wrapped up in your new scarf, hat and gloves besplendent with just a whiff of after shave, or a trot up the M1 early in the morning, with a wary glance at the weather map?

I'm perhaps being a bit mischievous in suggesting I'd like to see a return to the olde days when Christmas matches were played a day apart playing at a rival's ground one day with the return the next; I doubt that would find its way past the FA nowadays let alone the PFA. But I hope I don't get to see the day when the fixture list closes down for a month to allow for a rest for the 'hard-pressed' professional.

Of course, the mid-winter break is a given in Europe and it's often claimed that the reason the Germans, Italians and ... well, frankly anyone past the White Cliffs, is better at football than England is that our poor players are tired and drained after a full season without a break. It's nonsense, of course, but even if it were true, I wouldn't care. The spate of matches over the festive period has always been pivotal in the English football calendar and long may it continue to be so. Is there anything quite as exciting as the anticipation of the Bank holiday matches that lead into the 3rd Round of the FA Cup in the first week of January?

At a time when much of football has become sanitised and when big squads and large amounts of money dictate the results of a game almost before a ball has been kicked, the December mayhem provides us with just a glimpse of how things used to be. With the big boys usually opting to shuffle their squads to rest players, some smaller teams get the chance to raise their game and pull off a surprise, even though there is a counter argument that some others may find their squad stretched by injuries.

Regardless, festive football is first and foremost a tradition and there are precious few of those that survive long in modern Britain. So yes, I may be comfortable here at home but don't think I won't be envious at 5pm when those results come through. Enjoy yourself out there today and relish a welcome throwback to another time.