Pantomime and festive japes at Upton Park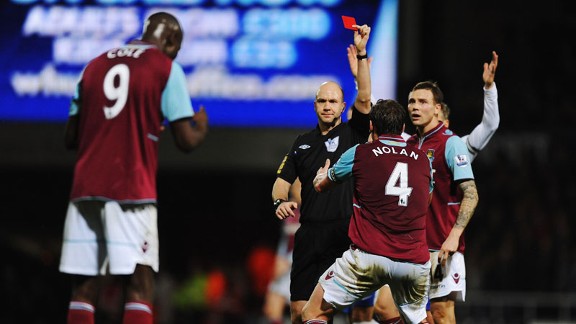 GettyImagesReferee Anthony Taylor shows West Ham striker Carlton Cole a red card
I was 'lucky' enough to catch the 'Snow White and the Seven Dwarfs' pantomime at the Wycombe Swan this week, and the boos greeting Craig Revell-Horwood's deliciously camp Wicked Queen were as nothing to those that greeted the hapless Anthony Taylor as he left the field following the Hammer's 2-1 defeat at home to Everton.

- Blog: Pienaar leads East End fightback
- Toffees battle back to beat Hammers

Taylor's decision to award a straight red card to Carlton Cole after the forward had earlier struck the goal that had given West Ham a first-half lead, was as baffling as it was ludicrous. It totally changed the course of a game that had already taken a turn two minutes before when Victor Anichebe had equalised for Everton. When the visitors went ahead six minutes after Cole's dismissal, the festive atmosphere fell as flat as the beer left out after Boxing Day.

Not content with one call, Taylor then sent off Everton's Darron Gibson for an almost identical tackle deep into injury time but it was too late for it to make much difference to the game. However, it was a first half tackle that so incensed Manger Sam Allardyce, the West Ham boss bemoaning a high foot from Anichebe on Collins that didn't even merit a stiff talking to, let alone a yellow card.

Kevin Nolan squandered a late chance to equalise but most home fans will simply point to Everton's Indian sign over the Hammers and put this down to the type of bizarre incident that seems to occur when you are playing a side that somehow seems to have some type of hold over you. Following the home defeat by Liverpool - another team West Ham struggle to get a result against - in the previous game, Allardyce may well be wondering just what it is in the air on Merseyside that so seems to produce performances that so upset the Hammers.

It's likely that Everton will claim they were hard done-by too though, as Osman's first-half headed goal was ruled out for what appeared to be Anichebe's block on Jaaskelainen. The linesman was 50 yards away and gave the foul but it's difficult to imagine what he saw from that distance. The irony is not lost on me though, as I have been complaining all season about what is not - or rather what is - allowed to go in the penalty area. This was just another in a series of decisions that I no longer understand.

When Cole gave West Ham the lead just three minutes after Osman's disallowed effort, cutting inside the full-back and striking low, it looked as if this might be a chance of a bit of a pre-Christmas party but Everton looked stronger after the break and, despite the introduction of Maiga for O'Neill - the forward mis-hitting a cross wide from a good position shortly after his introduction - it was the Malian who gave away the foul for the free-kick from which Everton eventually scored.

Maiga was booked for pushing Pienaar and the free-kick eventually found Pienaar again, his cross being turned in by the faintest of touches by Anichebe. Shortly after came the controversey as Cole, looking skyward, sought to control a high ball by raising his foot. I wasn't even sure the striker could see Baines as he came in from an angle but Cole's foot touched the Everton full-back in the chest resulting in the foul being given and the red card shown. Cole looked astonished - as well he might - and if, as Allardyce claimed after (I couldn't see), Carlton touched the ball before his foot struck Baines then the decision looked even harsher.

That decision completely knocked the stuffing out of West Ham and with the momentum fully with Everton - and given their knack of getting results against the Hammers - it was no surprise when Osman's cross was turned into the net by Pienaar after 73 minutes.

West Ham still had time to equalise and very nearly did when Nolan poked just wide in what Sam Allardyce described as 'the best chance of the game' but Everton held out for the win that takes them up to fourth and leaves West Ham to rue not only a decision that may have cost them this game, but one that leaves them virtually without a striker for next week's important visit to Reading.

The transfer window opening cannot come quick enough for Allardyce who will surely be hoping that David's Gold and Sullivan will, like Santa, be generous with their gifts. At the very least he'll be hoping for no further Grinch's in the shape of Anthony Taylor.