No defending the undefendable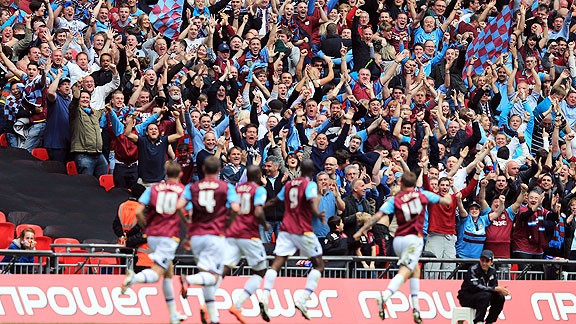 Richard Heathcote/Getty ImagesWest Ham United supporters in happier times last season celebrating a Hammers goal versus Blackpool.
Today is not a good day to be a West Ham United supporter. But then, neither is it a good day to be a member of the human race.

The vile anti-Semitic chanting, nauseating 'hissing' and mindless calls for Adolf Hitler -- how moronic have you got to be to think chanting a fascist leader's name is either clever or funny? -- are something that sickens everyone who has even a shred of decency, decorum and humanity about them. But isn't that then the issue? We're talking of people whose moral compass points in a different direction, a group who utters anti-Semitic, racist or just plain ignorant slogans to goad, aggravate and annoy others.

- FA investigation into apparent anti-Semitic chants.

I like to think as I write this that there will be hundreds, perhaps thousands -- if I'm fortunate, tens of thousands -- who will read this column, see the condemnation of a section of the club's fans and nod in agreement. But we have to face the fact that if one of the few thousand Hammers supporters in the crowd who started or joined in with the mindless singing and goading of Tottenham fans at White Hart Lane is reading this, then they won't agree. And what do you say to those people? Is it a case of admonishment, punishment or education?

It's understandable and right that the F.A. are investigating, but you have to wonder what that body can do that will nip this cancer at its root. Some will say fines, censure -- even point deductions -- but that just starts us off on a trail of claim and counterclaim that will lead to legal ramification somewhere along the line. It will only be a matter of time before someone claims to have heard a reference to Hillsborough at a Manchester United-Liverpool game, or a racist song at a Chelsea-Arsenal match that's not picked up by TV or radio, and people will start to complain about favouritism. In any case, if the club is fined or censured, would it stop? If not, what is the point other than to harm the tens of thousands who weren't there, those who wouldn't have joined in even if they had been?

In much the same way that West Ham fans were accused of racist chants in the 1970's, when they were the first club to field a black player and later three black players on their team, there is a level of stupidity that almost always accompanies this type of incident. I've been to games -- especially back before the Premier League attempted, and partly succeeded, in cleaning up the game -- where I've heard particularly virulent racist taunts meted out to opposition players, before a song or a chant started up to celebrate one of our own black players. I didn't understand that mentality then, and the years have done nothing to make sense of it.

You have only to look at the online Hammers' sites to see the support of former hero Yossi Benayoun when he returned to the club this summer. I genuinely didn't see one word about his being Israeli or Jewish and, rest assured, had Benayoun been playing yesterday -- which he would have been had he not been injured -- that would not have affected that chanting one iota. You see, so the strange thinking goes, Yossi is "ours" -- at least till he moves somewhere else and then see what happens -- and that is somehow acceptable. Presumably the same type of argument is applied to club owner David Gold. It beggars belief.

That type of "thinking" -- yes, I realise that is a misnomer -- is something endemic to the sections of society who live their lives by this bizarre code. They would say that what we saw and heard at Tottenham is acceptable because it's "just a bit of fun," or defended on the grounds that "they do it to us." And be aware -- despite what usually happens when these incidents occur and owners and managers are forced to defend themselves or their clubs -- these people do not form part of a "small minority" at all. I see and hear people like this every week at every game.

The difficulty though is that virtually anyone who attempts to explain, defend or condemn this behaviour cannot claim any insight into the machinations of these minds because they are not part of the problem. I'm not a member of the section of society who would take his son to a match and then racially abuse a player or insult the referee with the "C" word. I don't chase a motorist down the road and threaten him at the lights because he cut me up. I don't make a gas-escaping hissing noise when in the company of a Semite. I don't get it -- but because I don't understand it, it makes it more difficult to pontificate on its solutions.

I think it is worth saying here that I have met many dozens of Spurs supporters through work or socially -- hell, even had some friends who supported them -- and apart from one, none of them at all were Jewish. How this stacks up with the minority section is something I don't even want to think about. And before anyone mentions it -- and about half a dozen posts in on a fanzine site will show you -- I'm not comfortable with Tottenham supporters using the "Y" word to name their own travelling "Army." Apart from anything, this just gives bigots the opportunity to hurl it back with venom and snarl, "well, you use it."

The depressing fact is that the hostile atmosphere in the match at White Hart Lane was ignited further by the previous week's events in Rome, where Lazio supporters attacked Spurs fans with their own brand of anti-Semitism. The fact that this behaviour would be more supported historically in Italy would be an irony probably lost on the travelling morons. Attaching former Hammers hero Paolo di Canio -- a man accused of some strong relationship with the extreme right-wing leanings of the Lazio Ultras himself -- only inflamed an already incendiary situation.

The sad fact, though, is that if this was thought to be an extreme, then I'm afraid I don't think it was different to any other time West Ham have played Tottenham. The song that refers to the gassing of Jews in the Holocaust is a song I've heard at least once at every match against Spurs I've attended, and it dates to the '70s. I even heard it sung on the train coming back from the playoff final this year, when you would think the furthest thing on the mind would be a trip to Tottenham. Sadly, the insanity never goes away.

What concerns me more than anything is that however many fans West Ham took with them to White Hart Lane -- and I don't have the exact figure -- a seemingly large percentage of them apparently were there to cause the very outrage that they have succeeding in creating. To be heard so very clearly over other fans suggests that the contingent of those travelling to cause problems were numerically stronger. In fact, I know of many Hammers fans who like to travel away who refused to go to White Hart Lane because of the expected trouble.

So, if there is any solution to this problem -- and I'm not seeing any at the moment -- a good start would be to look at the supporters who travelled to this game. It would also involve looking at those who went with the best of intentions, didn't cause any trouble and didn't involve themselves in the chanting but, sadly, that is the way of things and needs to be understood.

Also, I think managers and chairmen need to be more accountable. I do not believe that Sam Allardyce and Andre Villas-Boas did not hear anything. If they didn't, then both need an urgent visit to the club doctor who, I am sure, will have an otoscope lying around somewhere. Mr. Allardyce doesn't have -- despite what he may think -- "more pressing things on his mind at the moment." The makeup of the team and concerns about getting Andy Carroll some support are fairly mundane when the good name of the club is being dragged over every page of the newspapers. Villas-Boas is obviously in a different situation, but it really wouldn't have done him any harm to come out and condemn the chanting regardless of the fact that he was attacking an opposing club. Some niceties need to be addressed, and quickly.

Ultimately though, I believe society as a whole needs to decide what they want to do about this. In much the same way that installing video cameras, CCTV and seating cut down the excessive violence of the '70s, it may be a similar solution that needs to be applied to weeding out those who spit hatred and inflame violence. Whether the general public wants to pay higher taxes to police this is a matter for a forum bigger than this.

For rest assured, this problem isn't only the burden of West Ham United Football Club, it's not even an English problem, as recent events in Italy, Poland and Balkan states have shown. At its very root is a lack of humanity, a misguided sense of self-worth, bigotry and more importantly, a general lack of ignorance. But immediate solutions? I don't see any, and can only look to the past to grasp some hope for the future.

For in the 1930s, rampant anti-Semitism and fascism were the concern of nations, not a handful of moronic thugs. Thirty years ago endemic violence, danger and -- sadly, even death -- was a regular occurrence at football. The best we can hope for is that at some point in the future, we can look back at the events at White Hart Lane and view them in the same way. Sadly though, I feel it will be a long, hard journey.