Honours even at Upton Park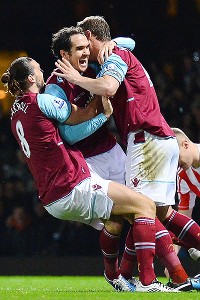 Ben Stansall/AFP/Getty ImagesJoey O'Brien celebrates after scoring the equalizer for West Ham.
I got the old Blaggmobile cleaned today. Nothing astonishing in that, I know, but I'm not a man who invests money in keeping a shiny car. So it got me thinking as to how many times the old PT Cruiser has seen a chamois over the past year.

I remember the sun gleaming off it one day this summer, but before that? The last time I can recall the Hoover getting to the carpets was when I stopped off on the way to Ricoh Stadium last autumn as I went to see West Ham play Coventry in the championship. I'm not sure what odd urge made me check the date of that game, but I was astonished to find that, coincidentally, that match was exactly one year ago today. Stranger still, this afternoon as I passed the Weston Homes Community Stadium, home of Colchester United -- a ground I can virtually spit on (and often do!) -- from Blagg Acres, I noted that the U's next home game this Saturday is against … you've guessed it -- Coventry City.

This is less a tale of how seldom I clean my car (although I'll hold my hands up to that!) but more a story of what an astonishing difference a year makes. On 19th November 2011, it took a Sam Allardyce tactical change and an inspired Carlton Cole substitution to turn the game around against Coventry and enable a side trailing 1-0 and being fairly well outplayed at halftime to come back to win 2-1. One year later, Coventry City are visiting Colchester in League Two and West Ham are glancing nervously at the European spots.

I'm always fascinated at the small twists and turns of football that can make or break not only a game or a season but also sometimes the very fabric of a club. In many ways that result one year ago today laid the foundations for two different turns of events.

The requirements for three points were entirely different at Upton Park on Monday night against Stoke City. West Ham were looking to keep their fine early-season form going against a side that, although difficult to beat, hadn't had too many wins to count on in recent months. The home side, possibly for the first time this season, looked slightly lopsided shorn of wide men Matt Jarvis and Yossi Benayoun through injury. With Modibo Maiga and Gary O'Neill being drafted in, this looked like it might be a night when tactics at set pieces might be important. And so it proved.

Stoke started much the brighter and went ahead after 13 minutes. George McCartney gave away a needless corner and from the resulting kick Jonathan Walters lost his man at the far post and, in a well-worked routine, circled round and smashed home through a pack of players from just inside the area on the other side of the pitch. In slow motion, the move looked even better.

With the Hammers struggling to gain a foothold, Jussi Jaaskelainen made a good save to deny Robert Huth from another corner as Stoke dominated. Eventually Asmir Begovic was forced to make a good stop from Kevin Nolan after 26 minutes as West Ham, driven on by the impressive Mohamed Diame in midfield, started to get into the game, while fans and bench had cause to complain once again at the treatment metered out to Andy Carroll; the usual series of shoves and shirt-tugs going unpunished by referee Chris Foy.

Steven Nzonzi volleyed just wide in a dangerous position and followed that up minutes later with a scorching shot that struck the bar and bounced down. It was all Stoke at this time and the home side was forced to defend its own half as the crowd started to get frustrated. Well before the clock started to run down to 45 minutes, there was a feeling that the Irons would do well to hold at the one-goal deficit and hope Big Sam could sort out what was starting to look like a bit of a mess.

Could it be like Coventry a year ago? Why should it? Apart from a memory jogged by a dirty car, this was another world away. I did wonder for a time, though, when a minute after the restart, a driving run from Maiga led to a glorious chance for Nolan, who scuffed his shot just a few feet out. But seconds later West Ham were level -- Joey O'Brien volleying high into the net when given a neat low cross from O'Neill after good work by Diame.

It was now a different game, with Maiga looking dangerous on the left, West Ham fighting for every ball, the crowd baying and Stoke being pushed back with virtually every attack. O'Neill went close just before the hour following a miss seconds earlier by Carroll with a header, and after Maiga had a left-footed shot blocked all in the same minute. Five minutes later, O'Neill came even closer as Diame threaded through a ball following a corner and the former Middlesbrough midfielder put a right-footed shot agonizingly wide. Like Stoke's opener, it was obviously something worked out on the training ground, but this one didn't quite work out as well.

Strangely, although the home side looked stronger and the more likely winner, that spell after 65 minutes seemed to signal the end of the Irons' complete dominance and Stoke -- with Peter Crouch defending as much as he was attacking -- seemed as if they would be happy with the point. There's no denying Allardyce chased the game, but the introduction of Cole for Carroll and Matthew Taylor for Maiga didn't really work, and I think Tony Pulis will probably think he got the better of the tactical replacements as Wilson Palacios' introduction pretty much coincided with Stoke steadying their line. Really, though, Pulis, you should lose that baseball cap now -- it's not becoming on a man of your age.

So 1-1 and the Hammers go into a tough spell with another point and confidence high. I think the claret and blue could potentially came out of the run with five or six points on this form and it will set the club up nicely as it approaches the transfer window.

It could have been better -- of course it could -- but as I've been reminded today, a year is a very long time in football and I'll settle for what we have currently. I might even wander over to the Community Stadium on Saturday to remind myself.