Sam plays it cagey as old rivals clash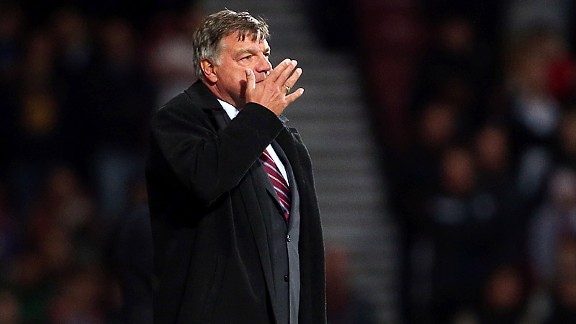 GettyImagesSam Allardyce: Playing a game of cat-and-mouse
One of the major concerns of any club newly promoted to the Premier League - in fact, a concern to virtually any club outside the top seven or so - is the injury crisis that decimates those without a large squad.

With Guy Demel sidelined after a hernia operation and James Tomkins (Calf) and Collins (Thigh) doubtful, it potentially leaves only Winston Reid as a recognised central defender for this Sunday's trip to St James' Park to face Newcastle United. The return of Joey O'Brien last week has turned out to be extremely fortuitous as Tomkins was covering the right-back slot before that.

Both Daniel Potts and Jordan Spence - the latter came on against Manchester City when Collins limped off last week - have first-team experience, but they are both fairly untried at the top level and, not withstanding my complaint last week that the Hammers need to look at the full-back situation for tactical reasons, the defence is looking awfully stretched at the moment.

However, tentative news from Upton Park is that there is a possibility that either or even both central defenders may pass a late fitness test on Saturday so it's possible the north-east side's exploits in Europe on Thursday may work in West Ham's favour with the game being shoved back 24 hours from its original schedule.

Of course, the whole thing may be a bluff and neither defender may be risked, and if that's the case I'd expect Spence to deputise alongside Reid while Diame drops back as defensive cover while Sam plays a cagey game against the side he formerly managed.

There's plenty of spice without the injury concerns though, with former Hammers' boss Alan Pardew having to name the Newcastle side without Coloccini and Tioté because of suspension while Demba Ba is also doubtful against his old club because of a shin injury - pity that as I'm sure the travelling Irons would have given him a rousing reception.

Let's not forget that Andy Carroll will be turning out against his home side while Kevin Nolan will also face previous employers that he used to captain. And if that wasn't all enough of a gee-up, it mustn't be forgotten that the Good Lady Blagg hails from the area and all my in-laws are Geordies. I think it's fair to say you have a recipe for an interesting afternoon.

Returning heroes are always a tantalising prospect but as many struggle as come good. I can't help but think though that this would be a good time for 'wor Andy to break his duck and I'm keen to find out if Kevin will do his chicken dance or show his respect to former fans. Also, due to an incident in Puerto Banus a few years back involving Mr Pardew and the Mrs. - something I won't regale here - I'm always happy to see our former boss look crestfallen again.

It promises to be a very interesting afternoon.