West Ham United: an unreliable history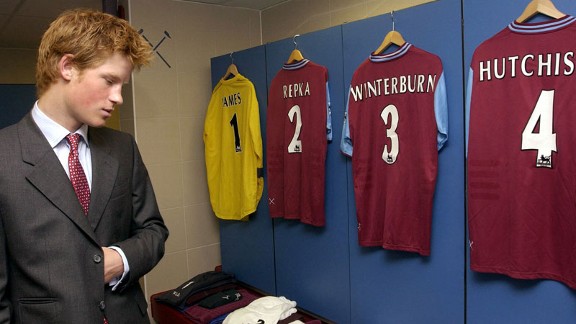 PA PhotosPrince Harry looks around the dressing room at West Ham United's Upton Park in 2002
Good to see that some readers of this blog take the time to write their thoughts and comments underneath. Input - good or bad - is always appreciated. Some though still prefer to email, and that's what occured last week when I heard from a Mr. Simon Bishop who resides in Chicago.

Simon is one of those Hammers fans who has never actually visited the ground - in fact, Simon has never even been to England - and supports the Irons through a hereditary chain stemming from his grandfather. Simon asked me why West Ham's home ground is called the Boleyn and I replied explaining that the Boleyn pub is just outside the ground. This prompted him to Google map the whole area and he wrote again to ask if I could explain further why, with the Boleyn at the centre, the roads around Upton Park are named after Henry VIII's wives: with Katherine Road (for some reason - never understood - my family refer to it as Kath-rine; the latter syllable sounding like bacon rind), Parr, Cleves, Seymour and Arragon roads all criss-crossing the area.

Well, of course, Royal patronage is something that West Ham have enjoyed for some time. Some may recall the 'rumour' that the Queen was a West Ham fan and certainly Her Majesty and Prince Philip opened up the Rio Stand and hotel in 2001. There is also a photo in the archives of Prince Harry being given his own claret and blue shirt with 'Harry' on the back following a visit to the training ground, some years back. Rumours that the shirt was, in fact, one of Mr Redknapp's old ones found crumpled in a locker and given a quick starch and iron by Doris the kit lady, can probably be discounted.

However, as every good West Ham fan knows, the Hammers' links to the Royal Family go back even further, several centuries in fact. The biggest Hammers patron must surely be Henry VIII who was a regular visitor to Upton Park back when the Hammers were known as Ye Olde Ironworkes. Anne Boleyn was, of course, an equally fervent supporter and this was one of the things that drew the couple together back in 1527.

It isn't something that is much mentioned in the history books but Katherine of Aaragon's preference for Real Madrid was a big stumbling block in her marriage to the King and made the lure of Anne almost irresistible to the famously footloose Henry. The King eventually dumped his first wife, although not before he bestowed the honour of naming the major farm road that ran from East Hame to Green Street after her. Katherine Road still survives today; sadly there are few farms and pigs down it now - although anyone stumbling down it on a Saturday night may disagree!

Despite the new Queen's fascination with the Claret and Blue, Anne was notoriously afraid of big crowds, and the jostling and good natured banter back on the Cockerel run – as it was then known – wasn't really to her taste. Subsequently, Henry used to leave the poor girl in the snug of the 'Postilian and Wild Boar' while he went to watch the matches. It was many years after that the pub was renamed the 'Boleyn' in honour of Anne's patronage and her predilection for Watney's Horse-rub Pale Ale.

Sadly, as every Schoolboy knows, Henry's passion for Anne didn't survive his love for football although surely the young Queen bought some of the misfortune on her own head (no pun intended) when – in a particularly vicious argument – Anne rather stupidly claimed she had a preference for local North London Towne soccer rivals, Tottingham Horsespurs. This was too much for Henry and he had her head lopped off for her bad taste. If only such things were allowed today all our lives would be much the richer.

Probably, the next major Royal connection was when the Queen Mum - then Queen Elizabeth, of course – visited the East End during the war. It was said after a German bomb hit Buckingham Palace that the Queen proclaimed: "At last, I can look the East End in the eye". I'm not sure the eye she referred to belonged to my Grandmother though, Nan was bombed out of her house three times during the blitz and certainly believed the Queen was no more than 'merely inconvenienced' by having to move to one of her ten other bedrooms.

They used to say in the blitz that there was nothing you could do with the bomb that 'had your name on it' and this was a constant worry to my Gran who had Mr & Mrs Doodlebug lodging in one of her upstairs rooms. She was a lot happier in 1944 though when she moved down to Poplar and lived next door to that nice Maltese lady, Mrs Veetoo.

So there we have it, Royal patronage and a brief potted history of West Ham. Never let it be said you don't learn things from this blog. Please feel free to keep posting and if you do prefer to email then billyblagg@hotmail.com is your option.