Big Sam and his 'big team' hoodoo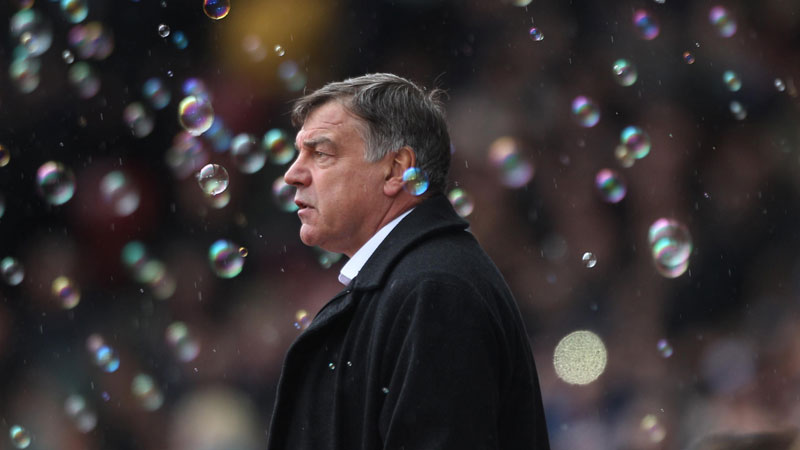 PA PhotosLiving in a bubble: Sam Allardyce has lowered his career hopes now
Sam Allardyce smiles. Ahead of the visit of the champions Manchester City this weekend, he's asked about the prospect of managing an elite club. Previously, of course, Allardyce wouldn't have so much taken the bait as aggressively breached the waterline. The comments about being capable of winning a "double or the league every time" with Real Madrid are still used as sticks to prod him. In the two years since making them, though, his attitude seems to have significantly evolved... at least in public.

"I won't ever be going to a top-four club so I think we'll just leave it at that." When asked why, he at least offers a knowing nod to the past – and another smile.

"Because I'm not called Allardici, just Allardyce... that was tongue in check. I don't ever comment on that anymore because other people will jump on the back of it. I understand what I can do, I understand my ability as a manager and I just do my job to the best of my ability wherever I work."

If Allardyce has resigned himself to never managing a top club, though, he's still more than ready to match them. Because, while the West Ham manager may now smile at questions about such jobs, the men currently occupying them rarely smile about the questions Allardyce himself poses them.

Last week's defeat to Wigan aside, the Upton Park club's admirable start to the season illustrates just how competitive Allardyce makes teams. It's very rare, for example, that his sides ever serve up simple walkovers for the top teams. By contrast, he tends to offer particularly awkward challenges; the sort of matches that other elite teams anticipate their rivals may well drop points in.

The stats also bear this out. Although Tony Pulis's Stoke have come to be seen as one of the trickiest away trips in the Premier League, Allardyce actually has a better record against top-four teams – as the table below indicates. What's more, he also has a better record against defending champions, which is particularly interesting given that a wavering Manchester City go into this game unbeaten.

Similar managers such David Moyes and Martin O'Neill have superior records to both Pulis and Allardyce, it should be noted, but that must be put into the context of greater cash reserves. Otherwise, Allardyce has become pretty adept at crunching the numbers himself. The manner in which he does so is now well known: do your research, prepare your plan, play the percentages, make your challenges, take your chances.

"You set your stall out tactically against these teams to stop the major threats they have," he says. "They have talented players and that is the key reason why you have to focus on trying to nullify that talent if you can and maximise your possession and expose one or two weaknesses. If they have am off-day, you have to capitalise on it."

Allardyce can't but admit, however, that the uncharacteristically porous nature of the City defence this season may offer more opportunities than usual.

"I am surprised [by their defending] but, yet again, there's been a few changes, a few players he's lost to injury and that sort of disrupts his renowned back four from most of last season," he said. "I think he's trying a different style, a different system. He's lost [Nigel] De Jong, who used to give him that protection, that little bit more."

The mention of De Jong is particularly interesting when you consider that, in the past, he would have usually been the player patrolling the area most profitable for West Ham: that patch running from just outside the box to the penalty spot, where Kevin Nolan runs onto so many knock-downs. Going into this weekend's games, the Upton Park midfielder has scored more goals at home than any other player in the Premier League. If there is still no-one picking up where De Jong left off, Nolan may well add to his tally. For a man that so loves numbers, though, the stat was surprisingly unknown to Allardyce.

"Has he really? Well I hope he scores on Saturday then," the West Ham manager said with another smile. "I think Kevin is important, as I've said many times. I'm not going to talk about him anymore because he'll get too big-headed so, you know, let's hope he gives a performance that we know he can give and, if that performance is Kevin Nolan's best, then I think he'll sneak in the box somewhere and hopefully score when he gets a chance."

Here's the thing, though. Ever the realist and pragmatist – at least in terms of the teams he actually manages – Allardyce doesn't think that a win would mean too much in the grand scheme of things.

"Our season is determined by what we do against the bottom eight, not the top five or six. That is an ultimate bonus if you get a result against them," he concluded. "It's what we do against the bottom eight, even if we are one of those in the bottom eight. When we play against them, we have to make sure we don't lose, that we at least win one and draw one. If we do that, we know we will be safe at the end of the season." A smile, however, indicates that Allardyce is always targeting a bit more than that.

Best against the big boys

Given the resources of the clubs he's been at, in contrast to Aston Villa and Everton, Sam Allardyce has a fine record compared to the other managers often seen as the most awkward challenges.