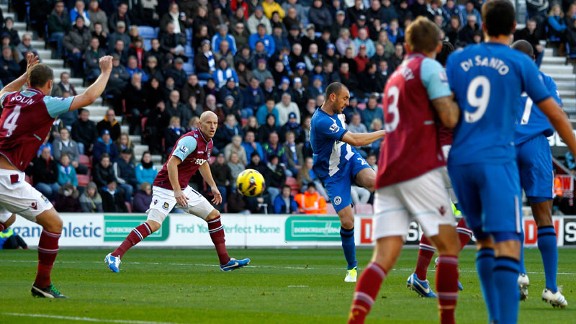 EmpicsIvan Ramis has improved with each performance since joining the club
Oh dear. Well, like the old joke has it; tea-break over, back on yer 'eads!

West Ham came back to earth with a bump at Wigan as the Latics ran out comfortable winners. The home side looking slicker, sleeker and generally more competent than the visitors who seemed to resort to type by pumping high balls up to Andy Carroll without any tangible idea of what to do when that plan failed.

It would be disingenious for any West Ham supporter of some years standing to argue with the intentions of Roberto Martinez at Wigan. His desire to see passing football played with skill at speed, is something that should be applauded. But the terrible irony of this is that - of any other club in the league - Hammers' fans are more fully aware that it is difficult (at least, without huge financial backing) to stay true to puritan ideals while providing enough success to pay the ground rent.

Despite all the good work and all the right noises, defeats against Wigan will not help a club looking to make some headway in the Premier League. The awful fact of the matter is that if your Fairy Queen appeared to you before the season began and told you that she couldn't tell you exactly where your team would finish in the league but that it would be 'below Wigan' then you'd be worried and expect a season-long struggle. This, then, is a poor result for West Ham, and with big games coming up over the next month against Manchester City, United, and Chelsea these were big points to lose.

I think most Hammers' fans feel uncomfortable to hear their team described as 'bullish' as they were on the radio today, but they would be more uncomfortable still to find that, despite the physicality that Sam has introduced, the Irons never got close to matching a team that for all their intended flair will surely be struggling come next May.

Wigan went ahead as early as the 8th minute when former West Ham target Ivan Ramis showed what he was capable of when he perfectly volleyed in a Jean Beausejour's corner giving Jussi Jaaskelainen no chance. It was a good strike from the Spaniard but it has to be mentioned that Ramis had managed to drift into an unmarked position and Sam Allardyce will surely be asking serious questions at the training ground on Monday.

The home side pretty muched controlled the game from then on, Jaaskelainen needed to be alert on several occasions while Diame was kept quiet against his old side. West Ham mounted some attacks but they all seemed to be aimed toward the head of Carroll and none seriously worried the home defence. Al Habsi had to push the ball behind when a Jarvis cross just failed to find Benayoun, and Jarvis and the Reid were both denied from the resulting corner. But Wigan came back and finished the half strongly.

Hammers' fans would be hoping that Big Sam would be able to re-arrange things in the second half, but those hopes were snuffed out fairly quickly as the home side went further ahead when a shocking Jaaskelainen clearance allowed Maloney who tee up McCarthur after just 47 minutes.

Eventually Cole replaced Noble and a disappointing Diame was replaced by O'Neill. With Maiga already on for Benayoun, the Hammers desperately searched for a way back in but only found the net deep into injury time when Tomkins headed in McCartney's cross. The visiting fans could have pointed to the same player hitting the cross-bar just minutes earlier from a similar Jarvis cross but really a draw would have flattered the Hammers.

There are some games that leave you with an uncomfortable feeling that, despite all the general positive comments and goodwill, there are still some serious issues to be sorted out and, sadly, this is one of them. Two losses to Wigan before November is not an inspiring statistic and this is a performance that was nowhere near good enough.

Some people were pointing out that, had West Ham won today, they would have moved into a Champions League position. On this showing, the Lactics may have done the Irons a favour as the club need to make sure they keep their heads above water and stupid talk like that won't help. The Claret and Blue were poor in possession, gave the ball away too easily, were sloppy in defence and misfiring up front, too. But the worst thing about it was they managed it all against Wigan.

A very poor day at the office indeed.