All quiet on the Eastern Front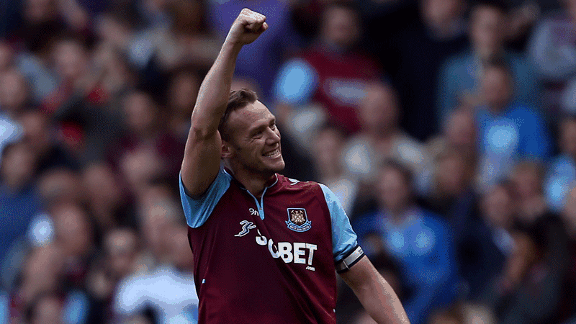 EmpicsThings are looking up for Kevin Nolan and his West Ham team-mates
What on earth is going on?

I pop off for a week to Crete (I've bought back some Xerotigana and put it in the corner of the office - help yourself, won't you?) and return to find a West Ham United side full of joy, light and promise. This really will not do.

For a football club permanently teetering on a precipice; occasionally being hauled back for a brief respite, only to roll to the edge again, sometimes actually falling into the abyss before being winched back to the edge for another spell of teetering, this is all very worrying.

This week we have seen loanee Andy Carroll singing the praises of Big Sam, all things cockney and London sounding - I almost expect him to don a pair of braces and start clicking his heels in the air and balancing an eel on a plate - while blasting his old club Liverpool, accusing them of never giving him a chance. The days when a footballer thinks plying his trade in east London is a better option than on Merseyside are rare indeed.

Now maybe it is that Carroll is just reminding Liverpool that he has a lot to offer and he is still only on loan - some press reports are putting this slant on it - but I'm seeing a player who seems to be enjoying his football more and is appreciating the enthusiasm of the fans and manager for what he is trying to do. I think if he were to become permanently available, West Ham may struggle for his signature in the face of offers from others better placed, but we've still got an inside track on the whole thing and this is an improvement on things previously.

As if that wasn't enough, I read that Carlton Cole - a man who has lost his place in the first team due to the arrival of Carroll, let's not forget - is bending over backwards to express his gratitude at the opportunity this has given him. It seems our lovable centre-forward thinks battling 'Wor Andy for a place in the starting line-up has made him hungrier, more determined and - get this - a better player, and is pledging to stay at West Ham for life if things continue.

Meanwhile, local lad Mark Noble looks like a man reborn, captain Kevin Nolan is cropping up regularly in Match of the Day's 'Team of the Week' and the substitutes' bench is showing signs of a new emerging crop of promising youngsters.

These are heady days at Upton Park and the 4-1 defeat of Southampton at the weekend has only shown what a difference a few short months can make to a team as, on paper at least, the Hammers should be viewing games with the likes of the Saints as the proverbial six-pointer rather than an opportunity to extend the goal difference column.

Of course, this being West Ham, it is my duty to point out the ugly spectre of the November and December fixture list: where the names appearing includes what we might regard as the more heavyweight section of the English Premier League. But let's not allow that to stop us enjoying ourselves for a few brief moments. The sight of a talented team bonding together is always welcome and there's a real sense that the club may be emerging from one of its regular dark periods.

Even if it turns out to be another false dawn, it is encouraging for fans to read such positivity and, with the weather due to turn cold at the weekend, I'm hoping to keep myself warm on the cheery blast of optimism wafting from the Boleyn as winter sets in.



It's Wigan up next, a team we used to have a good record against but one that's slipped recently. Athletic beat an admittedly weakened Irons at Upton Park in the Capital One Cup last month and effectively dumped the claret and blue out of the Premier League the season before last. Big Sam will be looking for revenge - even if he's not I am - and I'm hopeful of picking up some points here.

A back-to-back win will keep the feel-good factor going for a few more weeks and I think there is a good opportunity for that this Saturday.