Allardyce smartly stands up to the Special One
The media interest in the locking horns of Sam Allardyce and Jose Mourinho probably couldn't have come at a better time for the under-pressure West Ham boss.

In much the same way that it is ok for a family member to criticise another only to find themselves defending that same person when the criticism comes from someone outside the family circle, so too have Hammers fans, who've been on the manager's back all season, suddenly circled the wagons and are shouting bullishly outward. As a PR exercise, it's a master-class.

- Delaney: Blues stymied
- Lythell: Title hopes stalled
- Mourinho: '19th century' West Ham
- Highlights: Chelsea 0-0 West Ham (U.S. only)
- FC TV: Hammers hang on

The fact is the Chelsea boss -- like all top managers -- is very good at playing the game. His comments about West Ham's tactics in the backs-to-the-wall 0-0 draw at Stamford Bridge only serve to keep Mourinho and his team in the spotlight while hiding his own side's shortcomings -- and that is surely part of the exercise. By playing the "who me? I'm only trying to stop the onslaught" card, Allardyce has actually come out of it all quite well.

The irony, of course, is that Allardyce, who has been described as a "dinosaur" and a "fossil" while having his tactics expressed as "prediluvian" in some parts of east London and beyond, would probably be glad to hear his methods are considered "19th Century" by one of the games foremost modern tacticians.

Some would argue that Jose's dismissive comment is several centuries wide of the mark!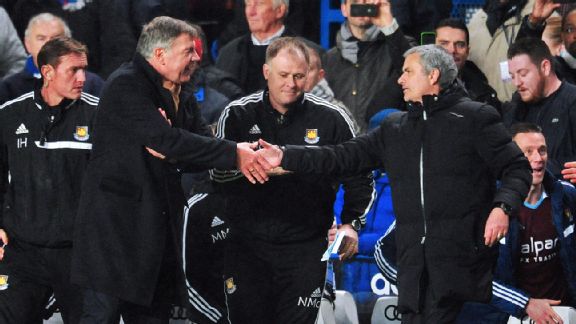 Glyn Kirk/AFP/Getty ImagesThough cordial enough during Wednesday's 0-0 draw, things soon turned feisty between Allardyce and Mourinho.

The fact is that the top teams in the Premier League are owned by millionaires and oligarchs of varying sizes, and virtually the best a team outside the accepted Champions League places can expect is the odd surprise result. Sometimes it's because of the "better" side just having an off day, sometimes the "lower" team will employ a surprising attacking turn or have one of those times when everything they do comes off -- and, yes! -- sometimes pulling every man behind the ball works too.

Over the long haul though, it's pretty much certain that any club not in the top six or seven of the Premier League can more or less write off all but a handful of points against the top sides and until the league gains the competitive nature it had in -- well, the 19th or 20th Century! -- then things like this are going to happen from time to time.

It's all very well complaining that West Ham's game wasn't very expansive, but the Hammers haven't had much expanse since Alan Devonshire last had his curly locks trimmed. As such, another 9-0 hiding really wasn't something they needed. Sam Allardyce was right in expressing his surprise at the criticism; his team has been undone a bit in recent weeks but ever since he took over at the Boleyn, most of the sides he has put out have been well-organised, resilient and just plain miserly. As a Hammers fan of some years, I'd even have to admit to a bit of a thrill watching a side in claret and blue actually compete defensively.

Of course every West Ham fan's dreams that the move to Stratford may bring our own autocrat with a bag of money to make us the next Manchester City. But if it doesn't happen, then all the team can do is compete in the best way they can and if they means putting 10 backsides between the goal and Oscar, then who can blame them? As the other famous Oscar (Wilde) said: "One should always play fairly when one has the winning cards." West Ham haven't had the winning cards on Chelsea since Nigel Spackman last pulled a blue shirt over his head.

Having said all this though, there would be a delicious irony if this argument ended with the point being vital for both sides with differing consequences. With any luck it's the point that will keep West Ham up.

It won't bring back laced footballs, perms, socks round the ankles and a brylcreem centre-parting, but it will sure bring back the smiles around Upton Park.