Resilient Hammers hold on at Stamford Bridge
West Ham earned an unexpected point against Chelsea at Stamford Bridge with a resolute and stirring performance that echoed their early-season form.

Jose Mourinho bemoaned a lack of expansive football by the visiting side but the Chelsea manager may as well have complained about the sun coming up tomorrow, as this was exactly the type of defensive display that Sam Allardyce likes to oversee.

The bus wasn't so much parked at Stamford Bridge as driven full pelt towards any player in a blue shirt with the ball at his feet. Hammers players would often throw themselves en masse at any shot and, though it wasn't pretty, it sure was effective.

Now all Allardyce has to do is get the forward line back to the form of last season and he may see his side move away from the bottom three.

- Delaney: Three Things from Chelsea vs. West Ham
- Chelsea frustrated by West Ham
- Mourinho critical of Hammers' approach

If you're a Hammers fan, it's hard to look at the ESPN FC Gamecast and not laugh. The number of blue circles indicating Chelsea shots is almost obliterating half of the pitch while the solitary claret circle sticks out like a sore thumb. For the record, the lone shot was a James Tomkins header that Petr Cech saved well. What followed was almost entirely one-way traffic.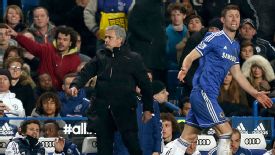 AllsportMourinho's side were frustrated by a resolute Hammers display.
Apparently, Chelsea's 39 shots is the most ever recorded in a Premier League game by a team that did not score but, for all their finery, there were only a few direct efforts from the hosts that really worried West Ham and goalkeeper Adrian was more than equal to those.

Even Frank Lampard failed to score against his old club, firing a late effort straight at the Spaniard. It was that type of night for Chelsea.

Naturally, there are the inevitable injuries to speak of: Mo Diame came off after 30 minutes after clattering into the hoardings. Considering the fact that he had been carried off in the League Cup semi-final just a week ago and was expected to be out for some time, this was an especially cruel blow.

Also badly hurt was Joey O'Brien, who limped off at the end -- leaving West Ham with ten men -- with what early reports suggest is a dislocated shoulder which could sideline him for up to three months.

The usual Carlton Cole / Andy Carroll rotation took place, with Carroll starting this time only to be replaced by Cole on the hour. The former Newcastle and Liverpool striker still looked short of match practice, particularly with an air shot when he was well-placed in the penalty area early in the second-half.

However, what was significant was Carroll's use of his defensive capabilities, something that was noted during last season when the striker was on loan. The game was also notable for the Hammers debut of Antonio Nocerino, who came on for Kevin Nolan with ten minutes left.

Naturally, much will be made of Chelsea's inability to find the back of the net but if you're from the east side of London, it's the point that will loom large here, together with the fact that results like this will provide the players with a good deal of confidence for the months ahead.

With only six points covering the bottom half of the table, nobody is expecting any team to drop away and leave a gap and it's even possible that goal difference may play a part in who drops into the Championship next season.

West Ham could conceivably look back to this game come May and see it as a vital point, although the general consensus among fans is that February is the crunch time for the club.

Swansea are next up at the Boleyn and Big Sam will surely be looking for a win. If his team defend like this again, he will surely have the opportunity.