Hammers go for Italian style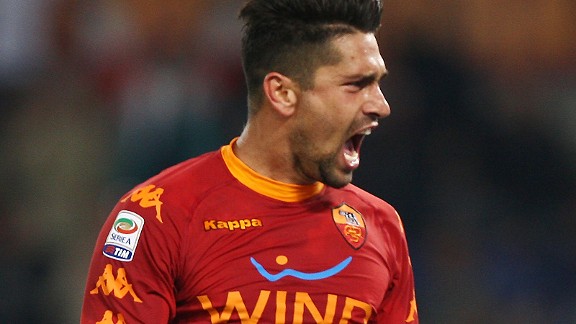 AllsportMarco Borriello has been brought in on loan at West Ham.
The loan signings of Italian pair Antonio Nocerino and Marco Borriello has given West Ham a good boost before the difficult trip to West London to face Chelsea. With further news that Leeds United, who rejected an initial bid for forward Ross McCormack, are expecting West Ham to go back with an improved offer, it seems certain that Sam Allardyce is determined to completely overhaul his strike force before the end of January. It's something the Hammers faithful have been looking forward to since last August.

This latest news has echoed what I was suggesting just last week, West Ham's attempts to lure the likes of players such as Lacina Traore are doomed to failure unless they occupy a league place similar to that of Everton, who the Ivorian eventually decided to join. It's hard to criticise Sam Allardyce for attempting to get players of this calibre, but I can't help but wonder if the club aren't over-reaching themselves sometimes. West Ham are a mighty long way from being able to offer any player regular European football and I think the squad would be better bolstered by good Championship players desperate to move up a level and keen to battle to achieve it, rather than keep attempting to lure bigger players with no interest in but who can pay them the most.


PIC: West Ham United are delighted to confirm their second signing of the day as Marco Borriello joins on loan #COYI pic.twitter.com/i5KcuXehmX

— West Ham United FC (@whufc_official) January 25, 2014


It seems to have become a watchword that the step-up from Championship to Premier League is so huge that few can make it easily. I guess the conventional argument goes that the scouting system of most English teams is now so good there is no chance of the next Kevin Keegan not pitching up at Arsenal, Manchester United or Everton rather than Scunthorpe from where Liverpool picked the former England legend as a youngster back when flares and curly perms were a vital fashion accessory. Nevertheless, I do sometimes wonder why the flow of quality players from the forerunners of League's One and Two and -- more importantly -- the Scottish leagues has dried up. Are the players really worse than 20 years ago or are clubs simply not looking hard enough?

The story of Alan Taylor could never occur now. Taylor, of course, was the youngster who scored two goals in the quarter, semi and final of the FA Cup that helped the Hammers lift the trophy in 1975 after Ron Greenwood had bought the 21-year-old from Rochdale for little more than a large helping of Pie 'n' Mash. Anyone who doesn't think the game is missing something when stories like that no longer occur must have a heart of stone.

However, while I'm not overly enthusiastic by short-term loan deals with players who have no affinity with the club and have nothing to lose whatever division the Hammers finish in, at least the Italian pair, who are hoping to gain a World Cup place this summer, can be expected to give 100 percent effort. Frankly, if they can't shine in the claret and blue shirt currently, then they shouldn't be considering representing their country next summer.