Stick or twist: West Ham's dead tie poser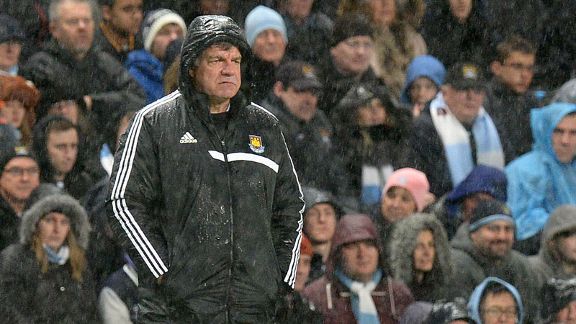 PA PhotosSam Allardyce endured a miserable 90 min as his side lost 6-0 at City.
By and large I don't spend a lot of time feeling any sympathy for Premier League managers; they are handsomely remunerated when things go well and more than adequately compensated when they don't. However, it's hard not to feel a tinge for Sam Allardyce as he faces up to the dead rubber that is the second leg of the Capital One Cup semifinal.

Does he stick, in the certain knowledge that his team has no earthly prospect of progressing to Wembley, put out a scratch side and prepare to take a hit that might well end in a result that will enter the record books? Or does he twist and try to send out a side that might claw back some semblance of pride for a beleaguered team and its frustrated fans, taking the chance that an injury may impact on the battle for Premier League survival?.

When West Ham lost 6-0 at Oldham in the semi-final first leg of the same competition back in 1990, a rejuvenated Irons side with new manager Billy Bonds in charge salvaged some pride with a strong 3-0 win in the return leg. Those that were there that night will tell of a dominant Hammers performance under the Upton Park floodlights, that had supporters seriously believing at one stage that the tie could be rescued; certainly a four or five goal win wouldn't have been an unfair score line. Ultimately, of course, the damage was done in the first match as everyone knew it had been, but at least supporters were able to argue that the game at Boundary Park on the notorious 'plastic pitch' had been one of those things that happen with West Ham and move on.

In this case though, it's hard to envisage any scenario in which this current Hammers side could dent Manchester City's defence with a few goals without conceding at the other end. City's second string strike-force should be more than enough for the still injury ravaged Hammers back-line so it's hard to see what the answer is. The match is likely to be the most under-attended semi-final in the history of the league cup competition -- perhaps any competition! -- and another big cup defeat, perhaps involving a double figure loss over the two ties, will surely impact on the morale at the club.

But what of the most important people at the club -- the fans who bought tickets? There's already a sense that those of us already committed to the semi-final, will be attending with a cheery disposition and a large slice of gallows humour. It seems pointless going in any other frame of mind.

In a cruel twist of fate though, so refreshing and enterprising have Manchester City been recently under Manuel Pellegrini, Hammers fans weaned on a history of good football, could actually attend just to "watch City's superstars" -- a reference to the rightly highly-criticised advert that the club tried earlier in the season when they attempted to sell tickets for a televised evening kick-off. The irony is lost on no-one.

Is there a single soul really thinking West Ham can get to Wembley? If there are, they would surely be better employed helping out by counting the flying pigs likely to be circling the sky over Upton Park rather than watching the cruel drama being played out below.

That doesn't mean the club should be selling us supporters short though. I think David's Gold and Sullivan should see how the evening pans out and if it ends as most believe it will, then offer a free match ticket to use some time in the future to supporters who went to the second leg. After all, If things don't improve quickly, I'm sure there will be some Championship games that will be under attended next season.