Newcastle embarrass Hammers at the Boleyn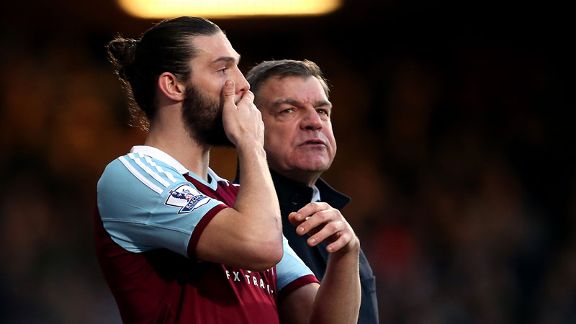 AllsportAndy Carroll and Sam Allardyce were left to rue another loss.
West Ham dropped back into the relegation mire following an awful 3-1 home defeat to Newcastle United. But it wasn't only the lost points that disappointed, as the Hammers were given a lesson in passing football in front of a disgruntled Upton Park crowd.

Yohan Cabaye and Loic Remy put on an unstoppable show -- unstoppable at least in terms of the woeful defending of the Hammers' back-four and porous midfield -- and Cabaye's curling free kick that settled the game with the last move of the match, was no more than the visitors deserved. Prior to that there was the unsettling feeling that Sam Allardyce might point to the glaring misses by Andy Carroll and Carlton Cole in an improved second-half performance from his side, and claim his team were "unlucky"; Cabaye's kick that went in off the post in the 95th minute at least put that myth to bed.

• Report: West Ham 1-3 Newcastle
• Duffy: Classy Cabaye invaluable

In fact, in a torrid first half in which Cabaye (16 minutes) and Remy (33 minutes) had put the Magpies in total control, the Boleyn crowd lost patience with the whole team, booing loudly as the men in Claret and Blue chased shadows in a demeaning and embarrassing performance in which Newcastle gave the home team a lesson in possession football.

There was almost a touch of awe as Cabaye again broke down the West Ham flank part way through the half, shimmied this way and that as the hapless Matthew Taylor -- drafted in at full-back due to injury -- swayed back and forth completely mesmerised, before the crowd realised with some disbelief that the France international was actually waiting for a teammate to pass inside to. No hell for leather sprint for the line? No aimless cross high into the box hoping for someone to get on the end off? Nope, this was football played on grass and to feet, and the Upton Park faithful, weaned on stories of when their own team used to play like this, were as entranced as their own players.

In fact, as the old football myths would have it, Carlton Cole's chest down and attempted shot that bobbled off Michael Williamson and rolled apologetically across the line on the stroke of halftime, leaving the score at 2-1, really did seem to be proving that the most difficult thing to defend is a two-goal lead. To say it flattered West Ham would be putting it mildly; Cole even looking slightly embarrassed as he turned to celebrate an unexpected lifeline.

It did lead to a more enterprising second half for the Hammers, and there really was some hope that at the very least a point could be salvaged as Matt Jarvis, Stewart Downing and later Joe Cole all got free in wide positions but weren't able to deliver a final ball. But it was Matt Taylor's lovely low cross into Carlton Cole -- the resurgent striker completely miscuing to send the ball wide -- and Carroll's blaze over the bar in front of an open goal that will be most reported on and remembered. That shouldn't disguise the fact that Newcastle had further chances of their own, though, Adrian needing to be alert on several occasions.

The problem with this result isn't just the defeat or the fact that West Ham once again failed to deliver back-to-back wins in the Premiership since being promoted -- rather it was the way that Newcastle showed what could be achieved by players with confidence on the ball and the ability to control play. Cole was voted club "Man of the Match" after, but really it was the returning James Collins who was the most impressive -- only for his ability to break up play, head the ball away and fight for possession, even if his clearance attempts seemed to end up with him facing the same situation several seconds later.

Earlier this week, I was in print in a local paper defending the manager arguing that probably in this situation, Big Sam is the type of man you'd most turn to help you out of a hole but, more importantly, pointing out that no managerial appointments had been successful in real terms for the Hammers since John Lyall was ignominiously sacked. As I ticked off all the incumbents of the manager's chair since 1989, there was only one who was left unscathed -- and that manager was, of course, sitting on the opposition bench today.

After this abysmal performance, it is becoming more difficult to defend Sam, who doesn't seem to be able to balance his injured and suspension-stricken side to even give his team something to chase; as is being pointed out by many on the social media sites, West Ham were playing poorly and losing before the injuries struck.

Alan Pardew, on the other hand, still fondly regarded by Hammers fans for the 2006 Cup Final and dealt a cruel blow during the "Tevezgate" scandal, has his side balanced and playing with some confidence. The way Remy was happy to dribble round defenders was a delight to see -- even if it was painful for home supporters -- and it was difficult not to wonder where the Hammers board were when the QPR forward was put up for loan during the summer. Personal issues with Pardew aside, I can't help but wonder where West Ham would be now if they had stuck with the former Palace defender seven years ago.

Regardless, West Ham now go into a dead rubber of a second leg semifinal against Manchester City in a literal no-win situation, and quite where the Hammers go from there is anyone's guess. The person who cried out "the Championship" can please sit down.