Always believe in your Cole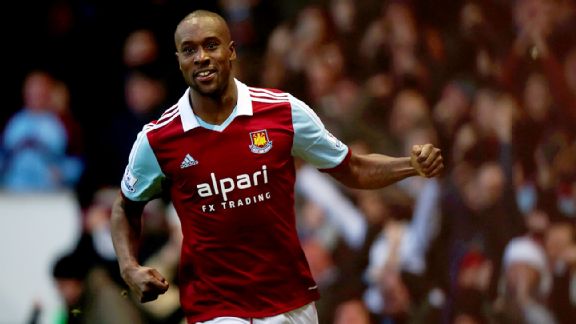 Bryn Lennon/Getty ImagesStriker Carlton Cole will extend his West Ham stay another 18 months.
West Ham United shook their Premier League rivals this week by making the first significant foray into the 2014 January transfer window, announcing the shock signing of Carlton Cole on an 18-month contract, which could possibly be extended till the dear old soul is old and grey and all the rest of us have ceased to care. Cole was described as a "great asset to our strike force" by someone in Green Street yesterday and fans will surely be warmed by the news that Cole will be there to take up the slack as always.

- Report: Fulham bid for Morrison

Sarcasm aside, I'd long argued last summer that there was little to gain from allowing Cole to leave the club, and it seems the board and coaching staff have finally agreed. Releasing Cole last summer seemed utterly pointless, even before the full extent of Andy Carroll's injury was known. The short-term contract eventually offered to the player while the club scratched around looking for someone else to play as a striker was due to run-out this week, and reports had it that several Championship sides were looking at getting the former Chelsea forward in if the Hammers didn't do something quickly

Cole has made no secret of his love for the club and the fans, and even though it's not always reciprocated, deep down supporters seem to have garnered a begrudging respect for a man against whom the main complaint seems to be that he's not Geoff Hurst.

It's an unfortunate fact of life at Upton Park that the fans talk constantly of "moving on" and "outgrowing" certain players who the club seem to discard too early and without any really adequate replacement. A similar thing happened when Bobby Zamora left for Fulham. I'm not seeing any scenario in the very near future in which Cole wouldn't be a viable option coming from the bench, and it's not as if a team like the Hammers have a dearth of players willing to warm the Recaro seats for six months at a time anyway. Welcome back Carlton, I say. If nothing else, it means we get to see the man in a claret and blue dressing gown and Wee Willie Winkie hat again in the club's Christmas videos. I'm looking forward to it already!

Elsewhere, the club have made an official complaint to the Premier League about Fulham's attempts to lure away Ravel Morrison. This is one of those stories that seems to have another story underneath it somewhere. It is highly unlikely that if Morrison were allowed to leave he would: a) want to go to a club like Fulham (even if Fulham boss Rene Meuelensteen worked with the youngster at Manchester United) b) West Ham would allow him to go to a rival club also in the relegation mire and c) the Hammers would let the player leave for the paltry four to six million pounds reputedly offered by the Cottagers.

Several weeks ago, Morrison was being talked about as an outside bet for the World Cup this summer, but following rumours of a bust-up with Sam Allardyce, the former Manchester United youngster was one of the token first-team players given a run-out with the youth team in the 5-0 drubbing by Forest in the FA Cup. However, even if stories of someone having a bit of a paddy on the training ground are true, it's still unlikely that Allardyce will be fazed any more than he was when Sir Alex Ferguson lost patience with Morrison and Allardyce agreed to try and turn the player around. At the very worst, West Ham surely have a saleable asset on their hands and they'll likely to want to wait this one out, regardless of the outcome.

All eyes then will be on the upcoming visit of Newcastle United. The Magpies have lost a bit of form of late and the Hammers will be desperate to get a back-to-back win under their belts. Another three points will ease the pressure on everybody at the Boleyn and the opportunity to give Carroll a crack against his hometown club is surely too tempting to ignore. However, it's likely "new boy" Cole will start and it will be interesting to see if he is still the player he was before the Hammers signed him. Expect moans, groans, cheers and goals.